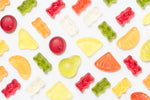 Gummies—they're chewy, juicy, bite-sized, and way too much fun to eat. As a gummy maker or manufacturer, you know that this time-honored treat continues to grow in popularity.

When we suggest shaking up your gummy candy selection, we aren't talking about totally reinventing a classic treat. But using Bickford's best-in-class flavors in your candy or gummies can make it a premium experience and wow consumers who are looking for quality and incredible flavor above all.
Our flavors are:
All-natural
Free from excess sugar and additives
Backed by our very own 100-year-old formulas
Bickford's offerings go far beyond confections—click here to learn more about the industries we serve.
Don't Miss Out...Gummies are Trending!
While gummies are nothing new to the candy industry, they have shown impressive growth in the market in recent years.

Here are some stats from 2020:
One-third of the top 20 non-chocolate chewy brands were gummy brands last year, like Sour Patch Kids and HARIBO Goldbears
Sour Patch Kids generated $202.5 million in sales
HARIBO Goldbears completed the top 5 with $195.2 million
Ferrara's Trolli Sour Brite Crawlers pulled in over $145 million
Mars Wrigley's Lifesavers gummies generated $123.6 million1
And as impressive as the standard gummy market is, CBD gummy demand is downright exploding! When solely looking at the timeframe of January 2020-April 2020, CBD candy (including gummies) accounted for the largest share (more than half) of CBD edible products sold in dispensaries.
And according to Nutritional Outlook, the mainstream CBD products market is expected to reach $18 billion by 2024, with gummies being one of the most popular products.2
These trends reinforce both popularity of gummies and the potential to capitalize on a market that is obviously extremely popular among consumers, even after all of these years.
Today's Trends: What Consumers Want From Their Gummies
Whether you're trying to tap into this market for the first time or working to successfully create a competitive gummy product that challenges existing options, you need to be aware of what consumers want.
Here are a few of the trends affecting the market:
'Clean' Candy
Candy is a treat for a reason, and consumers obviously know that what they're buying is primarily made of sugar. But there is a growing divide between candy that is made with better, cleaner, more all-natural ingredients and flavor concentrates and those that continue to be made with artificial and synthetic ingredients and extracts.
With a larger percentage of consumers maintaining the commitment to a healthy lifestyle for both themselves and their kids, they're looking for gummies that will allow them to indulge and enjoy with little to no guilt.
Learn more about using Bickford flavors in your mouthwatering confections.
All-Natural Flavorings
Consumers crave new flavor fusions and iterations with their gummies, but they aren't willing to sacrifice the quality of flavoring source. Imitation, synthetic extracts will never deliver for a clean candy consumer and will never deliver a premium, authentic, long-lasting flavor experience.
Flavors and extracts for gummies that are derived from high-quality, all-natural sources will boast real and rich flavors—imperative when developing a gummy that's meant to be juicy and bursting with flavor.
Include a Health Boost
When developing gummies, it's important to remember that this market growth is not just driven by kids. Functional gummies, like CBD gummies and gummy vitamins, have gained broad appeal amongst all age groups.
According to recent findings from Allied Market Research, the gummy vitamin market is expected to hit a whopping $9.3 billion by 2026, up from just $5.7 billion in 2018.3
When creating a gummy product that isn't rooted in just sugar, quality flavoring is all the more important to mask certain ingredients—for example, hemp in CBD gummies.
Why Get the Best Flavor Extracts for Your Gummies?
Because most gummy manufacturers are not focused on producing nutraceutical products or using all-natural flavorings, doing so can help you stand out.
Why use premium gummy candy flavorings?
They infuse your gummy product with flavorings that are always derived from all-natural, premium flavor sources
They are formulated to be stronger and more versatile than other flavoring methods, meaning your gummies will stand out from the crowd
You can greatly improve the overall quality of your end product
They can attract new consumers looking for cleaner, higher-quality candies and gummies
Remember: All flavorings and extracts are not created equal. Imitation flavors and extracts originate from unnatural sources, take production shortcuts, and ultimately empart your end product with weak, subpar flavor.

Using high-quality, naturally sourced flavorings and extracts can make all the difference in your gummies, growing consumer base, and improving brand reputation and longevity.
Bickford Is Your Key to Unique Gummies & Candies
While creating a unique and distinct gummy product requires your own spin and creative flair, consider some existing successful concepts as a springboard to new creations.
Here are a few gummy innovation ideas:
Go For Gut Healing
It seems like gut health is on everyone's mind these days. Have you considered adding bone broth and gelatin to your gummies? These all-natural ingredients can move your product to an entirely new level and help you adhere to the "clean" candy trend and consumers' demands for high-quality, all-natural flavorings.
Say No To Refined Sugar
A consumer doesn't have to be overly health conscious to want to steer clear of refined sugar. By sweetening your gummies with only honey and fruit juice—and only flavoring your application with naturally sourced flavors—your end product will truly be one-of-a-kind in the market: a healthier option that boasts incredible, juicy flavor.
Learn how Gen Z is changing the candy industry.
Offer A Wide Range of Flavors
Because your end goal is to create a gummy application that holds its flavor and delivers optimal taste, you must use flavors that play well with the other ingredients in your application.
If you're looking for incredible water-soluble extracts for candy or CBD gummies, or even CBD edibles, we've got an impressive lineup for you to consider.
For classic fruit favorites, try flavors like:
For something more unique, try flavors like:
And our gummy bear flavor gives you that great gummy taste without having to actually make them!

Looking to get started with gummy making? Check out our tried-and-true recipe for gumdrops.

Learn more about our experience in the CBD industry.
A Trusted All-Natural Flavoring Partner
When it comes to gummies (or any other food product), we believe that flavor matters. With over a century of experience in the flavoring and extract world, we know that regardless of industry or application, flavor is the most important factor in everything you do.
Learn more about a Bickford wholesale partnership or download our Wholesale Business Verification Form to get started today!
Resources
1Candy Industry. 2020 State of the Confectionery Industry: Gummies drive growth in chewy candy category. Accessed January 20, 2020. https://www.candyindustry.com/articles/89217-2020-state-of-the-confectionery-industry-gummies-drive-growth-in-chewy-candy-category.
2Nutritional Outlook. CBD edibles, food, and drinks grow even during COVID-19, says IRI. Accessed January 20, 2020. https://www.nutritionaloutlook.com/view/cbd-edibles-food-and-drinks-grow-even-during-covid-19-says-iri.
3Research and Markets. Gummy Vitamins Market by Type, Demographics, and Sales Channel: Global Opportunity Analysis and Industry Forecast, 2019-2026. Accessed May 12, 2023 https://www.researchandmarkets.com/reports/5031433/gummy-vitamins-market-by-type-demographics-and.