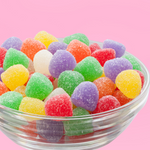 Goody, goody...well, you've heard it before, but I'm gonna say it anyway - Gumdrop! This recipe for homemade gumdrops is so easy it just makes you want to say "Goody, Goody Gumdrop!
Instead of this being a complicated candy recipe, this one is based in gelatin, which is super easy to work with. And, who says you need to use a traditional gumdrop mold for these sweet treats. There are some super cute options available on Amazon or at your local JoAnn's.
Make a batch of these as a treat for yourself or as a gift for friends. This recipe is also very kid friendly, so feel free to get the kids in the kitchen and let them stir in the food coloring or pour the cooled liquid into the mold. 
Let your imagination run wild and mix it up with different shaped molds and interesting color and flavor combinations. 
Ingredients:
3 envelopes plain (unflavored) gelatin
1 1/4 cups water, separated into 1/2 cup and 3/4 cup
2 cups sugar
Liquid food coloring
Oil for greasing candy mold/pan
Sugar for topping the candies
Instructions:
Very lightly grease candy molds or pans with cooking oil. Set aside.
Pour 1/2 cup cold water into a large bowl. Sprinkle with the gelatin, stir and set aside.
To a saucepan, add 3/4 cup water and 2 cups sugar. Bring to a boil. Simmer for 5 minutes.
Pour the hot sugar mixture into the gelatin mixture. Stir until the gelatin is completely dissolved.
Break mixture into separate bowls for each color/flavor combination. For a full batch of just one color, add 24 drops of food coloring. If you separated the batch, just start with a few drops of each color and increase until desired color is achieved.
For a full batch of just one color, add 1 tsp Bickford flavor and stir. Add more flavor, if desired. If you split the batch into separate bowls, start with a few drops of flavoring and increase to desired taste.
Pour into pans or molds. Chill for several hours or overnight.
Remove gumdrops from molds. Roll each gumdrop in a bowl of sugar to coat.