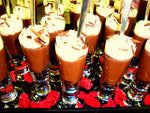 Ingredients:
1 c. milk
1/2 c. Irish cream liquor
1/2 c. vodka
1 small package instant chocolate pudding mix

Directions:
Whisk together the milk, Irish cream liqueur, vodka, instant pudding mix, and Bickford Spearmint flavor in a bowl until combined. Continue whisking for 2 minutes.
Spoon the pudding mixture into shot glasses or disposable 'party shot' cups. Chill until set, about 30 minutes. The shots will have the consistency of mousse.
Adapted from a recipe by DaniHig on http://allrecipes.com/recipe/176054/pudding-shots/