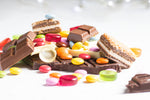 They're young, they're influential, and they know what they want – especially when it comes to food and beverage. 

According to early findings, Generation Z – more than any other generation before – demands organic, natural and authentic flavorings; and just because they buy mostly healthy, naturally-sourced foods and beverages doesn't mean they're throwing out their standards to indulge in any-old candy and sweets.

When it comes to Gen Z and the confection industry, their power is pushing candy, chocolate and confectionary brands, manufactures and small-batch producers to progress to meet their needs if they want them to become a consumer.
Gen Z Will Impact Confection Formulations in the Years to Come
Generation Z is made up of 61 million consumers, and of these buyers, more than 90 percent regularly eat chocolate and candy.1

Instead of saying no to sweets and indulgences, Gen Z is simply changing the game by taking the time to understand a product's label and only purchasing/consuming confections that have clean labels.

Today's Gen Z consumer is committed to finding candies, chocolates and a wide array of other sweets that deliver on real ingredients and only flavor with naturally-sourced candy flavoring oils and extracts.

To evolve with Gen Z, confection formulations must be transparent, substantiated and boast authentic flavors over imitation.
To Evolve, the Confection Industry Should Gravitate Toward All-Natural Candy Flavoring Oils
In a society where individuals are seemingly all about organic and natural – and very conscious about what they put into their bodies – big and small brands are surprisingly still flavoring their candies, chocolates and sweets with unhealthy, artificial ingredients, and flavoring with synthetic oils and extracts.

And here's the kicker: Generation Z is not only a force and key tastemakers amongst each other, but they're also major influencers for other, older generations.

All this to say: Generation Z's demand for healthier and better tasting food and sweets is making others consider and want the same.

For any confection manufacturer and maker, this is significant news because in order to stay relevant and desired and – of course – talked about and promoted via word of mouth and social media, you must shift your practices to using natural ingredients and flavors that will catch the attention of those particular, but loyal, Gen Z consumers (and, subsequently, many other generations).
The Health Benefits Aren't the Only Things Attracting Your Gen Z Consumers…
Yes, it should be noted that while organic and naturally-sourced chocolate and hard candy flavoring oils are better for you, they also taste fresh, unique and authentic – and Gen Z recognizes real over imitation.

So, when it comes to your flavors, the short cuts won't get you far. Go for flavors that are true to source and innovative and bold – and let us make your flavor sourcing incredibly simple and easy:
Premium Candy Flavoring Oils at Wholesale Prices & Benefits
Take it from us – flavor experts who spoil that sweet tooth – there is absolutely no substitute for all-natural, premium candy flavoring oils. Natural chocolate and hard candy flavorings will enhance the flavor profile.

For the last 101 years, we have been providing small and large-batch makers, manufacturers, retailers, distributors, caterers, and other food service professionals a solution to naturally improve the taste and flavor of confections, meet current market demands and specific labeling needs that tailor fit to specific lifestyles – such as Kosher, low-protein, low-carb, gluten-free, GSA, and others.

Suitable for almost any application and formulated to be stronger and more versatile than other flavoring methods, our premium flavors are certified Kosher and are available at wholesale prices and benefits.

Our wholesale program delivers:
Preferred pricing
No minimum order requirement after one gallon
Faster than normal turnaround times

Want to get to know us better? We invite you to see what we're all about:
The Difference Found at Bickford: LorAnn Oils for Hard Candy vs Bickford Extracts for Hard Candy
Your industry is crowded and competitive with other manufacturers and makers who are also innovative with their applications and want to bring the best to the market. If you take anything away from this article, remember that it's the flavoring of your applications that will catch the attention of consumers of all generations.

When setting out to produce the best, you must use the best - that includes ingredients and flavorings.

While there are several flavoring companies you could align your hard candy products with, let us show you how we compare to other flavoring brands, like LorAnn hard candy flavoring oils:
Bickford Extracts for Hard Candy
LorAnn Flavoring for Hard Candy
ALL-NATURAL
Bickford candy flavoring oils are all-natural and only derived from premium sources.
Not all LorAnn candy flavoring oils are all-natural. Some hard candy oils contain artificial flavors.
NO SYNTHETIC DYES
Bickford candy flavorings do not contain any FD&C synthetic dye colors.
Some LorAnn oils do contain FD&C synthetic dye colors, such as FD&C Red 40 and FD&C Blue 1.
CREATES CUSTOM FLAVORS
Bickford is highly experienced at creating custom candy extracts that are always true-to-source and deliver incredible tastes and aromas.
LorAnn does not currently take custom orders for candy flavoring oils.
FORMULATED TO BE STRONGER & MORE VERSATILE THAN OTHER FLAVORING METHODS
Bickford only suspends flavors and extracts in either a water- or oil-soluble base, with the exception of pure vanilla, which is suspended in alcohol.
*Water-soluble and oil-soluble base suspensions are more neutral, superior carriers to alcohol.
They impart no added flavor and do not evaporate as rapidly when exposed to heat. This allows the flavor to taste better, smell better, and not "bake-out" – as a traditional alcohol-based extract does.
LorAnn hard candy flavors usually contain both water-soluble and oil-soluble flavoring components, but many include alcohol in the suspension formula.
SPEEDY, BENEFICIAL WHOLESALE PROGRAM
Bickford's wholesale program delivers preferred pricing, no minimum order requirement after one gallon, and faster than normal turnaround times with same day shipping, if ordered by the specified time.
LorAnn's wholesale program offers two-day shipping.
EASE OF ORDERING FOR ALL CUSTOMERS
All customers, including customers from Alaska, Hawaii, Puerto Rico and international countries, can complete their orders online with Bickford.
Customers from Alaska, Hawaii, Puerto Rico and international countries cannot order LorAnn oils for hard candy online.
At Bickford Flavors, we work hard to support you, your growing business, and your ever-expanding product line with premium flavors and extracts.
With 200+ flavorings and extracts, you're sure to find the exact flavoring your candy application needs.

Additionally, we meticulously create our natural candy extracts to align with a wide array of diets and lifestyles, such as certified kosher, vegan, gluten-free, low-protein, low-carb, GSA, and others.
Need a custom flavor? That's where we excel! We work one-on-one with many clients to custom-make flavors that meet their individual needs.
To learn more about our wholesale program (psst: we have a samples program), head over to our information page, or - to join our program today - download our wholesale business verification form:
Resources:

1 Candy & Snack Today. Understanding Gen Z Consumers. Accessed April 6, 2019. https://www.candyusa.com/news/understanding-gen-z-consumers/.