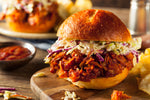 Gone are the days where vegan is misunderstood, and vegan cuisine is only found at specialty bistros or eateries. 

The vegan food trend has swiftly moved vegan fare from niche to mainstream and overlooked to craveable.

With vegan appetizers, snackables and entrees looking like indulgent wings, mouth-watering nachos, juicy burgers, smoky BBQ, fan-favorite chili cheese fries, crispy fried chicken, crunchy bacon, and so much more, vegan (or plant-based) food is far from a bland, undesirable option.

Instead, vegan food is keeping pace – even rivaling – long-standing, animal-based food options.

As a small or large chef, wholesaler, manufacturer, retailer, distributor, caterer, or other food service professional who wants to break into the vegan market, or bolster your current recipes and applications, here's what you need to consider and ensure your efforts entail:
How to Attract the Market with Your Vegan Application(s)
In many ways, the vegan food trend is highlighting what we've seemingly been missing: vegan food can be extremely appealing and incredibly flavor-forward while maintaining its healthy-for-you stature.

To attract the market with your vegan food:


Your application not only needs to be palatable, but also look delectable and taste amazing. We understand that this may seem like a given, but the point is if you feel like your recipe needs more tweaking, don't stop adjusting ingredients and flavors until it's exactly what you set out to achieve.
Speaking of recipes, be sure your formulas themselves are innovative and only include the most crave-worthy alternatives and analogues that mimic the experience of, say, real meat or cheese or milk. Your application must center on mirroring real tastes and textures.
Gear your product (and marketing of the product) toward younger consumers, as they are driving the veg-centric movement and not settling for anything else than incredible tasting vegan food.
To appeal to other generations, like Boomers, Gen X and Millennials, try altering how you market your application. For individuals in these generations, veganism is quickly over looked. Plant-based or plant-forward, on the other hand, is easy to understand and conveys a healthy option (and doesn't foster a confusing or misunderstood notion that some have when it comes to veganism).
Take professional photos of your food for menus, packaging, websites, social media, etc. Showcasing your end product via high-quality photography will tempt the palate and persuade consumers to indulge in your vegan product. 
Above all, to attract the market with your vegan application, your product must boast an enhance flavor profile.
To Stand Out From Your Competition – and Create Renowned Vegan Products – It All Comes Down to Natural Food Flavoring
This vegan food trend is creating quite the competition, and to put your best product(s) out there, there's no way around it: You must be intentional with your flavor building.

Luckily, consumers are quite frank with what they expect and want: Delicious flavor within a product that essentially duplicates the "mainstream" meal it's meant to substitute for.

To those who are thriving in the vegan food market, the secret always seems to be prioritizing the craftsmanship and complexity of natural food flavoring.
Robust, Premium Flavor Extracts that Align with Vegan/Plant-Based Recipes
Since it all comes down to flavor, it's worth reiterating that vegan food products don't have to sacrifice flavor.

At Bickford Flavors, we firmly believe that using flavors and extracts that are derived from the highest quality of sources and formulated to be stronger, distinctive and more versatile than other flavoring methods can single handedly produce an incredible flavor profile and take your product to the next level.

We meticulously create our natural food flavorings to align with a wide array of diets and lifestyles, such as certified kosher, vegan, gluten-free, low-protein, low-carb, GSA, and others.

For over a century, we've been providing the solution to naturally improve the taste and flavor of vegan food products.
Premium Vegan Food Flavorings at Wholesale Prices & Benefits
There is absolutely no substitute for all-natural, premium flavorings and extracts.

If you're ready to create amazing, one-of-a-kind flavors for your vegan applications – but need larger quantities of each extract – we deliver an unmatched wholesale program.

When you partner with Bickford and become a part of our wholesale program, you benefit from preferred pricing, no minimum order requirement after one gallon, and faster than normal turnaround times – we're talking same day processing and shipping on most orders.

For custom flavors, we work hard to flavor match within a week. Once you approve the flavor, orders are processed and shipped the same business day (if the order is received before 12:00 p.m. EST).

Want to get to know us better? We invite you to see what we're all about:
To learn more about our wholesale and samples program, head over to our information page, or – to join our program today – download our wholesale business verification form:
Learn about Bickford's Wholesale Program   |   Download Wholesale Business Verification Form
Have questions? Contact us today or call 440-494-7777. Toll free at 800-283-8322.