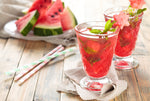 For the vast majority of individuals, summer exists in tandem with delicious, fruity, icy drinks that are alive with real, refreshing flavor – and consumers are thirsty for summer's signature beverages.

As a retailer or wholesaler, what drinks will you serve or sell this season?

Since sourcing and creating incredible, natural flavors is our domain, we've done a little leg work for you and laid out our top picks for summer drink recipes.

Including both non-alcoholic and alcoholic beverages, here are the only three drink recipes you'll need this summer to impress your consumer base by influencing any occasion:
Our Top Summer Drink Recipes
These drinks don't skip a beat when it comes to the freshest fruit flavors. If you're looking for a crowd-pleasing beverage with natural raspberry flavoring, or a watermelon flavoring drink that will win over just about anyone…or, perhaps, a peach beer…let us show you the way:
Alcoholic: Black Dragon Cocktail with Natural Raspberry Flavoring
An intense and flavorful combination of natural raspberry flavoring and fruit-flavored rum, orange liqueur, lime and mint, this cocktail screams summer and is sure to delight the cocktail lover in us all. Serves one.

Ingredients
Directions
In a tall cocktail glass, mash and mix the raspberries and torn mint leaves. Fill the glass to the desired level with ice cubes and stir in Bickford's natural raspberry flavoring, the berry rum, orange liqueur, simple syrup and lime juice. Top the glass with lemon lime soda and stir well before garnishing.
Nonalcoholic: Strawberry Pink Lemonade Milkshake with Natural Strawberry Flavoring
Men, women and kids alike will be able to enjoy this summer classic with a fruity twist. Whirling the tried and true strawberry milkshake into a pink lemonade version – complete with real berries and the must-have, all-natural strawberry flavoring, this is quintessential summer in a glass. Serves one.
Ingredients
Directions
Prep the glass first: rub the rim with melted white chocolate and dip the rim in sprinkles. Set aside to let harden.

In a blender, combine ice cream, strawberries, pink lemonade flavoring and strawberry flavoring. Blend the ingredients until smooth and slowly pour into prepared milkshake glass.
Nonalcoholic or Alcoholic: Watermelon Mojito or Mocktail with Natural Watermelon Flavoring
The mojito is so versatile, we just can't help but gush over it – especially when it includes the ever-so iconic summertime flavor of watermelon. Whether your customers love alcoholic mojitos or devour those mocktails, you cannot go wrong with this route. Serves two.
Ingredients
Directions
Mash together mint leaves, lime juice and sugar in a bowl. Fill two tall glasses with ice cubes, pureed watermelon and rum, then evenly add the muddled mixture to the glasses.

Stir and garnish the glasses with mint and lime slices.
BONUS! Alcoholic: Southern Peach Beer Shandy with Natural Peach Flavoring
Of course, we couldn't leave this summer beverage list void of a beer, and this peach shandy is everything a summer beer should be – light, thirst-quenching and hits all the right fruity notes. You know your customers will agree. Makes one pitcher.
Ingredients
Directions
Bring all ingredients together and stir thoroughly. Pour mixture into glasses with or without ice. 
Why Use All-Natural, Custom Flavor Extracts
In today's health-crazed society, it's no secret consumers are gravitating toward healthier options in food and beverage.

Consumers want healthier beverage ingredients, ones that promote a low-calorie, no sugar added final product. Above all, when it comes to flavorings and extracts, only the best will do, as consumers are looking for naturally sourced beverage flavorings that deliver authentic, real flavors.

As expert flavor chemists, we only produce all-natural, premium flavor extracts to support large and small retailers, wholesalers, manufactures, and more, create innovative, refreshing beverage applications.

With Bickford's full-flavored extracts, your application will include flavorings that are only derived from all-natural sources, formulated to be stronger and more versatile than other flavoring methods, and always certified kosher with no sugar added.

Even if you have a flavor in mind that we don't quite offer, we excel in creating all-natural, one-of-a-kind, custom beverage flavors that meet current market demands and your specific labeling needs – such as low-calorie, low-protein, low-carbohydrate, gluten-free, and much more.
Learn More About Creating Custom Flavors
Discover Bickford Flavors' Custom Wholesale Flavor Extracts for Beverages
Backed by our very own 100-year-old formulas, we formulate our flavor extracts to give your beverage application the exact flavor consistency it needs.

When you partner with Bickford and become a part of our wholesale program, you benefit from preferred pricing, no minimum order requirement after one gallon, and faster than normal turnaround times.

We work hard to support you, your growing business, and your ever-expanding product line with premium flavors.

To get started, download our wholesale business verification form or ask about our sample program.
Download Wholesale Business Verification Form
Have questions? Contact us today or call 440-494-7777. Toll free at 800-283-8322.