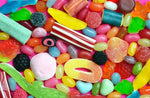 The sweet, the sour, the gummy, the taffy, the chocolate, and the minty – we celebrate all candy this month (and, let's face it, every month)! 

Candy follows us everywhere and accompanies any occasion perfectly.

With National Candy Month in full swing, we felt this to be the perfect time to speak directly to you – the candy and confection maker and manufacturer – and highlight some ways you can make your applications tastier, more desirable and healthier.
Your Consumer's Sweet Tooth: It All Comes Down to Flavor
To many things in life, candy is unrivaled. As humans, we love our sweets and sugars more than a lot of things. However, for as amazing as candy is, if a candy application doesn't have the right texture, visual appeal, and – above all – flavor consistency, we won't hesitate on passing.

After all, there is whole world of other candies and sweets to choose from.

That's why we believe that everything comes down to flavor. To truly create a stand-out, beloved candy application, the flavors you use must leave a lasting impression on your consumers.
To Achieve Flavor that Hits the Sweetest Notes, Have You Considered Integrating All-Natural Candy Flavoring Oils?
It's important for candy makers and manufacturers to take note of how the entire confection industry is evolving as a whole.

The days of relying on synthetic and imitation oils and extracts are fading, and today's health and wellness trends and demands are one of the biggest driving forces behind this progress.

Makers and manufacturers are not only ensuring that their products utilize high-quality ingredients, but they're also advancing to use naturally sourced flavor oils.

As candy lovers and flavor chemists for a wide array of candy applications, we know first-hand that all-natural candy flavoring oils taste fresh, unique and authentic; and cherry on top? Candy flavoring oils that are truly derived from all-natural sources and never include any added sugar, salt, etc., are – of course – healthier. What consumer wouldn't love this complete package?

So, when it comes to your flavors, the short cuts won't get you far today. Go for candy flavors that are innovative and true to source.


Water-Soluble, Oil-Soluble & Custom Soft and Hard Candy Flavoring Oils
Whatever type of candy flavoring oils your application requires, there is undoubtedly a long list of flavors you can choose from.

Water-soluble candy flavoring hard oils are ideal for certain:
Gummies
Candies
Mints
Lollipops
Hard tack candies

Oil-soluble candy flavoring hard oils are perfect for certain:
Candies
Gummies
Mints
Lollipops
Hard tack candies

Of course, if you can't find the exact candy oil flavor you're looking for, creating a custom, application-specific flavor is more than possible and incredibly worth it.

Learn more about creating custom candy flavoring oils:
Discover Bickford Flavors' Candy Flavoring Oils Wholesale Program
Perhaps one of the biggest exclamations we can shout in honor of National Candy Month is this: There is absolutely no substitute for premium, all-natural candy flavoring oils.

Sugar is just sugar until it's brought to life with your innovation and flavoring method.

At Bickford Flavors, we have been providing small and large-batch makers, manufacturers, and other food/candy professionals a solution to naturally improve the taste and flavor of their candy application for over a century.

We formulate our hard candy flavoring oils to be eight or more times more concentrated than our other candy flavors and extracts, and our oils are always specially made to align with special diets and lifestyles, such as such as low-protein, low-carbohydrate, gluten-free, and more.

The best part? Our premium flavors are certified Kosher and are available at wholesale prices and benefits.

Our wholesale program delivers:
Preferred pricing
No minimum order requirement after one gallon
Faster than normal turnaround times

Want to get to know us better? We invite you to see what we're all about:
Browse All Water-Soluble Hard Oils
Browse All Oil-Soluble Hard Oils