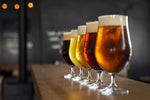 Staying one step ahead in the perpetually-competitive beer market is no simple task. From beer styles to flavoring options, the creative direction you can go is seemingly endless.

That's why you work tirelessly to identify unique flavor trends that can set your brews apart from the crowd, and nothing feels better than finding that distinctive beer style and flavor profile that helps you rise above the competition and keeps your customers coming back for more.
Beer Styles: Why Innovation is Key in Today's Competitive Beer Market
Every time you turn around it may seem as if another brewery is opening its doors. The level of competition is constantly growing, so keeping your customers engaged and interested by evolving your brewing styles and flavoring techniques is essential.

But you already knew that.

Being innovative within the ever-expanding beer market requires tremendous skill and foresight in order to identify which flavoring trends are emerging and what beer styles are best impacting the market in general.

Seasonal offerings have become commonplace, so achieving an effective rotational beer menu enables your customers to experience the full breadth of your beer style and sophistication.

It also allows you to flex that creative muscle that inspired you to enter the challenging field of brewing in the first place. Being able to develop your beer offerings and flavor profiles with quality flavor extracts enables you to set your beers apart.

On top of all that, it provides you the opportunity to add your personal signature to every beer and beverage that you create while also introducing your customers to beer options they never thought they'd fall in love with.
Beer Styles That Are Making Their Mark
The beer trends and styles that are taking off this year are as varied as the breweries making them. From Scotch ales to American stouts, this year is shaping up to be one of the most innovative brewing years to date.

A few of the more popular emerging trends have customers doing double takes when they sip these unique beverages because of the way that brewers are breaking trends and pushing the limits of flavor profiles:
Alcohol-Based Seltzers
It may seem weird to highlight the emerging trend of flavor-based seltzers, but this brewing approach is taking off.

From major brewing conglomerates to local brew companies, the decision to maximize the expanding alcoholic seltzer demographic has been one of the more popular trends this year.

With the neutral canvas associated with seltzer, the flavoring approaches are literally endless. From fruit-flavored options to herbal-flavored selections, the decision by brewers to try their hands at a seltzer-based beverage for their customers has been paying off nicely. With the weather warming up, the alcohol seltzer trend doesn't appear to be slowing down any time soon.
Fruit-Enhanced Ale's
A number of brewers have taken the evolving flavor trends of their craft and focused on how to best highlight this time-tested, sweet and full-bodied beer type.

Due to the transformative properties of an ale, using it as the base for seasonally focused beverages has proven to be an effective way of catching customers' attention.

From tropical pale ales to blueberry and apple ales, the opportunities for building upon this beautiful beer base and creating your own distinct beverage are wide open.


Signature Gose Creations
This sour German wheat beer is another emerging trend among brewers this year.

It's distinctive sour notes and refreshing aftertaste enables a gose to accentuate a number of differing flavor profiles.

From key lime to mango to blood orange, the manner in which this 1000-year-old brew has been energizing today's trendiest brewing labels is setting the beer market ablaze.

Finding your own signature gose is an excellent way to capitalize on this current brewing trend.
Ready to Brew Your Way to the Top? Let's Talk About Adding Flavor Extract to Beer:
Whichever brewing trend you are attempting to evolve, implementing the highest quality flavor extract is nothing to take lightly.

When you consider the sheer volume of breweries trying to corner their share of the market, every detail counts. This includes the types of beers you decide to brew and the quality of the ingredients you are using in your creations.

That is why it is vital to use premium, all-natural flavor extracts in all of your flavor-enhanced beer concepts.

The same way you want your customers to understand that your beer is better than the competition because of the love and care you put into your product; it is imperative to choose a flavor extract company that does the same.
Give Your Beers the Best with All-Natural, Specially Crafted Wholesale Beer Flavoring Extracts
Whether you're on the verge of capitalizing on one of the aforementioned trends or have a true, original thought you can't wait to bring to life, the team at Bickford Flavors is here to help you achieve full-flavored tastes that are real and naturally sourced.

When you partner with us, you can expect beer flavoring extracts to meet current market demands and your specific labeling needs – such as certified kosher, low-protein, low-carbohydrate, gluten-free, and more.

Our premium flavors are always certified Kosher and always derived from the highest quality sources.

Get to know our flavors and selection by browsing our complete line of extracts:
Browse Beer Flavoring Extracts

Want to learn more about partnering with Bickford to create unique, custom flavors that will help your brand and beers stand out among the competition? Find everything you need to know here: