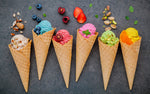 I scream, you scream – you know how the cravings go – we all scream for ice cream! 

Other than heat waves and sunshine, nothing reigns more supreme than ice cream in summertime.

Whatever the occasion, ice cream is sure to boost moods with its creamy, dreamy taste of happiness the minute its ice-cold sensation hits the taste buds.

From rocky road to chocolate chip cookie dough, peaches and cream to peanut butter blast, the variety of flavors available nowadays can leave a person's head spinning when trying to decide which to indulge in.

As an ice cream manufacturer or small batch maker, understanding taste trends is what will help you make the necessary adjustments to give consumers and customers what they want, while also introducing them to delicious new creations that will blow their minds and keep them coming back for more.
Cold, Creamy Facts: Data on America's Favorite Ice Cream Flavors
While the number of flavors available to people is ever-expanding, a majority of customers find themselves coming back to the tried and true offerings.

Recent studies show that a whopping 96% of Americans regularly eat ice cream;1 and while the preferred flavor varies a bit from region to region, the majority of those polled stated that their top choices are consistently chocolate and vanilla.2

This has been attributed to the average American's desire to have a blank canvas, if you will, when they prepare their ice cream concoctions.

But canvases don't always have to be so black and white. In fact, more times than not, consumers gravitate toward the new and are always looking for flavors that are refreshing or give the classics a boost/put a new spin on them. Or, perhaps above all, they're looking for flavors that taste of premium flavor sources and provide healthier benefits (like sugar free or high protein or low calorie).

Flavors such as strawberry, blueberry and peach have recently spiked in popularity, trending as some of the most popular dairy flavors, while others like mint chocolate chip and pistachio continue to grow.3

The important takeaway: Americans are eating a ton of ice cream and they're always looking for that next new flavor that is going to knock their socks off.
Favorites Aside, the Ice Cream Market is Ready for a Twist
While vanilla and chocolate have shown to be the most popular flavors among customers, the reasoning for these choices actually indicate a more adventurous motivation.

People tend to choose these flavors because of the way in which they allow them to experiment with different toppings and flavors once they get them home.

As a manufacturer, this information is key to not only attracting new consumers, but also wowing them once you grab their attention.

Since the ice cream market is always ripe for innovation and better tasting ice creams, custards, and yogurts, what flavors or combinations can you create that will rouse new cravings and motivate more taste enjoyment?

What direction have you always wanted to take your production line and flavor offerings?

Remaining current on pertinent information, like which fruit combinations and flavors are trending nationally, or even regionally, can help you tailor your ice cream offerings to those specific popular choices. Armed with this information, combined with the highest quality flavor extracts available, would equal a recipe for success.
Feeling Inspired? Create Custom Ice Cream Flavor Concentrates
Palate-trending flavors indicate the importance of not only quality ice cream, but also quality ingredients to enhance the overall excellence of your ice cream offerings.

When discussing ice cream trends and innovations with various manufacturers and makers, the response is consistently the same: High-quality extracts are the key to achieving high-quality flavors and one-of-a-kind ice cream creations.

So, what new ice cream flavor are you thinking of? Creating an ice cream flavor that doesn't exist yet, or one that has your very own twist to it, is easier than you may think – and can truly elevate your overall ice cream offerings.

Whichever flavor trend you want to evolve, customize and/or create, it is vital to use premium, all-natural flavor extracts in all your flavor-enhanced ice cream concepts.
Your Custom Ice Cream Flavoring Extracts Will Only Be as Good as the Sources They're Derived From
No matter what you've heard, extracts are not all created equally. While some people take shortcuts in creating their extracts, others prefer to do it the right way.

By using only the highest quality ingredients and ice cream flavor extracts that are produced with the utmost quality and care and derived from all-natural, premium flavor sources, your ice cream will stand in a class all its own.

At the end of the day, it is the passion of creating the highest quality product that helps some manufacturers achieve greatness.

In pursuit of that goal, it is essential to use the best extracts and ingredients in order to become the best at what you do.
Get to Know Bickford: Formulating the Highest-Quality Ice Cream Flavors at Wholesale Quantities & Prices
We are long-time flavor chemists and champions for amazing tasting food and beverage.

While our section of all-natural, certified Kosher ice cream flavor concentrates is wildly extensive, that's not all we're known for.

It is our absolute passion to create custom ice cream flavoring extracts that are crafted from absolute quality and care – including only using the most premium of flavor sources – and formulated to be stronger and more versatile than other flavoring methods to give your ice cream product the exact flavor consistency you've desired all along.

On top of that, all our ice cream flavoring extracts – whether custom or not – are formulated to meet current market demands and your specific labeling needs, such as certified kosher, low-protein, low-carbohydrate, gluten-free, and more.
Our Wholesale Ice Cream Flavoring Extract Wholesale Program
When you partner with Bickford and become a part of our wholesale program, you benefit from:
Preferred pricing
No minimum order requirement after one gallon
Faster than normal turnaround times, like same day processing and shipping on most orders

For custom flavors, we work to flavor match within a week. Once you approve the flavor, we process the order and ship the same business day (if the order is received before 12:00 p.m. EST).

We're committed to supporting you, your growing business, and your ever-expanding ice cream product line with premium flavors.

To get started, download our wholesale business verification form or ask us about our sample program.
Download Wholesale Business Verification Form
Learn more about creating custom ice cream flavors:
Create Custom Ice Cream Flavorings and Extracts
Have questions? Contact us today or call 440-494-7777. Toll free at 800-283- 8322.
Resources:

1 The Guardian. The big scoop: America's favorite ice-cream flavor, revealed. Accessed July 1, 2019. https://www.theguardian.com/lifeandstyle/2018/jul/11/us-favorite-ice-cream-flavor-chocolate-vanilla-butter-pecan.

2 Frozen Dessert Supplies. America's Top 10 Favorite Ice Cream Flavors and the Best Toppings to Go With Them. Accessed July 1, 2019. https://www.frozendessertsupplies.com/p-1014-americas-top-10-favorite-ice-cream-flavors-and-the-best-toppings-to-go-with-them.aspx.

3 International Dairy Foods Association. Ice Cream Sales & Trends. Accessed July 1, 2019. https://www.idfa.org/news-views/media-kits/ice-cream/ice-cream-sales-trends.