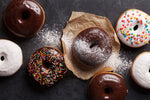 While there aren't many things that everyone can agree on, there is one fact that gets everybody on the same page: donuts are amazing.

From doughy to glazed, cream filled and deep fried, the donut is a decadently delicious treat no matter what time consumers decide to eat.

With the creation of everything from muffin-based donuts (duffins!) to donuts made from beer-based batter, the expanding world of this popular pastry is evolving in texture, form and flavor.

Being innovative and ahead of the curve on the up-and-coming donut trends takes a willingness to incorporate bold new flavors and the bravery to think outside of the box.
The Evolution of the Donut
When donuts first graced the shores of America, they were known to the masses as "oily cakes."

Over the decades, this delectable fried dough has transformed in shape, size and flavor.

From predominantly spiced donuts in the 19th century (think cinnamon and nutmeg) to warm treats served to our American soldiers in the trenches of WWI, the evolution of the donut has followed some of the most influentially historical moments.1

It's no wonder that today there are over 10 million donuts made in the U.S. every year, with the number growing as the appetites of the masses continue to rise.2

With the ever-expanding desire for these fluffy fried treats, finding new and innovative ways to create today's donut takes more than hot oil and dough: It takes a deep understanding of crowd-pleasing flavors.
Donuts Deserve Delicious Flavor
Being the first one to create that next big donut flavor takes a deft hand and creative palate. From awesome creations like the cronut (the flaky donut made from delicious croissant dough) to tasty donut sandwich combinations (fried chicken donut sandwich? Yes, please!) experimenting with unique tastes and flavors is key.

Being able to identify what consumers are looking for in texture, flavor and visual stimulation is the holy trinity of food sales.

When it comes to creating the next great donut trend or flavor, these sensory standards hold true. Some of the most popular donut creators and innovators around the country have found a way to tap into what their local patrons are looking for before they even ask for it. Here are some examples and, perhaps, inspiration:
Beer-Based Batter
The Midwest has seen their donut stock skyrocket with the introduction of beer-based donut batter. These yeasty treats add an entirely new and complex flavor profile to donuts, with malty hops and pale ales added to the dough.

Add to that the fruity notes and flavor extracts being added to this innovative dough and it is no wonder that these donuts sell out on a daily basis.

Movie-Themed Donut Offerings
Another hip movement taking over the donut scene are weekly donut offering that incorporate popular movie trends.

From donuts based on holiday movie classics, using flavors like pumpkin, lemon and strawberry to highlight the season, the opportunity to create a unique and seasonally-epic donut style is only limited by the confines of your own imagination.

Classics Baked with a Textural Twist
While the creation of the cronut changed the donut game, other creative textural offerings are already being cooked up and created to become the next big thing.

Creations like the duffin (donut/muffin combo) and big poppa tart (donut/pop tart combo) are just a few conceptual ideas that have started making waves in the donut world. The big question is: What will be next?

Whichever flavor or texture you find yourself leaning toward, the important thing to remember is that it takes guts to try something different. Whether it be a new flavor combination or even a completely different take on the donut concept (savory donuts rock, too!) being an original requires you to take a new perspective on the classic donut.

Ready to Innovate? Start with the Best Flavor Extracts for Baking
When you're ready to put your own unique spin on the donut industry, it is important to set yourself apart from the crowd.

Starting with premium flavor extracts allows you to experiment with all sorts of flavor profiles and combinations – from unique fruit-based fillings to flavored dough and toppings. The possibilities are genuinely endless when you decide to incorporate the highest quality baking extracts derived from all-natural sources.

If you think that every flavor extract is the same, consider this: If you were offered a cut of meat from a discount dollar store or from a high-end steak house, which would you choose?

Where and how something is collected, produced and distributed can make all the difference between just doing something and doing something the right way.

Adding the highest quality flavor extracts to your donut creations can be the difference between making a new donut flavor and making the new donut flavor.

The choice is yours.
Baking Extracts in Bulk for Your Donut Line
Can't find the exact flavor extract you're dreaming of for your donut creations? Or, perhaps you're just not happy with the overall quality of the flavor extracts you've been using.

Either way, we hear you. We proudly partner with bakers from all over and from all walks of the industry – such as home bakers, small batch bakers, wholesalers, manufacturers, retailers, distributors, food service & caterers, and much more – to help successfully create products with one-of-a-kind tastes and aromas.

In addition to our custom flavorings and bulk availability, our partners have come to love our ability to create flavors for current market demands and your specific labeling needs – such as certified kosher, low-protein, low-carbohydrate, gluten-free, and more.

To create any of our flavors, we only use the most premium of flavor sources and formulate our extracts to be stronger and more versatile than other flavoring methods to give your donut or pastry product the exact flavor consistency you've desired all along.

Want to learn more about partnering with Bickford Flavors to create your custom flavors? Find everything you need to know here:
Custom Flavorings and Extracts Wholesale Program
Wholesale Food Flavorings Program for Donut Bakers and Manufacturers
When you partner with Bickford and become a part of our wholesale program, you benefit from:
Preferred pricing
No minimum order requirement after one gallon
Faster than normal turnaround times, like same day processing and shipping on most orders
For custom flavors, we work to flavor match within a week. Once you approve the flavor, we process the order and ship the same business day (if the order is received before 12:00 p.m. EST).

With over a century of experience, we stand by tradition and are dedicated to providing you with the best flavorings, personal service, and value. We're committed to supporting you, your growing business, and your ever-expanding product line(s) with premium flavors.

To get started, download our wholesale business verification form or ask us about our sample program.
Download Wholesale Business Verification Form
Have questions? Contact us today or call 440-494-7777. Toll free at 800-283- 8322.
Resources:

1 Smithsonian. The History of the Doughnut. Accessed August 2, 2019. https://www.smithsonianmag.com/history/the-history-of-the-doughnut-150405177/.

2 Mental Floss. 15 Delicious Facts About Doughnuts. Accessed August 2, 2019. http://mentalfloss.com/article/71300/15-delicious-facts-about-doughnuts.