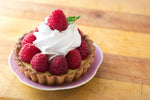 Who can say no to a sweet treat?

A quick study on our primate and primitive ancestors – who survived on sugar-rich fruit and preferred riper fruit because it provided more energy with its higher sugar content – and we can see that our sweet tooth has evolved with us.

Without question, sugar is a true ancient craving. While our evolution far exceeds the necessity to heavily rely on ripe, sugar-rich fruits for survival, the vast majority of people today still love their sweet treats and find a lot of joy and comfort in them.

Of course, as a manufacturer, distributor, or small or large batch baker, you certainly know: Some consumers today have found a way to ignore cravings for sweets and, thus, have stopped purchasing and consuming them.    
Do You Know Why Consumers Turn Off Their Sweet Tooth?
Unfortunately, consumers who have decided not to indulge in sweet treats aren't exactly playing hard to get.

While some make this life choice for health reasons, others simply realized that what they were putting in their bodies – regardless of how good it tasted – was full of unhealthy, artificial ingredients and flavored with synthetic oils and extracts.

While it's easy to see that our evolution has landed us in a place where most sugar consumption is for pure pleasure, most people, including doctors and nutritionists, would agree that everyone, to a certain extent, has a desire for sweet treats (and that occasional indulgences are good for the soul).
A Sweet Pause: An Evolution is Upon the Confection Industry
While we certainly align with you on the mantra that everyone needs a little sweet in their life, how can you convince customers who have seemingly ditched sweet treats to come back and give your products a try?

How can you evolve your product line to appeal to the health conscious and the tried-and-true sweet connoisseurs?

Have you heard of the clean label trend?

With today's wide-sweeping health and wellness trends – that encompass everything from food and beverage to baked goods and candies – more and more consumers (not just the ones who are forgoing sweet treats) are taking the time to understand a product's label and only purchasing/consuming products that clearly deliver on real ingredients and naturally-sourced flavors and extracts.
Make Life Sweeter for All Customers – Past, Present, Future – With All-Natural Flavor Extracts for Baking
The successful pivot we see confection product lines make is altering formulations to be more transparent and substantiated and delivering authentic flavors over imitation.

Because individuals today – especially the highly-influential Gen Z – are all about organic and natural, confection manufacturers and makers can stay relevant and desired by using natural ingredients and flavors that will catch the attention of consumers who have gone astray.

There is absolutely no substitute for all-natural, premium flavor extracts for baking.

By incorporating the highest quality baking extracts that are derived from all-natural sources, you can create healthier dessert options with enhanced flavor profiles.

In addition to naturally-sourced flavor extracts for baking being healthier, they also can help you create lifestyle-specific applications, like:
Gluten free
Low calorie
No sugar added or less sugar
Keto-friendly
Much more
Healthier Doesn't Have to Mean the Downfall of Your Sweet Flavors
Certainly, altering the ingredients and flavors you use can feel risky, but with so many incredible and tasty alternatives available – including the extracts and flavors you use – you can still deliver amazing products with exceptional, crave-worthy flavor.
Keep in mind that when you use flavor extracts that are sourced from high-quality, all-natural sources – ones that are also unique, innovative, and formulated to deliver sensational tastes and aromas – your sweet treats can stand as healthy outliers to today's standard and overly-processed baked goods.
Discover Bickford's Baking Extracts in Bulk that Meet Market Demands & Align with Various Lifestyles
In your pursuit to create healthier and more flavorful dessert options, we're here to help you enhance your flavor profiles and attract new and old customers.

For over a century, Bickford Flavors has been providing bakers, chefs, manufacturers, retailers, distributors, and other food service professionals a solution (in bulk quantities) to naturally improve the taste and flavor of any product and help customers come back for more.

Our all-natural extracts and flavors are certified Kosher and formulated to meet current market demands, specific labeling needs, and certain diets and lifestyles – such as gluten-free, low-protein, low-carb, GSA, keto-friendly, and others.
Our Wholesale Food Flavorings Program Offers:
When you partner with Bickford and become a part of our wholesale program, you not only benefit from flavor extracts that are stronger and more versatile than other baking flavoring methods, but you also receive:
Preferred pricing
No minimum order requirement after one gallon
Faster than normal turnaround times

We work hard to support you and your growing product line with premium flavors.

Learn more about our wholesale and sample program or, to get started today, download our wholesale business verification form:
Download Business Wholesale Verification Form
Have questions? Contact us today or call 440-494-7777. Toll free at 800-283-
8322.