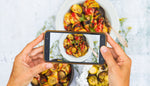 We've all seen the droves of patrons ordering all types of food and beverages at every business imaginable in order to snap the perfect picture before uploading to their preferred social media account.

From Yelp to Instagram to Facebook, the number of people posing as amateur food critics and social media influencers is seemingly endless.

While this type of constant free publicity can be seen as a God send, it can also quickly turn into a nightmare if it is used to point out negative experiences.

With the nature of connectivity and social media in this day and age, it is so important to understand the power of today's social media platforms so you can use them effectively to promote your products, restaurants and business.

When used strategically, social media can help you interact more effectively with consumers and help you make every effort to control the narrative around your business and brand by highlighting high-quality products and showcasing high-quality experiences.
Social Media Empowers Everyone to be a Critic
Imagine you are visiting a new city or getting out in your own city for an evening with family and friends. You want to find the latest and greatest – from that brewery that everyone has been talking about to that new ice cream shop with the organic, gluten-free waffle cones.

Where is the first place you look for insight and reviews?

Instagram? Facebook? Yelp?

Recent studies have shown that 86% of people use social media at least once a day, and 72% use it multiple times per day.

While most users tend toward Facebook (82% of respondents), Instagram is also referenced quite a bit (53% of respondents);1 and Yelp, of course, is a hot spot for food and beverage photos, reviews and ratings.

This knowledge is extremely significant when identifying the importance of establishing a social media presence.

Reaching younger generations is no longer achieved by taking out space in a local paper or paying for TV or radio time.

Today's patrons turn to their phones when they want to find a local restaurant or coffee shop, so making sure your business is one of the first options they see requires a strong social media presence and positive reviews from every person that you do business with.

From the younger demographics who have been raised in the social media and WIFI frenzy to the older demographics who aren't as tech savvy but tend to be twice as critical, finding a balance can feel difficult at times. But making sure you provide each and every patron with an excellent experience is not as difficult as it may seem.
When Your Focus is on Quality, Social Media Success Follows Suit
The secret to achieving positive social media responses, killer reviews and a strong social media following is really contingent on one simple word: Quality.

From the product that you provide to the pictures that you post to the moments that you engage with consumers, adhering to this one word ensures that every interaction and experience is high-value and remarkably memorable.

While, of course, you cannot control everyone's reaction to your products and services, sticking to a high-quality approach in everything you do ensures that you are doing everything within your power to protect your social media presence.
The Amplified Competitiveness of the Food Service Industry Requires the Best Flavors
Taking the time to establish a solid social media presence is only one portion of the equation.

Understanding the competitive nature of the food service industry, and how taking advantage of every opportunity to set yourself apart, is the second. This requires creativity and originality in order to craft something that wows everyone who walks through your doors.

Some of the most successful food service and beverage companies are the ones who take the time to acquire the highest quality ingredients and all-natural flavor extracts to provide their consumers with tastes they've never experienced.

While social media can give your customers a look at your food or beverage that captivates their sight and makes their mouth water, it is the overall flavors that you include in your product that will inspire them to share their wonderful experience on social media.

Give them something memorable and high-quality and they will encourage their friends, family, and followers to come to your establishment or buy your products.
Give Social Media Something to Talk About with All-Natural Extracts and Flavors
When you think of memorable food or beverage experiences, what sticks out? For most, it is the moments in which they tasted a high-quality product that included superior ingredients and thoughtful presentation.

If you want to achieve success in the food industry, it is imperative to understand that flavor is a major component of attaining that goal.

Taking the time to include all-natural extracts and flavors in your products can not only set you apart from the competition, but it can also help generate countless positive reviews and interactions on social media.


We're a Natural Food Flavoring Supplier Dedicated to Helping Food Service Professionals Create Incredible Tasting Foods
Starting that next social media trend typically begins with an amazing experience that someone has and then decides to share with others.

At Bickford Flavors, we firmly believe that incorporating the highest quality flavor extracts into your products is an excellent way to provide that experience – getting social media talking and helping propel you to bigger and better things.

Suitable for almost any application and formulated to be stronger and more versatile than other flavoring methods, we invite you to get to know our flavors:
Browse Our Flavors   |   Visit our FAQ Page
Our Wholesale Food Flavorings Program
For over a century, we've been providing large- and small-scale makers, manufacturers, retailers, distributors, and other food service professionals a solution to naturally improve the taste and flavor of any product and help their customers come back for more.

Our all-natural extracts and flavors are certified Kosher and can be formulated to meet current market demands, specific labeling needs, and certain diets and lifestyles – such as low-protein, gluten-free, low-carb, GSA, and others.

When you partner with Bickford and become a part of our wholesale program, you receive:
Preferred pricing
No minimum order requirement after one gallon
Faster than normal turnaround times
Learn more about our wholesale and sample program or, to get started today, download our wholesale business verification form:
Bickford's Wholesale Program   |   Download Wholesale Business Verification Form
Have questions? Contact us today or call 440-494-7777. Toll free at 800-283-8322
Resources:

1 The Manifest. How People Use Social Media in 2018. Accessed August 2, 2019. https://themanifest.com/social-media/how-people-use-social-media-2018.