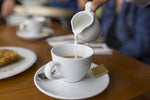 What's better than holding a cup of your favorite warm beverage on a cold morning, savoring the fragrance of the drink while staring out and wondering what the day will hold?

For many of your customers, this brief moment of tranquility – whether it be on the porch of their home or the stool at their favorite coffee shop – allows them to hit the pause button and simply enjoy the experience.

Being able to facilitate this individualized moment of simple splendor by providing your customers with a well-crafted drink experience is paramount to remaining relevant in the beverage industry.

So, what will you surprise the market with next to surpass the competition? Perhaps a unique flavored drink or a unique flavoring to add to their favorite cold weather beverage?
Let's First Talk Coffee and Its Big Business Counterpart
Sure, there are plenty of coffee aficionados who will tell you the only way to enjoy a perfect cup is to sip it black. But, for many individuals, adding a favorite creamer and/or flavored sweetener has become big business around the globe.

In 2015, overall retail sales for refrigerated coffee creamers reached $2.5 billion in the U.S. alone.

Add to this the booming market of unique flavorings at the local Starbucks or indie coffee houses (think turmeric lattes and pumpkin spice everything) and the fiscal potential in a new coffee syrup or creamer is a gold rush waiting to happen.

A Senior Brand Manager for the global creamer giant, International Delight, stated that, "two-thirds of adults in the U.S drink coffee" and nearly 80% of them add something flavored to their daily cup of joe.1

Tapping into this market is an amazing way to not only build your brand, but to also introduce the world to the next big thing that will enhance and elevate the coffee experience.
Important Notes About Dairy Flavoring for Cold Weather Beverages
How can you set yourself apart within the competitive dairy flavoring market?

Tapping into popular shopping trends is an excellent place to start. Nowadays, producing a product with no GMO's or artificial flavoring has expanded in popularity and provided manufacturers a means of attracting new consumers by increasing the overall quality of their product.

A 2018 survey showed that nearly 50% of consumers actively avoid purchasing products with bioengineered ingredients, which was up from 15% in 2007.

Hans Eisenbeis, Director of Marketing and Communications for the Non-GMO Project, identified a consistent pattern of 15-20% annual growth for non-GMO products for the foreseeable future, surpassing all expectations within the industry.2

Taking this knowledge and using it to establish a manufacturing approach for a new non-GMO creamer or organic syrup signifies that you are not only aware of the market trends, but also actively working to meet the product quality expectations of today's consumer.
Think About Teas & Hot Chocolates, Too:
Additionally, you can use this information to expand upon the current market offerings by developing new, natural-milk substitutes using the various alternatives, like almond, oat or cashew milks, and making them great options to add to coffee, tea or hot chocolate.

A main takeaway: It all comes down to a quality base and adding the highest quality dairy flavor extracts – that are naturally derived and free of all GMO's and artificial additives – to capitalize on this expanding market.
Dairy Flavors for Dairy and Milk-Substitute Products
Being able to create a unique and distinctive signature dairy product starts with the highest quality products and ingredients.

Incorporating non-GMO flavor extracts that are made from all-natural flavor sources enables you to deliver a one-of-a-kind flavor experience to your customers, while also capitalizing on today's popular purchasing trends.

In the competitive beverage market, taking every advantage available to set yourself apart from the competition is essential to establishing yourself as an innovator and creative connoisseur.

That's why using subpar flavorings or commonplace flavor extracts simply will not due.

Differentiating your brand from the rest of the market requires flavor extracts that add premium taste and enhance the overall quality of your product.

Even if you are creating a no-dairy/milk substitute product, specific dairy flavor extracts that are made from high-quality, all-natural sources enables you to capture the creamy, authentic dairy flavor notes consumers desire.
Cold Weather is Coming: Your Source for Premium Flavor Extracts for Beverages
At Bickford Flavors, we believe that dairy flavorings must do double duty to create a crowd-pleasing product. They must:
Mix seamlessly with the other ingredients for richness and creaminess and
Deliver an extraordinary, authentic taste of dairy (especially in dairy-free products)
Our line of premium flavor extracts for dairy and milk substitute products are all-natural, certified Kosher, and formulated to capture authentic rich or creamy, sweet or savory notes that make certain dairy products live on a level all their own.

Every Bickford flavor extract is formulated to meet current market demands and your specific labeling needs – such as no sugar added, low-calorie, low-protein, low-carbohydrate, gluten-free, and more.
Shop Our Water-Soluble Milk & Dairy Flavors
Our Flavor Extract Wholesale Program
We partner with small to large/commercial beverage makers and manufacturers, and we deliver the best flavor extracts at wholesale prices and quantities.

Our wholesale program offers:
Preferred pricing
No minimum order requirement after one gallon
Faster than normal turnaround times
We are committed to your growing business and beverage product line.

To get started, download our wholesale business verification form or ask about our sample program.
Download Wholesale Business Verification Form
Have questions? Contact us today or call 440-494-7777. Toll free at 800-283- 8322.
Need a Custom Dairy Flavoring for Your Beverage Application?
In addition to our line of flavor extracts, we create custom flavor extracts for beverages with one-of-a-kind tastes and aromas.

Want to learn about partnering with Bickford Flavors to create your custom flavor(s)? Find everything you need to know here:
Create Custom Beverage Flavorings
Resources:

1 Eater. The Normcore Cult of Flavored Coffee Creamer. Accessed September 25, 2019. https://www.eater.com/2019/2/28/18243753/coffee-creamer-cult-coffee-mate-international-delights-nestle-flavors-french-vanilla-snickers.

2 Food Business News. Non-GMO Project growth 'extreme and consistent'. Accessed September 25, 2019. https://www.foodbusinessnews.net/articles/14368-non-gmo-project-growth-extreme-and-consistent.