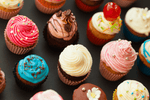 Some proclaim baking to be an art, others declare it's definitely a science. As a baker yourself, or a professional in the baking industry who deals a lot with ingredients and flavors, we're guessing you have your own take on what baking is.
We believe it to be a delicate balance between the two.
The science: While most baked goods are composed from a few basic ingredients, they're undeniably finicky in nature. Forgetting or incorrectly measuring one ingredient can cause the entire batch to collapse.
The art: But, a misstep in the science can usually be quickly remedied. For as saturated as the baking world is, it takes unparalleled creativity to recreate a baked good that has been around for hundreds of years and is sold in masses today.
To truly create a unique yet familiar product – or an entirely original confection altogether – the texture and visual appeal have to be on point, and, most importantly, the flavors you use must leave a lasting impression on your customers and consumers.
From popular flavor extracts for baking to the best flavor combinations and highly unique extracts for baking — the ones that are truly innovative and will make any consumer do a double take — we're here to inspire and help you take the next step in your baking product line or help you take the leap and start experimenting with flavors to create one-of-a-kind taste experiences.

Take a look at our suggestions for the best flavor extracts for baking:
Today's Most Popular Flavor Extracts for Baking
Just because they're popular flavors doesn't mean you can't use them and still win over the market. On the contrary, you definitely can and should. Here's why: these are flavors that consumers are loving and craving. If they're missing from your products, consumers may become disappointed and pass your products by altogether.

In today's baking market, you know it's not enough to just add flavor. By using Bickford's premium, all-natural flavor extracts for baking, your products will produce that sensational taste needed to differentiate your brand and make your creations and products live on a level all their own.
Unique & Unconventional Flavor Extracts for Baking
If you're really into experimenting and tapping into new flavor profiles, or if you're ready to start innovating the flavors in your product line, unconventional flavors can be fun to 'play' with, and you can really produce some highly unique flavor concepts for baked goods and treats.

Try your hand with any of the following unique flavor extracts for baking:
This simply enticing flavor extract adds a sweet floral taste to baked delights of all shapes and sizes. When used properly, lavender flavoring can enhance everything from banana cream pie to tiramisu. Whether you're a baker, pastry chef or something in-between, you can use this fragrant and sweet-smelling extract to add a unique depth of flavor to cakes, cookies, breads, and more.

As a unique flavoring option to enhance the taste of your baked goods and sweet treats, champagne extract can be used in a variety of ways. From fruit pastries to shortbread cookies, adding a little champagne extract enhances the buttery flavor of your creations, drawing out a slightly nutty taste. Even chocolate baked goods can benefit from the presence of a little champagne extract, bringing out the taste of the cocoa and adding an unexpected pop of flavor.
Ginger flavoring is a unique favorite among pastry chefs for its versatility and usefulness in elevating the flavors of almost any baked good. There is no flavor in the world quite like ginger with its zesty bite and warm undertones. Bickford's ginger flavor adds spicy notes and a slight earthy essence that can enhance the overall flavor profile in cookies, cakes and crumbles. While it may seem unlikely, ginger pairs well with a broad range of flavors, such as chocolate, fruit and carrot.
Known as more of a tropical fruit flavoring, papaya can add a delightfully playful kick to any of your baking ideas. The distinct taste of papaya flavoring can be added to muffins and streusels, taking your everyday recipes to new heights; and while papaya flavoring may not be the most common flavoring option, it can add a beautifully tangy taste that makes your sweet treats unique among other desserts.
From India to the Middle East, pistachio flavoring is used to impart an air of luxury and sophistication to all varieties of baked goods. That's because pistachio isn't just for ice cream anymore. You can actually accomplish an amazing depth of flavor with the earthy overtones and mild nuttiness you get from our all-natural pistachio flavoring. Try using this option as a counterpoint to bright citrus tastes used often in buttery biscotti, pound cakes, and fruit tarts.
Our habanero flavoring is not for the faint of heart. This unique flavor option has a distinct fruity, floral taste, subtle smokiness, and an overall flavor profile that's bursting with pungency. Habanero extract makes flavoring a unique, but increasingly popular option for bakers. Since sweet and spicy is a classic flavor combination, adding habanero flavoring to your baked goods can take recipes from dull to delectable with just a drop or two. It pairs great with fruit options, too, like pineapple, mango, apple and orange.
The sweet goodness of Bickford's violet flavoring can transport anyone to a quiet summer day. Whether adding this delicate floral flavor to buttercream frosting, macarons or cake batters, a hint of our violet flavoring is the perfect way to create a nuanced taste experience. This elegant flavor option is a truly unique experience that perfectly pairs with both fruit and chocolate baking concepts.
Bickford's key lime flavoring captures everything you know and love about the zesty citrus flavor option. This wonderfully tangy flavoring can truly do anything. From the classic pie option to unique cake offerings, luscious cookie concepts to invigorating muffin ideas, our key lime flavoring is the perfect way to transform so many baking creations, leaving a consumer's sweet tooth wonderfully satisfied.
Our naturally and succulent fig flavoring is the perfect addition to any cake or cookie recipe. This versatile flavor option can be used in all varieties of baked goods, from moist ricotta loaf cake to gluten-free cookies, and from brownie batters to buttery danish. The great thing about our fig flavoring is that it can add a nutty, earthy tone to your favorite baking concepts because it doesn't dominate the final result. Instead, it elevates your baking product to new heights.
With a flavor somewhere between a strawberry and a pear, our gorgeous guava flavoring can easily fit into any of your baking concepts. The simplistic beauty associated with the flavor can take any baked good, from cupcakes to croissants, and take them to another level. Whether adding a few drops to the batter or creating a wonderfully aromatic filling, Bickford's guava flavoring is an essential addition to your flavoring rack.
Crowd-Pleasing Flavor Combinations
An easy way to kick up the fun and individuality of your product is to combine certain flavors together.
As bakers and flavor chemists ourselves, here are our favorite flavor combinations that we hope you find inspiration in and are willing to include in your baking application:
Chocolate Cherry
Rich, deep notes of smooth chocolate and fresh cherry come together in this decadent flavor. The cherry nuances that live in this flavoring will help set any application – whether baked goods and other pastries, ice cream, and candies – on their own level of taste superiority.
Available in both a water-soluble flavor and a water-soluble hard oil.
Orange Grand Marnier
We refer to this flavor as sinfully delicious, and we're certain we're not the only ones. As an alcohol oil, this orange-flavored cognac liqueur is world-famous for its unique, distinctive, sweet taste. Add this Bickford Flavor to anything from cakes, trifles, cobblers, chocolate, and more, and you may have a hard time keeping up with the demand for your grand marnier flavored product.
Our grand marnier flavor is available in both an oil-soluble flavor and an oil-soluble hard oil.
Our orange flavor is available in both an oil-soluble flavor and an oil-soluble hard oil.
Maple Bacon
If we're being specific, our favorite maple bacon flavored application is frosting. But Bickford's sweet and smoky maple bacon flavor has been added to everything from marinades to ice cream. Whatever your idea, we're pretty excited for you to try our maple bacon flavoring in it. (But, in all seriousness, do yourself a favor and try it in a frosting. Outstanding!)
Available in both a water-soluble flavor and a water-soluble hard oil.
*Please note, this is a non-Kosher flavor.
Raspberry White Chocolate
Alone, these two flavors steal the show. Together, they can bring the whole house down. With intense, fresh burst of raspberry notes intertwined with the smooth and creamy white chocolate flavoring, sweets as you know it may never be the same. Perfect in just about everything, including cookies, cheesecakes, cupcakes, pastries, smoothies, sherbets, ice creams, candies, truffles, bonbons, fudge, and the list could go on.
Our raspberry flavor is available in both a water-soluble flavor and a water-soluble hard oil.
Our white chocolate flavor is available in both a water-soluble flavor and a water-soluble hard oil.
Caramel Coffee
For us, when the unmistakable, rich taste of the Arabica coffee bean mixes with the classic, sweet taste of caramel, all bets are off. And, as we all know, there's something about coffee and sweets. Combining these popular Bickford flavors in products like candies, desserts, frostings, cakes, ice creams, milkshakes, and so much more, you can create your next big hit.
Our caramel flavor is available in both a water-soluble flavor and a water-soluble hard oil.
Our coffee flavor is available in both a water-soluble flavor and a water-soluble hard oil.
Vanilla Butternut
Not only is this flavor very tasty, but we've found it to be extremely versatile. We've heard rave reviews about this flavor in traditional baked goods like pound cakes and frostings to more unconventional sweets, like pancakes, waffles and French toast batter. It'll be interesting to hear how you decide to make this flavor come to life.
Our vanilla butternut flavor is available in both a water-soluble flavor and a water-soluble hard oil.
Custom Wholesale Flavor Extracts for Baking
Of course, we completely understand if our favorites or today's popular flavors are not your top choices for your creations. And we can appreciate your ideas that don't even revolve around flavors that currently exist.
For this very reason, we partner with companies from all over and in different industries – such as home cooks, wholesalers, manufacturers, retailers, distributors, food service & caterers, and more – to help successfully create products with one-of-a-kind tastes and aromas.
For large and small batch bakers, we work hard to create flavor extracts for baking that meet current market demands and your specific labeling needs – such as certified kosher, low-protein, low-carbohydrate, gluten-free, and more.
Above all, with over a century of experience, we stand by tradition and are dedicated to providing you with the best flavorings, personal service, and value.
Want to learn more about partnering with Bickford Flavors to create your custom flavors? Find everything you need to know here:
Custom Flavorings and Extracts Wholesale Program
Discover Bickford's Flavor Extracts for Baking Wholesale Program
At-home bakers to well-known and commercial bakers depend on Bickford Flavors for some of their best-selling goods.
All-natural, certified Kosher, and backed by our very own 100-year-old formulas, we formulate the best extracts for baking to be stronger and more versatile than other flavoring methods – giving your product the exact flavor consistency it needs.
The best part about working with Bickford? Our wholesale program delivers preferred pricing, no minimum order requirement after one gallon, and faster than normal turnaround times. We work hard to support you, your growing business, and your ever-expanding product line with premium flavors.
To get started, download our wholesale business verification form or ask about our sample program.
Download Wholesale Business Verification Form
Have questions? Contact us today or call 440-494-7777. Toll free at 800-283- 8322.