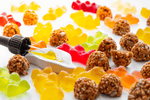 It seems like CBD is everywhere you look—and it's now in products that go way beyond oils and flower.
But if you're looking to jump into the CBD market, you need more than just the active ingredient—quality flavor is what really separates the best-in-class from average products.
For the best CBD flavors on the market, look no further. Bickford's flavors are:
Made from all-natural ingredients
Available in a range of quantities (from 1 fl. oz. to 55-gallon drums!)
Stronger than others on the market
Shipped within 24-48 hours after an order is placed
To compete in the world of CBD, you've also got to stay informed—we take a look at the trends you should know about.

Learn more about how Bickford serves our wholesale CBD customers.
What Exactly is CBD?
CBD, or cannabidiol, is an ingredient found in cannabis (marijuana). CBD does not contain significant amounts of tetrahydrocannabinol (THC), or the compound in marijuana that results in a high.

When consuming CBD, it's important to find the type of CBD that works for you.

The three main types of CBD are:
Full-spectrum: Products that contain CBD along with other components of the hemp plant like terpenes, essential oils, and small amounts of THC.
Broad-spectrum: Refers to CBD products that are subject to an extraction process to remove most of the THC, but that may contain small amounts of other ingredients.
Isolate: The purest form of CBD, isolates contain pure CBD only with all other ingredients extracted.
Fans of CBD swear by its health benefits, including reduced inflammation, lower anxiety levels, and better sleep. According to Consumer Reports1, 22 percent of CBD users surveyed even said it helped them reduce or replace prescription or OTC drugs!

Looking to start out on the right foot? Here's how to educate and attract new CBD customers.
CBD Beverage Trends
According to Headset Data2, the market share of cannabis beverages has increased by over 40% in the U.S. and Canada since just the beginning of 2021! Newer types of CBD drinks gaining traction are flavored waters (like Cloud Water), non-alcoholic cocktails, and drink powders.

Whether you're making a CBD seltzer, iced tea, kombucha, or something else entirely, you need industry-leading flavors to take your product to the next level.

CBD beverage flavor options include:
Learn more about 2023's hottest beverage trends (including what's viral on TikTok!).
CBD Gummies
Since CBD hit the market, one of the most popular ways to consume it has been the favorite chewy, flavor-packed snack: the humble gummy! According to Insight Partners3, the CBD gummy market is expected to grow more than 28% from 2021 to 2028 and reach over $12 million!

Major trends in the space include an ever-increasing demand for clean and natural ingredients. Find out about Bickford's commitment to natural ingredients.

Sometimes two flavors are better than one—the right flavor pairing can really make your product stand out.

Some unique gummy flavor pairing options include:
And if you're looking for that delicious gummy taste without the baking, look to Bickford's fan favorite gummy bear flavoring!

To make your own sweet treat gummies at home, check out our recipe for lemon drop candies.
Other Popular CBD Products
Today's CBD market goes way beyond drinks and gummies—here are some other products to consider for your CBD portfolio.


CBD Oils and Tinctures: These popular products commonly have flavors added, and are simple to take—simply play the liquid under the tongue using a dropper.
CBD Baked Goods: CBD baked goods may be the newcomers on the scene, but they're flying off shelves! Popular choices include:

Cookies
Brownies
Cakes
Muffins

CBD Tablets: Perhaps the easiest way to consume CBD, available in oral capsules and tablets.
Learn more about effectively marketing your CBD product.
CBD Safety and Your Customers
With the explosion of interest in CBD products, customers are taking the time to find the right choices for them—and it's a good idea to take the time to make sure your products comply with all health and safety regulations.

Here are some tips for keeping safety in mind:
List the dosage: More and more, CBD products are giving customers a choice of dosage levels with clear content labels.
Check your local laws and regulations: Though CBD is legal at the federal level, state laws governing the ingredient vary—and you need to comply with the rules wherever you plan to sell your product.
Get tested: Partnering with CBD testing experts can evaluate the potency, pesticide levels, and other ingredients in your product—and is usually required to meet state and federal regulations.
When you're marketing a premium product, make sure you're using the highest-quality flavors. Looking to serve your health-conscious consumers? Our flavor experts have experience with both keto friendly and gluten-free foods and flavorings!
Join With the CBD Flavor Leader Today
If you're looking to stand out in the CBD market and create something special, make Bickford your first call. We have 200+ industry-leading flavors that will enhance your CBD products (or any other foods you're working on).

To learn more about a partnership, visit our wholesale page or download our wholesale business verification form today. We're ready to help you start wowing your customers with top-tier flavor!
Resources:
1CBD Goes Mainstream. Accessed June 2, 2023. https://www.consumerreports.org/cbd/cbd-goes-mainstream/
2Cannabis Beverages: Examining category performance & trends. Accessed June 2, 2023. https://www.headset.io/industry-reports/cannabis-beverages-examining-category-performance-trends
3CBD Gummies Market Forecast to 2028 - COVID-19 Impact and Global Analysis By Category. Accessed June 2, 2023. https://www.theinsightpartners.com/reports/cbd-gummies-market