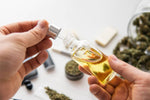 As a maker or manufacturer of CBD, or cannabidiol, products—has your head stopped spinning yet? It's been a fast and exciting ride this past decade, with CBD exploding in popularity and going from an unknown or misunderstood commodity to a household name.

Even if you don't currently offer any CBD products, now is the time to start, scale, and/or perfect your CBD product line. According to Grand View Research1, the CBD market is expected to grow at an estimated 16.2% until 2030.

The demand for CBD products has become so great that finding new and creative ways to include it into your product line is a given, and making products with outstanding, lasting flavor is an absolute necessity in today's marketplace.

Learn about what sets Bickford Flavors apart in the CBD industry.

But before you start reaping the rewards, consumers need to (of course) find and buy into your product(s).

Are you effectively communicating the impact, purpose, and benefits of your CBD products to consumers?

Food brands know how much goes into a product's development, launch, and marketing. Regardless of what phase your product is currently in, this informative guide will help you strengthen your marketing tactics.
Simple Ways to Educate and Attract Health-Conscious CBD Consumers
With its increased acceptance of both medical and recreational use, CBD has officially gone mainstream. You've undoubtedly heard existing users sing its praises for relieving a variety of ailments including anxiety, stress, headaches, and even physical pain.

This is a good place to start when marketing to potential consumers. Educate them by addressing common concerns or questions they may have.
Health information like the following can be a major selling point for potential consumers:
CBD is different from marijuana—it creates a calming or relaxing effect within the body without a psychoactive "high."
Research has shown that CBD has genuine pain relieving and anti-inflammatory benefits.
Because of CBD's calming effects, it has been shown to reduce anxiety in individuals who use products containing the ingredient.
Here's an introduction to Bickford's flavors for nutraceuticals.
CBD Marketing Musts
Getting the word out can be just as difficult as producing a standout product. Here are four tips for marketing your CBD products.
1. Know Your Market
Before you implement a strategy, you must do your homework—research upfront can save you a lot of time in the long run. Remember: knowledge is power, especially in an industry that yet to reach its potential with consumers that have high expectations.

You already know the CBD market is huge and still growing rapidly. What else can you learn about the industry?

Are your customers ditching animal products? Here's how to attract vegan customers.
2. Know What Challenges You're Up Against & How to Overcome Them
Challenge #1: There is still a stigma and a lack of education around CBD, with some individuals not knowing what CBD is. Even though CBD products are completely legal, safe, and effective alternatives to various medications, you don't need to educate the masses. You simply need to know your target audience and their pain points:
Who will you serve?
What will your products provide them?
How will you position your products to appeal to them?
Challenge #2: The market is oversaturated and largely unregulated. With new faces entering the CBD product line-up every day, the competition can seem cutthroat. But put your blinders on for the time being and focus only on what's important:
A thoroughly developed, incredibly flavorful CBD product
Proper branding
A well-defined CBD marketing strategy
Challenge #3: Because CBD has a range of healing properties, it can be confusing for brands to know exactly where they fit. Where do you want your brand to fall in this vast, open-ended market? Knowing where you want to fit will help in properly positioning your brand and product. Will your product:
Solve pain problems?
Soothe depression?
Combat anxiety?
Interested in starting your own business with Bickford flavors?
Challenge #4: Since the legal status of CBD products varies from state to state—and your potential customers come from various backgrounds and age groups—it can be hard to nail down a specific target audience. But asking the right questions is necessary when creating the right marketing strategy:
What age group will you be targeting?
Who is your ideal consumer?
What symptoms or conditions is your target audience trying to ease?
3. Create a Brand Identity
How is your product or brand easily differentiated? Better yet, what is your distinct identity? Here's a marketing checklist that can help you fine-tune your identity:
Showcase the most memorable thing about your brand and product
Prepare a rock-solid elevator pitch
Craft a brand message that resonates with your target audience
Define a value proposition for your brand and product
4. Build a Strong Online Presence & Email List
Simply put, you must get your product online. When you invest in building an online presence, you are essentially creating a 24/7 promoter. Don't forget to:
Build an attractive and easy-to-use website, complete with easy online shopping capabilities
Take advantage of affiliate and influencer marketing
Build an email list—email is still the most direct and reliable way of getting in touch with your target audience
Leverage your social media channels with click-through-ads, calls to subscribe to a newsletter, CTA-oriented posts, and more
Want Consumers to Find Your CBD Product? These Are the Elements They're Searching For
Now, let's focus on individuals who are already CBD consumers but may be searching for more premium products (like yours).

There's no question it's challenging to reach consumers with the sheer number of brands and companies competing for business. But once you understand what consumers are looking for in CBD products—and how they judge the quality—the path to reaching them becomes clearer.

To help consumers better understand the quality of your products, provide them with key points of information that highlight your process and show how your CBD offerings stand above the rest with features like:
Third-Party Lab Testing
Every company claims to offer premium CBD products, but how can consumers trust that the claim is actually true? That's where third-party labs come in.
These facilities offer an unbiased certification process that tests a makers' or manufacturers' CBD oil to verify its cannabinoid concentration, as well as any synthetic ingredients or pesticides.
Consumers who want to find the highest quality CBD product look for product listings that showcase verified lab test results.
Locally Sourced Product
The 2018 Farm Bill legalized industrial hemp in the United States and allowed manufacturers to cultivate and extract hemp oil locally. The bill also established standards and rigorous processes to ensure that hemp extracts contain no harmful substances.
Since CBD is a natural substance, whatever is in the soil can end up absorbed in the plant as well. So, if the hemp you're using absorbed heavy metals during cultivation, there is a substantial chance that your extract also contains heavy metals.
By locally sourcing your plants or oils, ensuring the quality of the CBD used may be easier—and educated consumers will understand that, too.
Strength of Dosage
It is important to identify the ideal product potency to ensure consumers enjoy their experience with your product and become repeat customers.
Help first time users ease into CBD products by educating them on dosage amounts—and how starting with a lower dose will enable their body to adjust to the CBD content and fully embrace the overall experience. Suggest a low dosage product to start with, and point them to those products in your line. You can point long-time CBD users to some of your products with a stronger potency.
CBD Consumer Trends
If you're new to the market or looking for new ways to branch out with CBD products, it helps to know some of the hottest CBD products currently on the market:
CBD Infused Chocolates
For many consumers, chocolate and CBD work synergistically to help with a wide variety of conditions. From relieving pain to calming anxiety, sweet, chocolatey CBD treats are an enjoyable and discreet way to utilize CBD.
CBD Infused Beverages
Drinks with CBD offer a slew of health benefits, from nausea relief, decreased muscle and joint pain, improved sleep, and even reduced inflammation and acne. Since CBD is non-psychoactive, consumers never have to worry about any intoxicating feelings after drinking an infused beverage. Learn more about the latest beverage trends.
CBD Infused Gummies
One of the most convenient ways to take CBD is through gummies. They're easy to dose, portable, discreet, and tasty (when flavored just right) – making them a good choice for people looking to try CBD for the first time. They may be helpful for various purposes, like quelling anxiety and helping with insomnia.
Here's Where Quality CBD Flavoring Comes into Play
Keep top of mind: The quality of ingredients and flavorings you use come first. Everything else is secondary.

Taking shortcuts in these two areas by using low-grade or artificial/synthetic ingredients and flavors can single-handedly kill the success of your product before it even hits the market.

Whether you're in the development stage or you need to fine-tune your CBD product's flavoring, it's imperative to only align your product with carefully curated flavors that are made from high-quality, all-natural flavor sources.

As you may already know, consumers are picky. They can detect when a product is made with imitation ingredients, and—in today's increasingly health-conscious world—more consumers are actively avoiding products with artificial sweeteners, flavorings, and preservatives.

Choosing to incorporate the highest quality ingredients and flavor extracts is not simply a recommendation—it is an essential component to take your product from good to great once it reaches today's choosy consumers and a crowded, competitive CBD market.
Learn more about Bickford's commitment to quality in our Evolution of Flavor Guide.
Bickford Flavors: A Trusted Partner in CBD Production with All-Natural, Premium Flavor Extracts
Still in the development stage? Or, perhaps you need to circle back and fine-tune your flavors a bit further?
Bickford Flavors is a team of well-established flavor experts and chemists, providing only the highest quality flavor extracts for over 100 years. Flavoring CBD products is exciting for us, and we have the ability and experience to meet your specific CBD flavoring needs.

We use the highest quality, all-natural ingredients to create unsurpassed flavor extracts that don't just complete your products, but truly enhance them.

If you're looking to genuinely stand apart from the competition and create something special in the CBD market, it only makes sense to work with a company who has been providing the highest quality products and services to their customers for over a century.

Learn more about our wholesale and sample program or download our wholesale business verification form to get started today.
Download Wholesale Business Verification Form
Need a custom flavor for your CBD creation? We're experts in creating one-of-a-kind flavors:
Give us a call to talk custom flavor creation.
Resources
1Grand View Research. Cannabidiol Market Size, Share & Trends Analysis Report By Source Type (Hemp, Marijuana), By Sales Type (B2B, B2C), By End-use (Medical, Personal Use), By Region, And Segment Forecasts, 2023 - 2030. Accessed June 22, 2023. https://www.grandviewresearch.com/industry-analysis/cannabidiol-cbd-market.