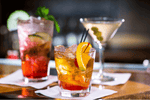 There's always something new brewing with drink trends, and major fads come and go. Keeping up with what's popular can help you stand out from the competition.

Whether it's Friday night cocktails, Sunday morning fruit juice, or a Monday morning protein shake, beverages are a big part of your customer's lives—and a golden opportunity to set your brand apart with creative, craveable flavor choices.

We explore some of the current buzz-worthy beverage trends, and how you can make your mark with Bickford's industry-leading flavors.
Don't Sleep On Today's Beverage Trends
A major beverage trend began to emerge in the 2010s: ready to drink (RTD) cocktails, or premixed (usually bottled or canned) alcoholic beverages.

According to market intelligence agency Mintel1, sales of RTD cocktails spiked a whopping 226% percent from 2016 to 2021!

RTDs have risen in popularity alongside a renewed interest in mixology and (both non-alcoholic and alcoholic) cocktails, meaning upping your cocktail game can win you new customers.

Bickford has a whole range of flavor pairings for cocktails, from the sweet to the sour to the spicy!

For some inspiration, check out our summer drink recipe guide featuring the black dragon cocktail (with our natural raspberry flavoring) and our alcoholic or virgin watermelon mojito (with our natural watermelon flavoring)—both feature fruit and herbs to take the freshness and brightness to another level.

Another big trend in the beverage space is all things CBD-infused. Though CBD, or cannabinoid, is an active ingredient in marijuana, it's not psychoactive. CBD customers swear by benefits like anxiety, depression, pain, and inflammation relief and improved sleep.

Bickford has a number of customers in the CBD market, and our flavor experts can help you incorporate our extracts into a whole range of CBD products beyond beverages including gummies, oils, and fruit chews.

Read our guide to attracting new CBD consumers.

Another big beverage trend cited by experts? Funky, earthy fermented beverages. These drinks boast serious flavor as well as health benefits. Probiotics are a byproduct of fermentation and can deliver better gut health and a boost to the immune system.

Popular fermented beverages include:
Kombucha
Ginger ale
Water kefir
Tepache
Hit it Big on Social Media
Over the past few years, kitchen creativity has found a home on TikTok—the popular social media app based around short, digestible video clips.

Here are a few of last year's most popular TikTok drinks according to Food Network2—and some suggestions for making them your own:
Apple cider mimosas
This delicious, creative take on a classic brunch drink usually combines Prosecco, apple cider or juice, and a caramel sugar rim.

Nothing says fall like apple cider—so why not take the seasonality up a notch by adding autumn favorites like pumpkin spice or cinnamon?
Japanese iced coffee
Japanese iced coffee is fresh-brewed hot coffee that is flash chilled and poured directly over ice for a robust flavor and smooth finish.

Chocolate and coffee are a match made in heaven, while a dash ginger flavor can amp up the Eastern influence. At the end of the day, classic vanilla extract is a great option for flavoring your coffee, too!

Read about some other flavoring ideas for your morning coffee.
Creamy lemonade
For a fuller-bodied beverage, creamy lemonade uses condensed milk as a sweetener in place of sugar. Adding lime flavor can add another citrus dimension, and mixed berry or raspberry flavor can add a balanced sweetness.

Whether you're attempting to create the next viral success or offer something delicious to your current customers, we have the flavors that will make your beverages shine.

Check out some tips for creating viral foods and flavors.
Beverages Health and Wellness
According to the International Food Information Council's 2022 Food and Health Survey, health and wellness are what many modern consumers want out of their beverages. 37% of survey respondents are prioritizing more energy and less fatigue, 25% said they seek out probiotic drinks, and 24% said they were drinking less alcohol.

It's important to keep this in mind when you choose flavors—now, more than ever consumers (especially younger ones) want to know where their food comes from and the nutritional content.

At Bickford, we're upfront about our nutritional information, and our flavors are derived from all-natural sources with no added chemicals or byproducts.

Learn more about attracting Gen Z consumers.
Bickford + Beverages = Happy Customers
We offer a range of versatile flavors that can serve as your canvas for a wide range of beverages. Citrus options like lemon and lime work to counter-balance anything sweet, and fruits like cranberry, pear, and pomegranate are great in a range of beverages.

On the other hand, we have very specific flavors that bring your customers right back to memorable moments—think buttered rum, cotton candy, or birthday cake.

We even offer flavors that have the drink already included! Check out flavors like root beer float, cream soda, and classic cola.
Flavors for Alcoholic Beverages
In most cases, it's fairly simple to develop and sell that new soft drink or juice. With alcoholic beverages, it's more complicated.

By law, flavors used in alcoholic beverages must be approved by the Alcohol and Tobacco Tax and Trade Bureau (TTB), and manufacturers must be able to disclose the composition of their flavors.

Bickford offers a whole range of sweet and savory flavors and extracts that comply with all labeling laws are ready to be added to your alcoholic products.

View our TTB-approved flavors.
Better Beverages Today
Looking to up your drink game with the industry's best flavors? A wholesale partnership with Bickford gets you access to over 200 premium flavors in a wide range of sizes.

Click here to learn more about our work with beverage producers or fill out our contact form to reach out today!
Resources:
1 Coke and Pepsi go hard with new RTD alcoholic drinks. Accessed March 31, 2023. https://www.mintel.com/food-and-drink-market-news/coke-and-pepsi-go-hard
2The 9 Most-Viral TikTok Drinks You Can Make at Home. Accessed March 31, 2023. https://www.foodnetwork.com/fn-dish/news/most-popular-tiktok-drinks