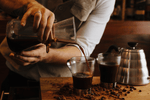 As one of the most beloved beverages around the world, and with coffee's ability to offer consumers energy and comfort, it's hard to imagine coffee ever falling in popularity.

Additionally, the innovative side with coffee flavorings is attracting new coffee lovers and exciting age-old coffee connoisseurs.

Coffee bean flavoring oils have certainly created pressure in the market for coffee brewers or manufacturers of coffee products to stay ahead of the innovation curve.

Whether your goal is to create new, artisan-flavored coffees or produce flavored coffee products that will win consumers in the commercial coffee space, are you melding your craftsmanship with coffee bean flavoring oils that are derived from premium, all-natural sources?
Flavor quality matters to the overall flavor profile of your product and to consumers who continually want beverages with health benefits – including coffee.

If you're ready to take on today's flavor trends or introduce new flavor concepts into your coffees, back your work with data and current flavor trends, and discover how Bickford's all-natural coffee bean flavoring oils are different from other flavoring sources on the market.

What the Data Says About America's Top Coffee Flavors
Although some coffee purists favor drinking their cup of joe unflavored, over 60% of regular coffee drinkers say they enjoy the extra kick that flavored coffee provides. 1

While the typical options, like vanilla and hazelnut, tend to still drive the most sales, the desire to experience new, fresh, bold flavor options continues to grow.

From personal palate preferences to shifting weather patterns, trending flavors tend to vacillate from season to season.

We historically see pumpkin spice come fall, peppermint once winter is in full swing, floral flavor options when spring is in bloom, and vanilla cream to welcome the sunny season, right? But we challenge you to take a look at which coffee bean flavoring oils are trending and see if creativity strikes to improve a current coffee flavor that isn't hitting its potential, or creating a coffee with your own version of a trending flavor profile.
Top Coffee Bean Flavoring Oils
Crème Brulee
This caramelized confection, with its rich and creamy flavor, is an amazing addition to any coffee. To create this incredible flavor, blend these two all-natural coffee bean flavoring oils until you achieve the flavor profile you desire: Salted caramel and pure vanilla extract.

Bananas Foster
The ripe banana flavor, cinnamon undertones, and dark rum finish help create a luscious brew that everyone will fall in love with. To create this incredible flavor, blend these all-natural coffee bean flavoring oils until you achieve the flavor profile you desire: Banana, cinnamon and rum.

Blueberry Cobbler
This unique take on a dessert favorite is infused with sweet and juicy berry flavor and a hint of spices, making an average cup of joe an amazing experience. Learn more about this coffee bean flavoring oil.

Pumpkin Spice
Made with the essence of pumpkin and wonderful warm spices, this flavor offers a delicious finish to any coffee experience. To create this incredible flavor, blend these all-natural coffee bean flavoring oils until you achieve the flavor profile you desire: Pumpkin and cinnamon.

Irish Cream
With the smooth and velvety flavor of sweet creme and vanilla, this unique flavor takes a coffee experience to another level. Learn more about this coffee bean flavoring oil.

Vanilla Cream
Authentic vanilla cream flavor comes from the highest quality sources, making it a great choice for coffee brewing options. Learn more about this coffee bean flavoring oil.

Caramel
The rich, smooth caramel flavoring elevates every cup of coffee, creating a depth of flavor and sweetness that will keep customers coming back for more. Learn more about this coffee bean flavoring oil.

French Vanilla
Rich and creamy with that hint of aromatic sweetness, French vanilla flavoring is so decadent you'll wonder how you ever created a coffee without it. Learn more about this coffee bean flavoring oil.
Revolutionize Your Coffee Creations Using Existing Flavor Trends
When conceptualizing new coffee products and flavorings, it's important to take risks and be creative but not overcomplicate the situation. Take the opportunity to build from already established coffee concepts and flavor profiles. There's always room for innovation and better flavorings.

Whether talking about coffees, lattes, espressos, or mochas, you can tap into current market research to identify which flavor options are dominating the industry and incorporate that knowledge into your own unique approach.

To really make moves in the coffee space, you must have a willingness to push flavor boundaries to establish new trends and make consumers take notice.
Why Delivering Innovative Flavors with All-Natural Coffee Bean Flavoring Oils is Important
Customers demand the highest quality ingredients and flavorings in products they buy and consume. With today's health and wellness trends only growing stronger, consumers are looking for healthier options – placing more emphasis on the overall quality and not just the ease at which it can be purchased.

This has encouraged coffee brewers and roasters to up their game and think outside the box.

Premium, naturally sourced flavors are essential to achieving a better overall coffee.
Why Choose Bickford Flavors for Your Coffee Flavorings?
At Bickford Flavors, we offer an extensive line of more than 200 all-natural, certified Kosher coffee flavorings.

Backed by our very own 100-year-old formulas, we formulate our coffee bean flavoring oils to be stronger and more versatile than other flavoring methods – giving your product the exact flavor consistency it needs.

For manufacturers and large or small scale brewers and roasters: Our flavors are formulated to meet current market demands and your specific labeling needs – such as no sugar added, low-calorie, low-protein, low-carbohydrate, gluten-free, and more.
All-Natural & Custom Coffee Flavors at Wholesale Prices and Quantities
Need large quantities? For our wholesale partners, their best-selling products are made while benefiting from our wholesale prices and quantities.

Our wholesale program offers:
Preferred pricing
No minimum order requirement after one gallon
Faster than normal turnaround times
We are committed to your growing business and coffee product line.

To get started, download our wholesale business verification form or ask about our sample program.

Download Wholesale Business Verification Form
Need a Custom Coffee Flavoring?
In addition to our line of flavors, we create custom flavors for coffees with one-of-a-kind tastes and aromas. Learn more:

Creating Custom Flavorings
Resources:
1Washington Post. Americans are drinking more 'gourmet' coffee. This doesn't mean they're drinking great coffee. Accessed November 15, 2021. https://www.washingtonpost.com/news/voraciously/wp/2019/03/28/americas-growing-affection-for-gourmet-coffee-and-other-takeaways-from-a-new-national-survey/.