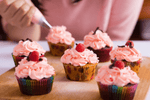 Ready to kick your flavor game up a few notches?

One of the most frequently asked questions we get from bakers – from small batch bakers to well-known baking professionals to large baking manufacturers – is which baking flavoring method is truly best for my application?

This is an excellent question because there are many options you, as a baker, can use. Furthermore, from flavor oils for baking to flavor powder for baking and even liquid flavoring for baking, flavor terminology can sometimes be used interchangeably, depending on who you talk to or the flavor manufacturer you partner with/purchase from.

But the underlying question remains: Which one will deliver the flavor potency you desire?

When it comes to your recipes and the flavors you want to enhance or to create something new. It all starts by knowing the difference between baking flavors, extracts and more.

Stick with us as we unpack all the differences. Let's start by discussing where flavors can come from:
Where Do Flavorings Come From?
The best flavorings are commonly made by extracting the essence of the specific source ingredient and putting it into a liquid base. Most flavor manufacturers use alcohol as the base.
Good to know: At Bickford Flavors, we never dilute our flavorings in alcohol (with the exception of our pure vanilla, which contains 35% alcohol by volume). Our flavorings are suspended in a water- or oil-soluble base.

Why? A water- and oil-soluble base suspension is superior to alcohol because water and oil are more neutral carriers than alcohol. They never impart added flavors and don't evaporate as rapidly when exposed to heat.

The end result? Our flavors don't "bake-out" like traditional, alcohol-based flavorings do, giving you a better tasting, better smelling application.
The highest quality flavor extracts actually use real ingredients instead of imitation flavor, so they are healthier and much tastier.

For instance, when you make natural flavorings, you will use actual almonds, orange peels, and strawberries, to name a few. By steeping the ingredient in a liquid base for an extended period of time, you're able to extract the essence of the flavor to create a superior product that's perfect for baking.
Flavorings can come from:
Extracts
Oils
Emulsions
Concentrates
Powders
Spices
Herbs
Each of these flavorings can be double or triple strength. It's always important to check to make sure a flavoring method is 'bake-proof,' meaning the flavor won't bake-out when heated.
What Are Flavor Oils for Baking & When Should You Use Them?
Flavor oils refer to the essential oil that's squeezed from the actual ingredient, such as vanilla oil being made from squeezing the vanilla beans to extract the natural oils within.

Flavor oils for baking tend to be more concentrated and pure tasting in flavor than extracts, but both can be used to enhance the flavor of your baked goods.

When you're looking to achieve a more pronounced taste experience, reach for your flavor oils for baking. Since they're more concentrated, you'll get a stronger, clearer flavor.
What are Baking Extracts & When Should You Use Them?
Most people are more familiar with using extracts in their baked goods, like almond or vanilla, which are made by extracting the flavor of the ingredient into a liquid base by steeping until the essence and aroma are properly infused.

Since extracts tend to be less intense than oils, they're usually added when you're looking to have the flavor play a more subtle role rather than taking over the show.

For example, a little peppermint extract can get along well with chocolate in a recipe, like brownies or cookies, but it won't overwhelm the final product like a flavor oil can.
What is Flavor Powder for Baking & When Should You Use It?
Flavor powders for baking are a great option for some recipes because they dissolve quickly in warm water and also work well with instant mixes.

Additionally, flavor powders for baking hold up well under prolonged heat exposure, and they tend to be a bit more forgiving – so it's less likely that you'll over flavor your recipe on the first try.
A Quick Note on Natural vs. Artificial Flavors for Baking
It's important to keep in mind that while cutting corners in flavor production can drive costs down, it also sacrifices the overall excellence of the flavoring and – in turn – your end product.

At Bickford Flavors, we understand that adhering to a natural process is not a simple task, which is why so many flavor competitors offer artificial flavors as opposed to natural options. Artificial flavors can be completed in less time but at far lower quality.

So, why use all-natural flavorings? All-natural flavorings are made from completely natural flavor sources.

That means no preservatives, GMO's, synthetic dyes, or unhealthy, artificial ingredients and synthetic/imitation derivatives are used in the formulation and manufacturing of an extract, oil, powder, and so on.

Using an all-natural flavoring is essential to achieve the highest quality baked goods – keeping you steps ahead in a competitive industry.
When Searching for a Flavoring Manufacturer to Partner with, Here Are Key Areas to Consider
ALL-NATURAL
Bickford extracts and flavorings are always all-natural and only derived from premium sources.

NO SYNTHETIC DYES
Bickford extracts and flavorings never contain any FD&C synthetic dye colors.

CREATES CUSTOM FLAVORS
Bickford is comprised of an expert team who is highly experienced at creating custom flavorings that are always true-to-source and boast amazing tastes and aromas.

FORMULATED TO BE STRONGER & MORE VERSATILE THAN OTHER FLAVORING METHODS
Bickford only suspends flavors and extracts in either a water- or oil-soluble base, with the exception of pure vanilla, which is suspended in alcohol.

QUICK, BENEFICIAL WHOLESALE PROGRAM
Bickford's wholesale program includes preferred pricing, no minimum order requirement and faster than normal turnaround times – with same day shipping, if ordered by the specified time.

EASE OF ORDERING FOR ALL CUSTOMERS
All customers, including customers from Alaska, Hawaii, Puerto Rico and international countries, can complete their orders online with Bickford.
Shop or Partner with Bickford
As flavor producers and flavor enthusiasts, we're dedicated to making your baked goods as flavorful as possible with our all-natural food flavorings.

Every Bickford flavor is created from premium, all-natural sources using our very own 100-year-old formulas; almost every flavor and extract is also certified Kosher.

Browse our entire flavoring line and select the premium flavors that speak to your creation process, or work with us to develop a custom flavoring. We're experts in creating one-of-a-kind flavors.