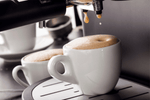 We're fans of the ketogenic diet, and we're even bigger fans of incredible taste experiences with foods and beverages. So, when we say that keto can taste great when done right, we mean it.

Consumers don't have to settle for black coffee if what they really want is a white chocolate espresso or salted caramel cold brew – and, with the right keto coffee flavorings, you can give them what they want and exceed their expectations at the same time.

Now, this isn't to say black coffee is lacking distinction, but by adding a high-quality keto coffee flavoring, you can give the existing cup of joe a depth in flavor that can change the entire beverage experience with one sip.

From sweet offerings to signature flavors, the keto coffee flavoring options available to enhance your caffeinated creations are great on their own and even better when creatively combined.

So, whether you're trying to appeal to individual consumers or an entire enterprise, creating a signature flavor blend is how you set yourself apart from the other coffee roasters in the industry.

Let's dive into the topic of keto coffee flavorings a bit more, and then we'll show you our favorite keto coffee flavorings you can try for your new keto offerings:
Benefits of Keto
What's the big appeal of keto for some consumers anyway? Before we ensured that our extracts and flavorings were keto-friendly, we needed to understand our keto consumers.

For your consumers, the keto lifestyle delivers notable benefits, including:
Improved Appetite Control. When a diet isn't carb-heavy, an individual isn't as hungry and they don't find themselves with random cravings that cause them to eat bad things.
Increased Weight Loss. One of the primary benefits that people look for in the keto diet is increased fat burning because the body actively burns its fat when it needs more energy instead of looking for sugar.
Better Mental Focus. When an individual achieves ketosis, their brain begins using ketones as a fuel source – meaning it has a consistent fuel source that it can rely on, helping an individual focus for longer periods of time.
Increased Energy. Since the human body already has plenty of fat to work with, and it can store more fat when an individual is in ketosis, the body has a continuous energy source and individuals experience increased energy.
Can You Drink Coffee on a Keto Diet?
As a matter of fact, coffee happens to be one of the best beverages to consume on the keto diet, providing a wide variety of health and wellness benefits.

It's all the extra stuff that can be added to coffee that can kick individuals out of ketosis.

That's why substituting out-of-bounds ingredients – like milk and sugar – for premium, all-natural keto coffee flavorings can both enhance the overall sipping experience and help keto individuals avoid setbacks to their lifestyle.
What About Coffee Syrups and Sweeteners?
Coffee syrups and sweeteners have their appeal, and many consumers love adding them to their coffees, but, for your keto consumers, there are definite downsides to these ingredients.

In particular, coffee syrups and sweeteners are ridden with synthetic ingredients that can negatively impact the coffee experience and overall health.

That's why adding high-quality, naturally derived, keto-friendly flavorings to coffee is not only a better flavor option, but it's also a better health option.
Make Your Keto Coffee Flavorful for Consumers: Our Favorite Keto Coffee Flavorings
From hazelnut to French vanilla, caramel to chocolate, blueberry to banana, there are a variety of ideal flavor options to enhance your black coffee blend.
Take the flavor profile of your specific roast and weigh that against the flavor profile of various keto coffee flavorings.
Making keto flavored coffee is a fun process of testing new concepts and creating an entirely new beverage experience for your keto consumers.
To get the process started, here are some of our favorite flavorings that mix particularly well with coffee:
Chocolate Cherry
The tart cherry tang combined with the smooth sweetness of chocolate helps to balance the overall coffee experience by creating a depth of flavor that enhances all nuances of a superior dark roast.

Shop the chocolate cherry keto coffee flavoring.

Lavender
Lavender is a distinctive, herbaceous flavor that adds semi-sweet, floral notes and enriches the profile of your signature roast without overpowering the flavor profile.

Shop the lavender keto coffee flavoring.

Salted Caramel
This uniquely bold flavor adds a level of smoothness and buttery overtones to compliment sweet notes and create a comforting coffee experience for any season.

Shop the salted caramel keto coffee flavoring.

White Chocolate
This robust and lightly sweetened flavor pairs well with both light and dark roasts, helping you craft a coffee drink with a velvety-smooth undertone.

Shop the white chocolate keto coffee flavoring.

Banana
Bananas and coffee may seem like an odd combination, but they're actually a match made in heaven with banana adding an earthy sweetness to your signature roast that other flavor options simply cannot duplicate.

Shop the banana keto coffee flavoring.
Ketogenic Natural Food Flavoring Supplier: We Have the All-Natural Keto Coffee Flavorings to Enhance the Coffee Taste Experience
Our flavors make the keto lifestyle and keto products simple and delicious.

Every Bickford flavor is created from premium, all-natural sources using our very own 100-year-old formulas; almost every flavor and extract is also certified Kosher.

Always free of preservatives, GMO's, synthetic dyes, unhealthy, artificial ingredients and synthetic/imitation derivatives – your keto flavored coffees will taste amazing from flavorings and extracts that are always true-to-source.

Browse our entire flavoring line, or work with us to develop a one-of-a-kind custom coffee flavor.
Shop All Flavors
Call to Discuss Creating Custom Flavors

Learn more about Bickford Flavors:
Bickford's Wholesale Program
Download Wholesale Business Verification Form