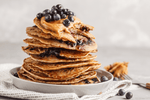 While the Ketogenic lifestyle may be a new concept to you or some of your consumers, it's actually been around for quite some time. In fact, our ancestors were often in a state of ketosis, eating a high fat diet that consisted mostly of meat, and they fasted intermittently when food was scarce.

While keto does restrict carbs – our beloved flavor-producing powerhouse – carb cutting doesn't have to mean the downfall of flavor. Still, we understand it can be hard to know where to start when trying to produce a truly incredible taste experience for low carb meals.

Have you been searching for a way to enhance your favorite keto recipes? Do you feel stuck when it comes to making keto flavorful?

Whether you're an at-home cook or a professional chef or maker, rest assured – you're not the only one looking for a way to bring new life to keto meals and recipes – including keto-friendly baked goods and other sweets.

A common question we get asked is: Can you use extracts on keto? So, let's talk about keto-friendly flavor extracts. With them, you can create amazing recipes that will turn your keto approach into culinary sensations.
Can You Use Extracts on Keto?
Yes! You most definitely can (and should!) use all kinds of flavor extracts in your keto concepts. Keto flavor extracts can be used in recipes that range from sweet to savory – and even in spicy concoctions when you really want to create an enhanced spice or heat flavor.

Using keto extracts, you can:
Incorporate the flavor notes of garlic and ginger (for example) to enrich certain proteins
Transform your next entrée by using extracts creatively, like chili pepper and rosemary, to achieve more complex flavor profiles
Inspiration to use extracts on keto certainly doesn't stop there. As a natural food flavoring supplier that makes premium flavors for keto recipes and applications, we know that a standout keto dish or application utilizes all-natural extracts and flavors that seamlessly align with keto recipes.

We highlight four main course keto recipes infused with our all-natural keto flavor extracts in this blog post. If you're wondering what to make for dinner or looking for a new item to add to your menu, start here:

Keto Recipes with All-Natural Keto Flavors and Extracts
Regardless of how you decide to combine your favorite extracts into your keto recipes, remember that everything is permissible when your focus is to develop the flavor and produce an exceptional taste experience.
Can You Use Vanilla Extract on Keto?
Absolutely! Vanilla extract is a calorie free additive designed to really heighten sweeter keto recipes and baked goods without adding any sugar.

Because pure vanilla extract is fairly low in carbohydrates, and the amount most recipes call for is relatively minimal, you don't have to worry about adding unnecessary carbs when using it in your delicious dessert ideas.

As always, the amount you use in any recipe will depend on the flavor profile you want to create.

From pumpkin concepts for the fall season or eggnog ideas that ring in the Christmas holiday, using flavor extracts in keto recipes is an amazing way to make a delicious statement. And speaking of keto and the holidays – from Halloween to Thanksgiving to Christmas – we've got just the inspiration to make incredibly tasty keto desserts this holiday season. Take a look:

There's Room for Keto at Every Holiday Table

Last of all, when people ask us, can you use vanilla extract on keto?, we quickly point out that desserts are one of the top searches by keto dieters. It's true!

To large and small batch makers and manufacturers of desserts and ice cream: since expanding your product line and offerings to feature keto-friendly desserts can draw in a whole new group of consumers and customers, let us inspire you to begin a flavorful keto line:

Did You Know? Desserts Are One of the Top Searches by Keto Dieters
Ketogenic Natural Food Flavoring Supplier: Our Commitment to Your Lifestyle
Whether you're trying to create a flavorful dinner entrée, a beautifully baked dessert, a delectable side dish, or anything in-between, using Bickford's keto flavor extracts in all your recipes is an essential first step.

As flavor chemists and flavor enthusiasts, we're dedicated to making your keto lifestyle simple and delicious with our all-natural food flavorings.

While keto is rooted in minimizing the amount of carbs you consume, cooking and baking with Bickford Flavors provides you the opportunity to craft both savory and sweet creations with our high-quality flavor extracts.
Over a century in the flavoring industry has uniquely prepared us to formulate our flavor offerings to meet current market demands and your specific lifestyle needs – such as keto-friendly, low-carbohydrate, gluten-free, certified kosher, no sugar added, low-calorie, low-protein, and more.
Our time and experience in the all-natural flavor game has enabled us to cater to all our customers specific culinary needs – whether they be smaller households cooking for a few or large manufacturers selling to the masses.

We're committed to infusing your keto recipes and applications with our all-natural keto flavors to ensure your end product continues to taste better than ever.
Shop or Partner with Bickford
Browse our entire flavoring line and select the premium flavors that speak to your creation process, or work with us to develop a custom flavor. We're experts in creating one-of-a-kind flavors.

Shop All Flavors

Call to Discuss Creating Custom Flavors

Learn more about Bickford Flavors:
Bickford's Wholesale Program

Download Wholesale Business Verification Form