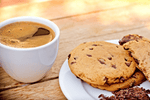 As a maker or manufacturer – in any industry – have you stopped to truly consider the incredible sugary-floral flavor profile of pure vanilla? Have you leaned into its versatility and experimented with complimentary flavors?

As one of the most universally accepted flavor profiles around the world, vanilla is not only a classic flavor, but it's also a powerhouse that has the ability to mitigate offnotes and mask bitterness. When blended with other flavors, the taste experience can become wonderfully complex or especially comforting and familiar.

Indeed, vanilla's strong aroma and smooth and versatile taste is begging to be a part of new flavor opportunities.
If Flavor Extracts Had a Popularity Contest, Vanilla Would Always Win
Ignore the "that's so vanilla" statement. Vanilla is far from bland and boring, and regardless of what industry you're in, the use of pure vanilla in a wide array of applications continues to increase.

From high-protein and vitamin fortified nutritional beverages (or any beverage, for that matter) to timeless baked goods, frostings, candies and much more, vanilla is the key ingredient in countless applications.

The manner in which vanilla can enhance and enrich a vast array of applications has evolved over the years, including the number of new products flavored with vanilla and the actual quality of pure vanilla extracts.

New products with a prominent vanilla base have increased by nearly 25% over the last five years.

Why? Vanilla provides a fragrant body and potent flavor profile quite unlike any other, making the characteristic spice the perfect addition to both old and new creations.
Just How Versatile Is Vanilla?
Whether you're talking about sweet treats or savory creations, pure vanilla extract is a wonderful way to enhance a taste experience or deliver an undiscovered flavor profile.
Vanilla is an excellent match for dairy-based applications, like ice creams and smoothies.
Vanilla has been shown to pair well with every type of baked good, providing a boost of flavor and creating an indulgent experience in every bite.
With its tantalizing aroma and ability to offer subtle flavor nuances, pure vanilla can enhance artisan foods and all sorts of beverages.
Vanilla can mitigate offnotes of high-protein and vitamin fortified nutritional beverages.
Vanilla can mask the bitterness of caffeine in drinks.
Since vanilla has managed to retain its marketability through its wide use in cocktails and ready-to-drink beverages, like coffees and colas, vanilla has the potential to be paired with practically any creative food or drink concept.

Perhaps above all, with today's health and wellness trends and consumer demands, most pure vanilla extracts offers natural, clean-label associations.
Incredible Vanilla Flavor Pairings You Must Try
Without question, vanilla stands at the forefront of flavor combinations. Several well-known and unique flavors can serve as great compliments to pure vanilla's flavor characteristics:
Chocolate Flavors
It's no secret that chocolate flavors pair very well with vanilla. From classic chocolate to chocolate almond and chocolate cherry to white chocolate, these two flavor profiles have been known to make mouths water regardless of how they're presented.
Nut Flavors
For most people, vanilla is used almost non-stop throughout the holiday season. You can add a dash to your warm baked goods, like almond cakes and cookies, or add a few drops into your hazelnut creations and peanut butter and walnut conceptions.
Fruit Flavors
Vanilla is actually known as a tropical spice, pairing well with other tropical flavors – like mango, pineapple and even coconut. Other fruits that go particularly well with vanilla include cherry, fig, orange, and strawberry. The tartness of these fruit flavors balances well with the sweetness of vanilla, bringing out the subtle flavor profiles of both.
Floral Flavors
Some of the best floral flavors that pair with vanilla include lavender, violet and even horehound. It's because vanilla is associated with calming properties, making it the perfect balance for recipes that include floral undertones.
Other Popular Flavors Ideas
Vanilla can easily be combined with other flavors, including caramel, honey, maple and cinnamon. Some of the more recently popular flavor combinations include toffee and cookies and cream, highlighting the unlimited possibilities offered by the ever-versatile vanilla extract.
Download All-Natural Vanilla Flavor Pairings to Get Some More Ideas
Bulk Vanilla Extract at Wholesale Prices. Discover Bickford's Flavoring Oils Wholesale Program
Whether you're a small bakery, ice cream shop or cafe, or a large manufacturer, we offer bulk vanilla extract quantities – including vanilla extract in gallon sizing and more – to meet your needs.

Buy Bulk Vanilla Extract

Bickford Flavors is a team of well-established flavor experts and chemists, providing only the highest quality flavor extracts for over 100 years. With vast experience, we have the ability to meet your specific flavoring needs.

We use the highest quality, all-natural ingredients to create unsurpassed flavor extracts that don't just complete your products, but they truly enhance them.

If you're looking to genuinely stand apart from the competition and create something special, it only makes sense to work with a company who has been providing the highest quality products and services to their customers for over a century.

Our wholesale program delivers:
Preferred pricing
No minimum order requirement after one gallon
Faster than normal turnaround times
Learn more about our wholesale and sample program or, to get started today, download our wholesale business verification form:
Download Wholesale Business Verification Form
Need a custom flavor for your application? We're experts in creating one-of-a-kind flavors:

Call to Discuss Creating Custom Flavors