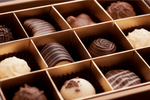 As consumers, we can't get enough chocolate. In fact, Americans consume 2.8 billion pounds of chocolate each year. To break that down further, that's over 11 pounds per person.

Your consumer base is here to stay, but here's the caveat: It's time to start innovating and adding some flavor into your chocolate product line.

Why? The trends are in. Unique textures, new formats, and – above all – daring flavors excite consumers and elevate their chocolate experiences.

As chocolate enthusiasts who just so happen to be the flavor chemists at one of the top chocolate flavoring companies, we eagerly help our partners revolutionize the chocolate flavor game and rejuvenate the tried and true, classic chocolate flavor.

So, let's get into it and talk top chocolate flavoring oils.
Chocolate Trends for 2021 and Beyond
Flavor, flavor, flavor
When it comes to emerging trends, it's essential to focus on innovative flavor ideas. From spicy chili to tropical fruits, wild pairings to savory flavors, finding inventive ways to incorporate daring and trend-setting flavor concepts is key.
It's OK to be indulgent
Consumers today are looking for truly indulgent chocolate experiences. This has inspired new levels of creativity among chocolatiers everywhere, driving creativity and opening new flavor paths. New combinations like infusing chocolate with vegetable flavors – such as a basil flavored filled center and much more – is all the rage and something that everyone in the industry should be paying attention to.
Finding ways to make a healthier product
Everyone wants their chocolates to be a treat, but consumers today are also looking for healthier options to indulge their tastebuds; and, with an increasing number of individuals following healthier eating lifestyles, extra goodness infused in their chocolate is a way to appeal to a new group of customers.
Don't fear the fruit
Obvious options like strawberries, raspberries and cherries being added to chocolate candies and cream centers is nothing new, but there is a whole new range of fruit flavorings you can integrate into your chocolate concepts. From peach to passion fruit, kiwi to pomegranate, the options available are only limited by your imagination.
Classic & Unique Chocolate Flavoring Oils Made from All-Natural Sources
Top Oil-Based Flavorings for Chocolate
Chili
The subtle spice of our chili flavoring can take a chocolate candy and add a depth of flavor your customers will never expect but keep coming back for more.

Find Bickford's all-natural oil-soluble chili extract here.

Rosemary
Who says rosemary is only for savory dishes? Incorporating this unique flavor into your chocolate creates a candy experience that is both ingenious and innovative.

Find Bickford's premium oil-soluble rosemary extract here.

Pumpkin
The warm spice overtones in our pumpkin flavoring is a great way to add a silky finish to your chocolate candy creations.

Find Bickford's all-natural oil-soluble pumpkin extract here.

Gingerbread
Taking this flavor and adding it to your chocolate is akin to creating a decadent, adult s'more that will belie your customers' flavor expectations.

Find Bickford's all-natural oil-soluble gingerbread extract here.

Banana
The sweet, tropical notes in our banana flavoring work well in dark and milk chocolate by adding depth and complexity to your creations.

Find Bickford's all-natural oil-soluble banana extract here.

Bacon
The smokiness in our bacon flavor creates a dynamic mix of sweet and savory that all your customers will love.

Find Bickford's premium oil-soluble bacon extract here.

Lime
The tang of our lime flavoring has the ability to elevate your chocolate recipes by transforming it with citrus notes and subtle fruity sweetness.

Find Bickford's all-natural oil-soluble lime extract here.

Chai
The cinnamon and cardamom notes enhance your chocolate while allowing your customers to experience a sophisticated take on their candy treats.

Find Bickford's all-natural oil-soluble chai extract here.

Top Flavorings for Chocolate Cream Centers
Raspberry
The fresh ripeness of our raspberry flavoring adds a tang to chocolate cream centers that truly elevates the taste experience.

Find Bickford's all-natural water-soluble raspberry flavoring here.

Orange
Boosting your candy center with a citrus punch is an amazing way to add a little sunshine to anyone's day.

Find Bickford's all-natural water-soluble orange flavoring here.

Coconut
The sultry vibes that come along with our coconut flavoring can take a dull cream center and make it feel truly tropical.

Find Bickford's all-natural water-soluble coconut flavoring here.

Rum
The light and subtle Caribbean ambiance that you can convey with our rum flavoring added to your chocolate cream center is a truly unique take.

Find Bickford's all-natural water-soluble rum flavoring here.

Butter Rum
Adding butter rum flavoring to your candy cream center creates a warm and inviting experience that will wow old and new customers alike.

Find Bickford's all-natural water-soluble butter rum flavoring here.

Pistachio
The earthy undertones in our pistachio flavoring can add a distinct nuttiness to any cream center, transforming it to something special.

Find Bickford's all-natural water-soluble pistachio flavoring here.

Creamsicle
This whimsical option is a great way to tap into your customers nostalgic experiences by creating a cream center full of pep and zest.

Find Bickford's all-natural water-soluble creamsicle flavoring here.

Pina Colada
If you like pina colada, and eating candy in the rain, your customers will find a chocolate candy center with our pina colada flavoring too good to pass up.

Find Bickford's all-natural water-soluble pina colada flavoring here.

Coffee
The depth and richness of our coffee flavoring creates a cream center that will satisfy people's taste buds while also giving them a bit of a kick.

Find Bickford's all-natural water-soluble coffee flavoring here.

Butter Pecan
This indulgent flavor has a way of hitting flavor notes that will create a decadent and delightful taste experience.

Find Bickford's all-natural water-soluble butter pecan flavoring here.

Pumpkin
The wonderfully warm spices of our pumpkin flavoring can make your candy cream center feel like a little tasty hug every time.

Find Bickford's all-natural water-soluble pumpkin flavoring here.
Custom Chocolate Flavoring Oils
Looking for a custom chocolate flavoring oil or extract that will enhance your candy creations?

Well, then let's discuss your thoughts on a flavoring that doesn't exist yet.

We consistently partner with companies – from established local, small businesses to large wholesalers, manufacturers, retailers, distributors, etc. – to develop new and unique chocolate taste experiences.

All-natural and certified Kosher, we formulate our flavor extracts for chocolate applications to be perfectly balanced and more versatile than other flavoring methods to give your product the exact flavor consistency you're searching for.

All of our flavors, including brand new flavors and extracts, are formulated to meet current market demands and your specific labeling needs – such as certified kosher, low-protein, low- carbohydrate, gluten-free, and more.
Looking for Bulk Water and Oil-Based Flavorings for Chocolate at Low Prices? Discover Our Wholesale Program
We're a natural food flavoring supplier committed to creating only all-natural extracts.

For the last 100+ years, we have been providing chocolatiers a solution to naturally improve the taste and flavor of their chocolate and cream center creations.

At Bickford Flavors, we firmly believe that using true-to-source flavors will help you develop an enhanced, healthy flavor profile.

Perfectly suitable for all chocolate and cream center recipes and formulated to be stronger and more versatile than other chocolate flavoring methods, we invite you to get to know our Bottles of Natural Goodness.

Bickford At-A-Glance:


ALL-NATURAL. Bickford extracts and flavorings are always all-natural and only derived from premium sources.
NO SYNTHETIC DYES. Bickford extracts and flavorings never contain any FD&C synthetic dye colors.
CREATES CUSTOM FLAVORS. Bickford is comprised of an expert team who is highly experienced at creating custom flavorings that are always true-to-source and boast amazing tastes and aromas.
FORMULATED TO BE STRONGER & MORE VERSATILE THAN OTHER FLAVORING METHODS. Bickford only suspends flavors and extracts in either a water- or oil-soluble base, with the exception of pure vanilla, which is suspended in alcohol. *Water-soluble and oil-soluble base suspensions are more neutral, superior carriers to alcohol. They impart no added flavor and do not evaporate as rapidly when exposed to heat. This allows the flavor to taste better, smell better, and not "bake-out" – as a traditional alcohol-based extract does.
Learn more about Bickford Flavors:
Visit our FAQ page   |   Shop Our Flavors