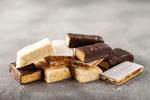 Research in nutraceuticals and functional foods is constantly evolving with new products and innovative taste options, which is driving the current market growth.

Your edible food products are highly nutritious and deliver several powerful health benefits. This is reason number one of why consumers are attracted to your product.

But what does your product taste like? Do the flavorings you use add to your product in more ways than just taste? Does the flavor profile of your product convey a sense of health and well-being?
Flavorings help many nutraceutical products achieve an incredible palatability.
Wellness-inspired flavors can help bolster the health properties of your product.
Pairing certain flavors with certain health benefits can create a powerful synergy for your product.
Pairing flavors with health benefits in nutraceutical products can not only create a stand-out flavor profile, but they can also help your brand stand out in this increasingly saturated market and capture the interest of new consumers.
Nutraceuticals and Wellness-Inspired Flavors
As a manufacturer of nutraceutical products – specifically nutrition bars, bites, cookies, snacks, dry mixes, and more – you know your products play a very important role in consumers' personal health and wellness.

Because the products in your overall market – the healthy food and beverage category – are brimming with favorable ingredients and health claims, health-conscious consumers are usually very intrigued by various products.
But did you know that these same consumers – both new and regular consumers of nutraceutical products – can often become overwhelmed and confused when trying to determine if a product is truly healthy?
What usually happens is they look for health and wellness cues on product packaging – cues like wellness-inspired flavors.
What Are Wellness-Inspired Flavors?
Think blueberry or cranberry flavorings since these berries carry associations with prevention and immunity.

Other examples of wellness-inspired flavors include ginger and cinnamon since these spices carry potential anti-inflammatory properties.

Lime, grapefruit and other citrus flavors are commonly associated with immunity and naturally pair with vitamins A and C.

Taking it one step further, wellness-inspired flavors like blood orange pull double duty by conveying feelings of luxury and add to the wellness appeal of the product.
How Wellness-Inspired Flavors Can Raise the Visibility and Attractiveness of Your Product
When highlighted on packaging, wellness-inspired flavors can help your product(s) stand out on crowded store shelves and signal additional wellness properties and benefits to consumers.
How Can You Take Advantage of the Health Appeal of Wellness Flavors?
Pairing flavors with consumer purchasing motives and functional benefits can take a little thought and experimentation, but committing to this flavoring method in a burgeoning market like nutraceuticals can help your brand offer desired or advantageous taste experiences that are more associated with health and well-being.
Ideas for Flavor Pairings
Nutrition Bars
Customers have always been drawn to traditional flavors like nut and fruit options when choosing a nutrition bar. Building off this knowledge by incorporating an innovative twist can help your product line stand out as a better product with more health benefits.

Wellness-inspired flavors like guava and black walnut take existing customer preferences in a creative direction.
Bites
A fairly new nutraceutical category, bites have grown in popularity over the past few years due to their adaptability and perfect snack size. These tasty treats are typically served in "bite-sized" bites and consist of nuts, honey, natural syrup and fruits compacted into small snacks.

Wellness-inspired flavorings that would accentuate this functional food can include pistachio or pomegranate, taking existing flavor profiles and adding an elegant twist.
Cookies
This time-honored treat option needs no introduction, but a unique flavor profile is always welcome.

Taking a healthy cookie recipe and boosting its flavor profile with flavor options like ginger, cinnamon and almond can enhance the overall profile of the baked good and showcase flavorings that are already associated with health and well-being.
Snacks
This category can offer a variety of options for the innovative brand maker. From chips to cheese puffs, fruit snacks to freeze pops, turning snacks into nutraceuticals with amazing flavor profiles is only limited by your imagination.

Try incorporating flavors like habanero and garlic into your savory snack ideas or fig into your sweet concepts to add an unbeatable depth of flavor.
Dry Mixes
Consumer flavor preferences for dry mixes tends to be all over the map. Some always prefer the classic of vanilla, while others tend to reach for more adventurous flavoring options.

Depending on the purpose of your dry mix, consider flavor options like papaya or mango. For the more traditional consumer, an all-natural acai or dark chocolate hazelnut flavoring are can't-beat flavor profiles.
Why Choose Bickford Flavors as Your Nutraceutical Flavoring Partner?
At Bickford Flavors, we offer an extensive line of more than 200 all-natural, certified Kosher flavorings.

Backed by our very own 100-year-old formulas, we formulate our flavorings to be stronger and more versatile than other flavoring methods – giving your nutraceutical and functional food product the exact, true-to-source flavor consistency it needs.

For large and small nutraceutical manufacturers: Our flavor extracts are formulated to meet current market demands and your specific labeling needs – such as no sugar added, low-calorie, low-protein, low-carbohydrate, gluten-free, and more.
Wholesale Program: We're a Natural Flavor Manufacturer Focused on Your Product Line's Growth
Need large quantities of our all-natural, true-to-source flavorings? For our wholesale partners, their best-selling products are made while benefiting from our wholesale prices and quantities.

Our wholesale program offers:
Preferred pricing
No minimum order requirement after one gallon
Faster than normal turnaround times
To get started, download our wholesale business verification form or ask about our sample program.
Download Wholesale Business Verification Form
Want to learn more about partnering with Bickford to create unique, custom flavors that will help your brand and products stand out among the competition? Find everything you need to know here: