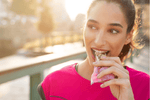 Palatability is paramount for nutraceutical products. Beyond natural ingredients, vitamins, and other essentials used in various functional foods and supplement products, one of the most integral components to nutraceutical formulations is flavor.

With the right flavoring – one that is derived from natural sources and meticulously created to deliver an authentic, true-to-source taste experience – you can easily mask the taste of certain ingredients and boast a wildly attractive clean label.

Without question, the flavor profile of nutraceutical and functional food products produced today cannot be an afterthought for manufacturers. If the taste of your product is unsatisfactory to consumers, no matter how many health benefits it offers, it could easily be the end of your product.

Ready to get an edge over other products in the extremely competitive nutraceutical market? Let's talk the importance of flavoring and how to determine the best flavor profiles for nutraceuticals.
Why Is Flavor Important in Nutraceutical Products?
Why is flavor important? It's simple: consumers' flavor preferences significantly drive their purchasing decisions in all markets – food, beverage, and supplement. Flavor is one of the highest motivators for consuming food, especially nutraceuticals.

Furthermore, in addition to flavor, when a consumer tries a new nutritional product for the first time, aroma and visual presentation of the product have great influence, too. Flavor and aroma should align with each other.

Because your nutraceuticals, supplements, and functional food products are packed with omega-3s, botanicals, vitamins, minerals, proteins and other natural ingredients, the end product will, as you know, boast unpleasant tastes of chalky, bitter or metallic if a premium flavoring source isn't utilized.

Here are four business cases for why flavor is important for nutraceutical products:
Distinct flavors can help you secure a competitive edge
Unique flavors, like custom flavors only offered by your brand or incredible flavor combinations, can deliver repeat business
Highly differentiated flavors can create higher price point opportunities
Seasonal or occasion-specific flavors can generate product demand spikes
The art of flavor-masking during the supplement manufacturing process is critical to impress consumers at first use, bite, or sip. With as important as flavor is to your product's success and – ultimately – your brand reputation, it's imperative to partner with flavor experts who have extensive experience with diverse flavor supplement requirements and creating premium nutraceutical flavors for your specific application (powders, liquids, chewables, nutrition bars, etc.).

At Bickford Flavors, we understand that flavor is a fundamental part of the creation process, and as tastes evolve, every manufacturer should be paying more attention to their flavor detail and elevating their flavor-forward narrative.
Natural vs Artificial Flavor Supplement Methods
Certainly, there are plenty of flavoring routes you can go for your nutraceutical, but they're not all created equally.

Natural flavors have compounds or aroma derived from animal or plant sources. These can include herbs, spices, fruits, leaves, buds, bark, or even roots. They are usually fermented or distilled in an alcohol, water, or oil base suspension. All-natural flavorings and extracts are always naturally derived from premium flavor sources.
Artificial flavors include synthetic or imitation flavor derivatives as they're mostly created and manipulated in a lab. They usually do not provide a natural taste experience.
Could the artificial shortcut be hurting you? Using artificial flavorings is OK. We're not here to take away from your products in any way. As expert flavor manufacturers, we simply believe that more premium flavor sources could elevate your end product and help you step into the flavor long game.

One of the keys to helping your products and brand stay relevant and attract new customers is through a long-term flavor strategy. Without question, how you push the boundaries of flavor and look at consumers' evolving tastes is how you ensure your future.
Consumers are demanding supplement products that are all-natural, GMO-free, vegan and gluten-free. Consumers want natural flavors and colors along with cleaner labels.
How to Determine the Best Flavor Supplement Profile
When it comes to flavor profiles, the concept of flavor should be incorporated into your research and development phase. Being able to precisely convey what you want – or more importantly, what your customers want – in a flavor is very important.

Your development team should work to agree on a descriptive model for the desired flavor profile of your product. The more descriptive, the better.

Take chocolate, for example. There are hundreds of chocolate flavors, like milk chocolate, dark chocolate, Mexican chocolate, cocoa powder, fudgy chocolate, and much more. But even those categories aren't always specific enough. Do you want a brownie-fudgy chocolate profile? Homemade chocolate fudge profile?
Getting to absolute specific terms is important!
When discussing flavor, here are some key questions to explore as a team:
What consumer are we targeting? What do we know about them?
What are the latest nutraceutical flavor supplement trends?
How are competitors doing? Are their flavors popular or tanking?
What can we draw from their successes and failures?
What flavors integrate well with our specific application? (Powders, liquids, chewables, bars, cookies, snacks, etc.
From here, it is critical to work with experts and flavor development partners to achieve the best flavor results that will help your product find success.
Nutraceutical Flavor Trends in 2021 and Beyond
Overall trending flavors
Strawberry
Pomegranate
Raspberries
Apricot
Coconut
Peach
Acai
Blueberry
Honey
Rum
Protein supplement flavor trends
Chocolate
Peanut butter
Peanut butter chocolate
Cookies & cream
Coffee
Gummies and chews flavor trends
Berry
Banana
Watermelon
Fruit punch
Lemonade
Grapefruit
Tangerine
Guava
Shakes, dry mixes, bars, bites, cookies, snacks flavor trends
Peanut butter
Birthday cake
Brownie batter
S'mores
Drinks, teas, juices flavor trends
Turmeric
Matcha
Elderberry
Ginger
Savory flavor trend
Feta cheese with tomato, apple, or olives
Seasonal flavor trends
Pumpkin and apple flavors in the fall
Mint-flavors around the Christmas holiday season
Tropical fruits in summertime
Seasonal flavors can easily be marketed as "limited-time" flavors, which can help your brand create a buzz and spark new interest in your products.
Flavoring for Nutraceuticals with Industry Experts
With major efforts being made to evaluate ingredients and remove GMOs, artificial additives, and other unnecessary formula components, you know that in addition to your clean label, you still need to deliver (and impress) on flavor.

As a natural food flavoring supplier, we'll help you naturally improve the taste and flavor of your products for today's health-conscious, flavor-seeking consumer.

Every Bickford flavor is created from premium, all-natural sources using our very own 100-year-old formulas; almost every flavor and extract is also certified Kosher.

Always free of preservatives, GMO's, synthetic dyes, unhealthy, artificial ingredients and synthetic/imitation derivatives – your nutraceuticals will taste amazing from flavorings and extracts that are always true-to-source.
Learn more about Bickford and flavorings for nutraceuticals, including our wholesale program.

Want to browse our all-natural flavors first? Get started here:

Natural Water-Soluble Flavors | Natural Oil-Soluble Flavors