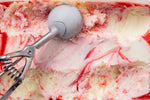 Gelato and ice cream makers around the world continue to research and develop new flavor profiles to entertain customers of all persuasions – from those with the most basic taste preferences to consumers with more adventurous flavor desires.

Are you a small batch ice cream or gelato maker? As we creep closer to warmer weather and peak ice cream and gelato season, your flavor wheels are probably turning.

What can you offer your consumers that they can't find in the grocery store? What are consumers currently craving?

Let's look at the ice cream and gelato markets and then talk natural ice cream flavors that patrons will flock to:
What's Going on In the Ice Cream & Gelato Markets?
From herbs and oils to spices and exotic fruits, gelato and ice cream flavors can truly enhance any occasion.

While traditional flavors represent a significant part of sales because they capture a larger target audience, there's always a market for something a bit more exciting, and that's where creating new flavors is essential.1
What's going on in the ice cream and gelato markets?
According to recent studies, ice cream's retail dollar sales jumped 17% in 2020 and unit sales over the same time period were up 12%.2
The gelato industry currently generates two billion in revenue annually.3
The average American will consume more than 23 pounds of ice cream products over the course of a year.3
As you have probably felt within your own business, this reinforces the fact that both ice cream and gelato have exemplified some of the major food and beverage trends that have emerged and proved strong over the past two years.
More and more consumers are seeking out these frozen treats, with 59% of consumers reporting they have bought frozen desserts as a snack and 38% saying they're snacking on them more than they were pre-pandemic, according to recent trends.2

Your market is growing, with plenty of room for flavor innovation, and ice cream natural flavors are leading the way.
Consider Creating these Specialty Gelato & Ice Cream Natural Flavors
It's no secret that people have long loved unique flavor combinations. From sweet and salty to spicy fruit concoctions, finding innovative ways to produce one-of-a-kind flavor profiles – ones that can't be found in grocery stores – is the key to standing out in a competitive market (even at a more localized level).

Whether being inventive or building off existing flavors, natural ice cream flavors will help you create a premium taste experience through higher-quality flavor sources.

Using ice cream natural flavors, consider these unique concepts:
Cinnamon-Basil Ice Cream
Herbal ice creams are growing in popularity and this idea is leading the way. From the spice of cinnamon to the fragrant finish of basil, combining these flavors creates quite the treat. Shop our all-natural, premium cinnamon and basil flavorings.

Honey-Pistachio Gelato
With a Mediterranean flare and sweet finish, this inspired gelato is a sophisticated treat that is both cool and creamy. The nuttiness allows the gelato to build its flavor profile on an earthy base while the honey takes those taste buds to another stratosphere. Shop our all-natural, premium honey and pistachio flavorings.

Cinnamon Toast-Butter Ice Cream
If you like the idea of an ice cream that takes you back to childhood, consider creating a batch of cinnamon toast-butter ice cream. It's truly an indulgent flavor concept with a buttery undertone, leaving your mouth begging for more of that Saturday-morning goodness. Shop our all-natural, premium cinnamon toast and butter flavorings.

Blueberry-Graham Cracker Ice Cream
This sweet and creamy frozen treat features the freshness of blueberries swirled together with graham cracker, creating a flavor experience that sings of summer. You can use alternative fruit extracts as well including raspberry or strawberry. Shop our all-natural, premium blueberry and graham cracker flavorings.

Lavender-Peach Gelato
This wildly refined herbal gelato can be served as a palate-pleaser between food courses or a wonderful dessert that tastes like a spoon full of heaven. Shop our all-natural, premium lavender and peach flavorings.

Orange-White Chocolate
This ice cream is truly a white chocolate lover's dream. Filled with bursts of zesty citrus and creamy sweet overtones, this creative combination is like an adult push pop, with a sophisticated finish. Shop our all-natural, premium orange and white chocolate flavorings.
Why Using Premium, All-Natural Ice Cream Flavors Matters
Synthetic and imitation ice cream flavorings won't get your product far.

The difference between quality ingredients and flavorings and artificial additives and extracts is immediately noticeable.
Did you know: 54% of all Americans say they actively avoid artificial sweeteners, flavorings and preservatives when deciding which products to buy?4
Today's consumers continue to trend toward natural products with ingredients and flavor sources they can actually pronounce.

Natural ice cream flavors taste fresh, unique and authentic.

Additionally, ice cream and gelato flavors that are truly derived from all-natural sources and never include any added sugar, salt, etc., are – of course – healthier.
Custom Ice Cream Flavoring Extracts at Wholesale Quantities & Prices
Most ice cream flavoring companies can't beat our wholesale program.

When you partner with Bickford and become a part of our wholesale program, you benefit from:
Preferred pricing
No minimum order requirement after one gallon
Faster than normal turnaround times – we're talking same day processing and shipping on most orders
For custom flavors, we work hard to flavor match within a week. Once you approve the flavor, orders are processed and shipped the same business day (if the order is received before 12:00 p.m. EST).

We're committed to supporting you, your growing business, and your ever-expanding product line with premium flavors.

To get started, download our wholesale business verification form or ask us about our sample program.
Download Wholesale Business Verification Form
Have questions? Contact us today or call 440-494-7777. Toll free at 800-283- 8322.


Resources:

1WhyGelato.com. Modern Trends. Accessed February 10, 2022. https://whygelato.com/flavors/modern-trends/.

2Mintel. The Rise of Permissible Indulgence and Frozen Snacking. Accessed February 10, 2022. https://downloads.mintel.com/private/0RIUs/files/886678/.

3Dairy Foods. Keep the ice cream category growing. Accessed February 10, 2022. https://www.dairyfoods.com/articles/94903-keep-the-ice-cream-category-growing.

4Nielsen. What's in Our Food and On Our Mind. Accessed February 10, 2022. https://www.nielsen.com/wp-content/uploads/sites/3/2019/04/global-ingredient-and-out-of-home-dining-trends-aug-2016.pdf.