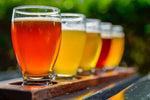 When it comes to flavor extracts, things like vanilla and almond automatically come to mind. But did you know that Bickford Flavors partners with many breweries as their source for all kinds of natural beer flavors, including spices?

Beer, and craft beer specifically, has come a long way since the age of the plain pilsner—the craft-beer revolution demands fuller flavor and greater variety.

Customers have developed a taste for diverse styles like india pale ales (IPAs), porters, goses, farmhouse ales, sours, and everything in between. Your brewery has to keep things fresh in order to keep up with the competition.
In this article we answer:
Why Use Flavor Extracts for Beer Brewing
After so many batches of the standard beer offerings, many brewers reach a point where they're looking to add some flavor.

So what are the advantages of choosing a flavor or extract over the raw product?

The biggest advantage of using flavor extracts for brewing is the unmatched level of control and reliability. For example, when you're developing the recipe for that new ginger IPA, it can be very difficult to replicate your results with real ginger, given variables like freshness and storage conditions. A pound of this season's ginger may be different from the product you received last year.

When you use ginger flavoring from a reputable source, you get the peppery, slightly sweet essence of real ginger, and you can count on the fact that it will taste the same with every use.

Flavorings and extracts are also extremely easy to use, which can be invaluable when running a commercial operation. No blending, grinding, or pureeing required.

Flavorings also come with a reduced risk of safety concerns. When you're using 100 pounds of garlic, for instance, risk of hygienic contamination is a real concern that you don't have to contend with when using a reliable garlic flavor.
How Do I Use Spice Extracts in Beer Brewing?
When you're developing a new favor, it's important to experiment and get your recipe just right.

Here are a few best practices to keep in mind when using a spice extract in your beer:
Start Small - Whether it's a one-gallon batch or 100, it's best to start with a smaller quantity than you think you'll need—you can always add more cinnamon flavoring, but you can't really remove it. Stir in a moderate amount, taste it, then add more if necessary.
Wait to add it - Most brewers agree that extracts and flavorings should be added just before bottling or kegging for best results.
Keep it simple - When developing a new recipe, try changing one variable or adding one flavor at a time, then recording your results.
Learn about partnering with Bickford for cider and beer brewing flavors.
What Kind of Spice Extracts Does Bickford Flavors Offer?
To help breweries develop new styles and stay ahead of the brewing curve, we have a variety of flavorings and extracts perfect for that new beer.

Could your beers use more of a bite? Bloomberg reported in 20191 about the growing trend of craft beers brewed with pepper flavors. If you're looking for a kick, we can help you spice up your beer—literally.
We now offer chipotle flavor and jalapeño flavor for beer for beer (both water-soluble) that will take your brews to the next level and help you stand out from the crowd.
The chipotle flavor adds a sweet heat and subtle, smoky kick. Believe it or not, a rich, smooth porter or stout can pair very well with a hint of chipotle flavor. 
Our jalapeño flavor has a bright, vegetal flavor that can stand up to a pale ale or IPA.

If you'd like to ramp up the spice level even further, check out our habanero flavor.
Both extracts, like all Bickford Flavors products, are:
All-natural
Derived from the highest quality sources
Certified Kosher
Free of any added sugar and salt
If you're looking to develop a fruit beer, our diverse offerings go from the orchard to the tropics. Check out flavors like pear, watermelon, and passion fruit.

Learn more about choosing a fruit extract for beer.
Partner With Bickford To Flavor Your Next Craft Beer
Our beer flavors are formulated to be stronger and more versatile than other flavors on the market, and can be used in light, midlevel, dark, and nonalcoholic beer recipes.

If you're looking for a resource to develop new flavors, check out our flavor wheel.

Whether you're kegging your beer to be shipped across the country or serving it to your friends in your basement bar, we have the flavors that will make your beer irresistible.

To place an order or learn more, call 440-494-7777 or Contact Us today.
Resources:
1Bloomberg. Craft Brewing's Hot New Style? Beer Made With Spicy Chili Peppers. Accessed March 4, 2022. https://www.bloomberg.com/news/articles/2019-04-26/craft-brewing-s-hot-new-style-beer-made-with-spicy-chili-peppers