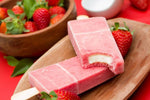 You already know (and love!) strawberry as a go-to flavor for products like cakes, ice creams, smoothies, and much more. But the right flavor combination can help you use it to its full potential.

Did you know that over 350 different volatile compounds1 have been identified in strawberries? Their fruity, floral flavor can combine forces with other flavors to make something even more tempting than the sum of its parts.

Bickford Flavors can help you harness strawberry's unique flavor in ways that will delight your customers.
In this article we answer:
What Are Some Delicious Strawberry Flavor Pairings?
While it's great as the star of the show, strawberry flavor has a subtlety that allows it to work extremely well with a variety of other flavors.

Here are some strawberry flavor pairing ideas to try:
Banana Flavors
For many, bananas are the first thing that come to mind as the perfect pairing with strawberries. Favorites like strawberry banana bread or strawberry banana freezer pops are great choices to showcase the best of both. Our vegan strawberry cheesecake "nice" cream recipe uses real bananas and strawberries as well as cream cheese flavoring.
Buy Water-Soluble Banana Flavor  |  Buy Oil-Soluble Banana Flavor
For both flavors in one convenient product, try our strawberry banana flavor.
 
Blueberry Flavors
Strawberry's fragrant essence makes it a great option to pair with all kinds of berries. Blueberry is a standard choice for good reason, used in foods like strawberry blueberry muffins.
Buy Water-Soluble Blueberry Flavor  |  Buy Oil-Soluble Blueberry Flavor
Raspberry Flavors
Ripe strawberry flavor's sweetness is a perfect match for the more tart raspberry. A strawberry raspberry fool or crumble dessert can be a great way to celebrate summer.
Buy Red Raspberry Flavor
Buy Blue Raspberry Flavor
Buy Black Raspberry Flavor
Other Berry Flavors
When it comes to berries, it can be hard to choose just one. Luckily, in many cases a "the more, the merrier" approach is totally appropriate!

Buy Boysenberry Flavor
Buy Blackberry Flavor
Buy Wild Berry Flavor
Buy Mixed Berry Flavor
Tropical Fruit Flavors
The humble strawberry is also a great "team player" when used alongside tropical fruits. A refreshing strawberry mango pilsner beer could be the next big hit at your brewery.

Buy Kiwi Flavor
Buy Mango Flavor
Buy Pineapple Flavor
For an all-in-one flavor that is perfect for salsas, try Bickford's strawberry mango flavor.
Herb Flavors
Strawberry's subtle sweetness pairs extremely well with the effervescence of herbs such as mint and basil in foods like ice cream.

Buy Mint Flavor
Buy Basil Flavor
Chocolate Flavors
Chocolate's bitterness makes it a perfect partner for strawberries in baked goods like chocolate strawberry bark or bars.
Buy Water-Soluble Chocolate Flavor  |  Buy Oil-Soluble Chocolate Flavor
Citrus Flavors
Strawberries are delicious in combination with a variety of tart citrus flavors. For example, our strawberry milk shake recipe uses 2 tsp of Bickford lemon flavor to brighten things up.
Buy Water-Soluble Orange Flavor  |  Buy Oil-Soluble Orange Flavor
Buy Water-Soluble Lime Flavor | Buy Oil-Soluble Lime Flavor
Above all, it's important to keep an open mind when it comes to developing new flavors. With a flavor as versatile as strawberry, experimentation is half the fun!

Interested in learning more about the flavor preferences of the modern consumer?

Click here to download Bickford's The Evolution of Flavor Guide.
What Kinds of Strawberry Flavors Does Bickford Offer?
Bickford's strawberry flavoring magically captures the sweet, juicy, fresh-picked taste of fresh strawberries. Whether you're trying to evoke memories of strawberries right from the garden, or that milkshake you loved as a child, we have the flavors that can make your products shine.

Our strawberry flavor is available for both water-soluble applications such as beverages and condiments and oil-soluble ones like candies and chocolates.

Buy Water-Soluble Strawberry Flavor  |  Buy Oil-Soluble Strawberry Flavor

If you'd like to take it to the next level and inject some extra sweetness and juiciness into your recipe, Bickford also offers ripe strawberry. Made from real, all-natural strawberries, our ripe strawberry flavor extract is formulated to be stronger and more complex than other strawberry flavoring methods.

Buy Water-Soluble Ripe Strawberry Flavor 

For a different spin on your favorite fruit, check out our elegant strawberry chardonnay flavor or our scrumptious strawberry shortcake flavoring.
Looking for Bulk Strawberry Extract at Wholesale Prices?
Whether you're looking for strawberry or any other flavor, Bickford's diverse roster of products and high level of service will help you stand out from the competition.

We know that for our partners, sometimes that new recipe can't wait—we offer next-day shipping and faster than normal turnaround times.

To learn more, download our wholesale business verification form or reach out to us to discuss your needs.
Resources:
1PLOS ONE. Strawberry Flavor: Diverse Chemical Compositions, a Seasonal Influence, and Effects on Sensory Perception. Accessed March 11, 2022. https://journals.plos.org/plosone/article?id=10.1371/journal.pone.0088446#pone.0088446-Maarse1