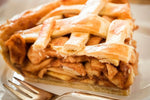 When you picture your favorite fruits, chances are the humble apple is among the first to come to mind. In fact, according to recent data from the U.S. Department of Agriculture1, apples are the country's most consumed fruit—taking into account fresh, canned, frozen, and apple juice.

Like the rest of America, your customers likely have a soft spot for apples. Whether you're looking for your next best-selling recipe featuring fresh apples, or you'd like to employ all-natural flavorings in that new apple baked good, beer, or confection, Bickford Flavors can help get you started.
Delicious Apple Food Pairings
The all-American apple is delicious, adaptable, and features a well-balanced flavor profile—perfect for experimentation in the test kitchen.

Some cooking ideas using fresh apples include:
Bake an apple cake or crisp with some help from Bickford's pure vanilla extract.
Stewed apples with cinnamon and maple syrup make a great dessert or breakfast side.
For a savory twist, use apples in a hearty tart along with onions and cheddar.
Apples also work well with a variety of meats—try this sausage and apple bake featuring red onions and parsnips.
Bickford has developed some great recipes to use as a starting point. Our golden squash and apple soup recipe features a butternut squash, a golden delicious apple, our ginger and nutmeg flavors, and some chopped pecans for a scrumptious dinner.

To lift your spirits during the dead of winter, try our pomegranate cranberry winter salad, which uses balsamic vinegar, dijon mustard, a Fuji or Honeycrisp apple, and Bickford's pomegranate flavoring for an delectable sweet and savory effect.
What are Some Delicious Apple Flavor Pairings?
As far as fruit flavor pairings go, it's hard to get more versatile than apples. They go well with everything from almond to vanilla, and are great for both sweet and savory applications.

Bickford's standalone apple flavorings, including both red and the more tart green apple, are sourced from apples that are picked at their peak. Try a dash of flavoring in a fresh slaw, an apple martini, or that favorite cake recipe.
A major advantage of our extracts? The great flavor won't come to an end when the apple picking season does—if stored properly, our apple flavorings won't expire.
Is there anything that provides that nostalgic fall feeling like a caramel apple? Bickford's flavor options give the essence without having to go through the intensive caramel-making process.
If you're a fan of apple cider and craft cocktails, try our spiced caramel apple cocktail.
Apples and cinnamon are a beloved combination for good reason—it's essential to foods like applesauce, cakes, apple butter, and more. Add a dash of our all-natural maple or apple maple flavorings for an extra hint of autumn nostalgia.
Those sugary cereals everybody loved as a child may not be a regular part of your customers' diets—especially for those adhering to the keto lifestyle. Bickford's apple cinnamon cereal flavoring can help bring your customers back to their childhood without all the calories.
Looking to go in a fruit-forward direction? Apples are a perfect balance for tart fruits like cranberries and cherries as well as sweeter ones like bananas and pears.
Attention brewers and winemakers—apple's ubiquity and popularity make it a great choice for alcohol! Learn more about using extracts in beer and cider and wine flavoring additives.

Bickford is proud to offer a whole range of flavors (including apple) approved by the Alcohol and Tobacco Tax and Trade Bureau (TTB) for commercial use in alcoholic products.

This list only scratches the surface of our apple-compatible flavors and extracts. Download the full list of Bickford flavors to see our full breadth of options.
Bickford is Your Source for All-Natural Wholesale Flavorings and Extracts
Since 1917, food retailers have trusted Bickford to deliver the industry's best flavorings and extracts. When you make us your wholesale partner, you benefit from:
Preferred pricing
No minimum order requirement after one gallon
Faster than normal turnaround times, with shipment within 24-hours
To get started, fill out our wholesale business verification form or give us a call at 440-494-7777 today.
Resources:
1USDA Economic Research Service. Apples and oranges are the top U.S. fruit choices. Accessed April 12, 2022. https://www.ers.usda.gov/data-products/chart-gallery/gallery/chart-detail/?chartId=58322