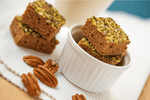 A baker's best friend, vanilla extract enhances flavors and adds an essential depth to cakes, cookies, muffins, and everything in between.
But can you still use this essential ingredient while adhering to a low-carb ketogenic diet?
In this article we answer:
Is vanilla extract keto-friendly?
What are the benefits of using pure vanilla extract?
What are some keto-friendly ways to use vanilla extract?
Where can I buy quality vanilla extract?
Is Vanilla Extract Keto-friendly?
The short answer is yes!

Typically, what makes a food keto is the ratio of serving size to net carbohydrates. Though vanilla extract does contain carbs, it is considered keto- friendly because the typical serving size is so small.

You don't need much to get that delicious vanilla flavor—according to Foodstruct1, one teaspoon of pure vanilla extract contains about half a gram of total carbs. Typically, recipes call for only one or two teaspoons of extract for an entire batch, spread across a number of servings. In most applications, the number of carbs you're consuming from vanilla extract is realistically very small.

If you need more reasons to continue cooking or baking with vanilla extract, the vanillin compound has been shown to benefit brain health and provide antioxidant properties, and may also serve as an anti-inflammatory.
What Are the Benefits of Using Pure Vanilla Extract?
Not all vanilla extract is created equal. "Pure" vanilla extract simply means that the flavor comes only from vanilla beans. To give applications sweet, flavorful notes, consumers taste a compound called vanillin, which naturally occurs in vanilla beans. While some varieties of pure extract contain some sugar or cane syrup, there is no artificially manufactured vanillin.

Pure vanilla extract is made from the preparation of the vanilla plant, which gives up its flavor when vanilla pods are soaked in a solution of both alcohol and water.

In the United States, the labeling of vanilla extract is carefully controlled. According to Food and Drug Administration (FDA) guidelines2, pure vanilla extract must contain a minimum of 35% percent alcohol and 13.35 ounces of vanilla beans per gallon.

A vanilla bean contains over 200 flavor compounds, and pure extract has a complexity and depth of flavor that can't be duplicated. If you're looking for authentic vanilla flavor, it's essential to check the label to see that the product you're purchasing contains only vanilla bean matter, alcohol, and water.
Bickford's pure vanilla extract contains only the following ingredients:
Cold-extracted matter of Madagascar bourbon vanilla beans
Water
Alcohol (35% by volume)
What Are Some Keto-Friendly Ways to Use Vanilla Extract?
You may be surprised how widely vanilla extract can be used while following the keto lifestyle. Bickford's vanilla extract can be used in keto-friendly foods such as:
If you're looking for ways to spice up your keto diet, vanilla extract can be a great way to add that "something extra." For quick ways to add complexity to and keep it keto-friendly, give the following ideas a try:
Add a small spoonful to flavor your morning coffee
Take a bowl of greek yogurt to the next level
Get some natural sweetness into your green smoothie
Learn more about using extracts on keto.
Taking the plunge into the keto lifestyle can be overwhelming, and it's often difficult to find items to replace those tried-and-true cookies and cakes. Check out Bickford's guide to keto and vegan Christmas cookies, including our delicious keto peanut butter cup cookies.

Learn more about desserts and the keto lifestyle.

From the healthy Chocolate Peanut Butter Overnight Oats to our indulgent Cotton Candy Ice Cream, Bickford Flavors has a variety of recipes featuring vanilla extract.
Where Can I Buy Pure Vanilla Extract?
A trusted source for all-natural flavors and extracts for over a century, Bickford Flavors offers pure vanilla extract that is certified Kosher, free from added sugar or salt, and only 35% percent alcohol by volume.

If you're a restaurateur, caterer, manufacturer, or other food professional—keto-friendly or otherwise—looking for a wholesale source for your vanilla extract, look no further than Bickford Flavors. Our same-day business shipping is second to none in the industry, and we offer a wide range of quantities, including 1 gallon, 5 gallon pail, and 55-gallon drum.

Beyond just vanilla, Bickford Flavors offers a variety of different extracts that are compatible with a keto lifestyle.

Visit our Contact page to get in touch today!
Resources:
1Foodstruct. Vanilla extract nutrition, glycemic index, calories, net carbs & more. Accessed February 27,2022. https://foodstruct.com/food/vanilla-extract#a_h2_3_h3_1_h4_2

2Electronic Code of Federal Regulations (eCFR). § 169.175 Vanilla extract. Accessed February 27,2022. https://www.ecfr.gov/current/title-21/chapter-I/subchapter-B/part-169/subpart-B/section-169.175