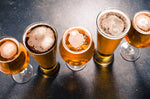 Improving on beer, or taking a certain beer style down new, uncharted paths, may seem sacrilegious to some. But, truth be told, every brew recipe can benefit from a review to ensure premium ingredients are still being used and the flavor experience is nothing short of exceptional.

Think about this: from the sturdy Stout to the good 'ole American Pale Ale, there are ways to take popular beer options and incorporate distinctive fruit extracts into the mix. This is also a creative way to take an existing market and add an entirely new revenue stream.

As you know, the key is to understand the beer you're working with. Then, identifying possible fruit flavors that will enhance and highlight a beer's existing overall taste comes from experimentation and innovation.

While we're not brew masters, we do know a great deal about creating and achieving amazing beer flavors that can take any current beer and make it a fruit-tastic sensation.
Fruit Extracts for Brewing: So Many Options. So Much at Stake.
Which fruits work best with which beers?
Brewing the perfect beer is no easy task, and we fully understand that.

As expert flavor manufacturers, we know that the more premium a flavor source, the more incredible your final taste experience will be – making the end product a new staple in your product line.
Keep this in mind: Beer connoisseurs crave a refreshing and great tasting beverage that will go down smooth and completely satisfy their thirst. Now, simply translate this to a fruit-flavored beer. Your beverage formulation commands carefully curated flavors that are made from high-quality, all-natural flavor sources.
Start here: Skip artificial fruit flavorings, and even those labeled 'natural,' and go straight for all-natural beer flavors and extracts that deliver a true-to-source taste and aroma.
Now, fill up on flavor inspiration:
We See Your Wheels Turning. Let's Talk Premium Fruit Extract for Beer
Learning the intricacies – character, nuances, aroma, etc. – of each fruit flavoring can take you in a number of different directions.
Citrus
The current trend with IPA's and American Pale Ale's is citrus. While there are plenty of beer makers that can pack juicy fruit notes into their beers with the right hops, that's not the only way to get that citrus experience into the brew.

Make the decision to add high-quality flavor extracts, like orange, grapefruit, lemon, or lime flavorings, to your beers to achieve the perfect citrus overtones.

What you end up with is an IPA or American Pale Ale that could easily go with your morning eggs and bacon.
Berry
There is no better way to highlight the subtle notes of a Gose or Sour than to enhance the experience with berry extracts, like strawberry, blueberry or raspberry.

Gose or Sour beer options work well with these specific flavorings because of the slight salt content that helps brighten the fruit flavors – pushing them to the forefront, enhancing the taste experience, and allowing the light acidity to balance the sweetness.
Tropical Fruit
Tropical extracts require a bit more of a deft hand. From the Irish Porter interacting flawlessly with a coconut flavor extract to creating the perfect banana flavored Golden Ale to brewing an amazing Wheat with our mango flavor, balancing these beers with an ideal extract option takes skill.

However, once you achieve the right mixture, you're sure to have a bonafide hit on your hands.
Sweet
Dipping your toes into the Witbier and Hefeweizen offerings takes talent and flavor dexterity. You're up for the task, we know, and we have just the thing you need to nail an extraordinary fruit flavor profile:

Incorporating apple or pear extract into these types of beers is the perfect method to feature their sweet and semi-dry demeanors and show off their brighter fruit qualities without delivering an overtly bitter brew.
Tart
This category can truly show a brew master's ability by highlighting beers that emphasize rustic and earthy notes.

Options like a tasty Faro or Berliner Weissbier can be set off with fruit extracts like cranberry, pomegranate, or fig. The mild acidity and paler malts make these crisp beers the perfect vessel to show off extracts of this nature.
Bickford Flavors: We Develop All-Natural Fruit Extracts for Brewing. Let's Rock this Market & Create the Best Tasting Beers Yet
As experts and flavor chemists in beer flavorings, we only produce premium beer flavoring extracts and help small and large batch brewers and manufacturers create innovative, refreshing tastes.

We understand the brewing industry and help makers successfully create beers and other beverages that boast true originality by way of flavor.

Learn more about our extracts for brewing:
If you're feeling the heat to produce brews with deep flavor innovations and stand-out tastes – and you're worried today's trends and flavor evolutions have surpassed the flavoring method(s) you currently use – read why your beers command premium, all-natural extracts and flavors: