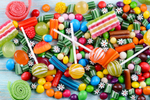 Make no mistake about it—hard candy isn't just for kids.

Sure, students are often allowed to eat hard candy during big exam days at school; but why do you think hard candies are always found in the middle of conference and meeting tables for adults? A small dose of sugar can boost your energy levels and may even improve your cognitive functioning.
As an artesian, small batch hard candy maker or large production hard candy manufacturer, you've probably put a lot of thought into the kind and brand of ingredients you use in your hard candy recipes. From the sugar to the corn syrup, powdered sugar and others, the quality of these ingredients matter.

What about the candy oils you use?
We remind our candy flavoring partners as they set out to create new products or market to a new demographic that when it comes to hard candy—including suckers, lollipops, and tack candy—there's something for everyone.

Whether your consumers like sweet, spicy, salty, savory, or fruity, there's a hard candy ready to become your new hit product!

Read more about creating the next viral flavor sensation on social media.
The Advantages of All-Natural Hard Candy Flavoring Oils
Bickford's flavors and extracts, also called flavoring "oils" when used for hard candy, are the industry leaders because they are are:
Derived from high-quality, all-natural flavor sources
Highly heat stable
Never suspend in alcohol (with the exception of pure vanilla extract, which contains 35% alcohol by volume)
Formulated to be stronger and more concentrated than other flavoring methods
Natural and free of additional salt and sugar
With most of our flavors stemming from 100-year-old formulas, our decision to develop our candy oils in water- or oil-soluble base suspensions was made to help you produce the best end product.
Water and oil are more neutral, superior carriers than alcohol and never impart additional off notes or "bake out" as traditional alcohol-based extracts often do.
Learn more about the nutritional content of our flavors.
Our flavors work for candy producers at all levels:
For the novice hard candy maker: With a few specialized tools and the right flavoring oils, making extremely tasty and satisfying hard candies at home is easier than you think.
For the seasoned hard candy maker: Utilizing all-natural, highly concentrated candy flavoring oils can give your candies the exact flavor consistency you've been looking for to achieve your most flavorful batch yet.
To really hit the mark and create a standout hard candy application, flavor is everything.
Take Note: Hard Candy Flavoring Is Evolving
These days, hard candy goes way beyond an indulgent escape. Today's health and wellness trends are influencing consumers even at the level of sweet treats.

Candy makers and manufacturers are noting health and wellness trends and demands to not only ensure that their products contain high-quality ingredients, but to advance their recipes and processes to utilize all-natural, super strength candy oils.

For example, cannabidiol (CBD) is all the rage for its reported health benefits including stress relief, better sleep, and reduced inflammation. And CBD-infused hard candies are a perfect platform for flavor experimentation!

Read more about flavoring your CBD products.

Synthetic and imitation oils and extracts won't get your candy product far—here are a few reasons why:
The difference between quality ingredients and flavorings and artificial additives and extracts is immediately noticeable.
Did you know 54% of all Americans say they actively avoid artificial sweeteners, flavorings, and preservatives when deciding which products to buy?1
Today's consumers continue to trend toward natural products with ingredients and flavor sources they can actually pronounce.
All-natural, highly concentrated hard and tack candy flavoring oils taste fresh, unique and authentic.
Hard candy flavoring oils that are derived from all-natural sources and never include any added sugar, salt, etc., are (of course) healthier.
Read more about how the confection industry is evolving.
With over 70% of consumers stating they have concerns about eating products with artificial ingredients and synthetic extracts, and the same amount agreeing that natural ingredients take precedence in their purchasing trends,1 making the switch to all-natural, candy flavoring oils is not just a novel concept: it's smart business.

Your hard candy application deserves candy flavors that are true to source.
What are Hard Candy Flavoring Oils?
When describing our flavoring oils, we use terms such as highly concentrated and super strength. But what exactly is a flavoring oil?

Our candy oils (also referred to as hard oils on our site) are our version of a highly concentrated extract. They're labeled super strength because they're formulated to be eight or more times concentrated than our other flavors.
Candy oils are perfect when you need a strong, clear flavor—usually perfect for hard candy! Because our super-strength candy flavors are highly concentrated, they can stand up to the heat of hard candy making without losing flavor.

On average, depending on the application and its size, it's best to start with a teaspoon of flavoring and adjust your recipe from there. As always, how much flavor you use is customizable and completely up to you—but it's best to start with a small amount.
Flavors for Hard Candy - The Sky's the Limit!
Hard candy is usually made up of just corn syrup, sugar, water, coloring, and flavor. With such a simple ingredients list, the flavor is what can make or break a hard candy.

Looking for a place to start? Some hard candy flavoring ideas include:
If you're looking to develop that new hit flavor combination, Bickford has a range of resources. Click here to check out our flavor wheel, or reach out to one of our flavor experts!

To get a sense of the candy making process, check out our recipe for delectable lemon drops!
Discover Bickford's Candy Flavoring Oils Wholesale Program
At Bickford Flavors, we've been providing small and large-batch candy makers and manufacturers a solution to naturally improve the taste and flavor of their candy application for over a century.

Our oils are always specially made to align with special diets and lifestyles, such as low-protein, Keto and low-carb, gluten-free, and more.

Additionally, our premium flavors are certified Kosher and available at wholesale prices and benefits.

Our wholesale program delivers:
Preferred pricing
No minimum order requirement after one gallon
Faster than normal turnaround times
Want to get to know us better? We invite you to see what we're all about:
Learn more about partnering with us on custom candy flavorings.
Resources

1Nielsen. What's in Our Food and On Our Mind. Accessed May 4, 2021. https://www.nielsen.com/wp-content/uploads/sites/3/2019/04/global-ingredient-and-out-of-home-dining-trends-aug-2016.pdf.