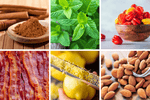 Have you used flavor oil or extracts before in your cooking, baking, candy making, etc.?

Did you know: Flavor oils and extracts can actually make the creation process so much easier and even add more flavor to your dish, confection, or baked good?

Think of oils and extracts this way: Adding a drop or two of an oil or extract instead of spending time chopping and slicing fruits, herbs, spices, and other inconvenient ingredients – like a lemon (for its zest), passion fruit, chipotle in adobo sauce, cloves, and so many more – cuts time, makes your processes simpler, and makes the end product more flavorful.

Once you get in the groove of using flavor oils and extracts, you'll discover that they belong in the kitchen just as much as any other ingredient or additive.

They may just quickly become your go-to move with all your creations and recipes (they're that good)!
What Are Food and Beverage Flavoring Oils and Extracts?
Let's start here, because we understand that oils and extracts may be confusing at first.

What's the difference between lemon oil vs lemon extract or peppermint oil vs extract and other flavorings?
Oils and extracts are the same thing.
Take almond oil vs almond extract, for example. Almond oil - also known as almond oil extract - is a highly concentrated almond flavor.
At Bickford Flavors, our "hard oils" – our version of an extract – are formulated to be eight or more times more concentrated than our other flavoring sources on the market.
Why Use Food and Beverage Flavoring Oils and Extracts?
We've all been there: finding a great recipe, getting prepared to start cooking or baking…and then realizing we're missing something important – like the zest of a lemon, bourbon to add smokiness to the dish, or oregano, thyme and basil to dress up an Italian recipe or add more flavor to a store-bought pasta sauce.
The beauty of learning to use flavor oils and extracts more consistently allows you to build your cooking collection, try new recipes with ease, and produce more flavorful creations.
With flavoring oils and extracts, you'll have more flavorful alternatives to those inconvenient ingredients available when you actually need them.
Be sure to use flavor oils and extracts that are taken directly from natural sources.
Why Use All-Natural Flavoring Oils and Extracts?
Just as it's important to use quality ingredients in your recipes, it's equally as important to use all-natural flavor sources.

Always derived from all-natural sources – and never containing any imitation or synthetic derivatives – Bickford's true-to-source flavoring oils are ideal for a wide-array of dishes and recipes and align with various lifestyle and diet requirements, like certified Kosher, low-protein, low-carbohydrate, gluten-free, and more.
How Do I Use Food and Beverage Flavoring Oils and Extracts?
The purity and potency of flavor oils and extracts make them perfect for adding flavor to any recipe. Perhaps best yet, oils and extracts will go the distance, as it doesn't take much to add an extra kick of flavor to your favorite dishes, beverages, candies, or desserts.
Using oils and extracts in baking
When baking with flavor oils and extracts, a little goes a long way.

For example, one or two drops of cinnamon oil will have your baked goods bursting with flavor.

While herbs, spices, and other ingredients may shrivel up or turn brown over time, as long as your oils and extracts are stored properly, they will endure with incredible flavor for much longer.

Start by adding a ¼ teaspoon at a time to your recipe until it reaches your desired flavor consistency.
Using oils and extracts in savory cooking
Using flavor oils and extracts in savory recipes can bring a concentrated punch of flavor like you've never experienced before.

Remember that flavor oils and extracts provide an added depth of flavor that allows you to enhance any recipe with ease.

A quick tip that may help: Try dipping a toothpick into the flavor oil bottle and stirring into your recipe just before serving to slowly adjust the overall flavor.

Another option is to sprinkle one to two drops into the dish when you're done to enhance the finished product. No washing, chopping or measuring needed.
Using citrus oils in place of citrus zest
It's amazing that citrus oils can add a refreshing flavor to your beverages and brighten up any recipe from baked goods to savory dishes.

Try using citrus oils in recipes that call for lemon, lime, orange, or tangerine zest.

If the recipe calls for the zest of the entire fruit, it will likely take a few drops of citrus oil to match the amount of flavor needed.

Remember, citrus oils are taken from the peel of the fruit and not the juice. For this reason, it is easy to substitute citrus oils for recipes that call for fruit zest.
Using spicy oils/flavors in place of peppers
Spicy oils are an amazing option when you want to add an extra kick of spice to your recipe.

They can help enhance natural flavors when cooking and add extra flavor to both sweet and savory recipes.

Keep in mind that spicy oils and flavors are extremely potent, so only a tiny bit of oil will be needed to add a powerful flavor to your dish.

For this reason, it is best to always start by using the toothpick method when adding a spicy oil and tasting the dish as you go.
The Difference Found at Bickford: All-Natural Food and Beverage Flavoring Oils and Extracts

We're a natural food flavoring supplier committed to creating only all-natural extracts.

For the last 100+ years, we have been providing at-home cooks, bakers, and other makers a solution to naturally improve the taste and flavor of dishes and recipes.

At Bickford Flavors, we firmly believe that using true-to-source flavors will help you develop an enhanced, healthy flavor profile.

Suitable for almost any recipe and formulated to be stronger and more versatile than other flavoring methods, we invite you to get to know our Bottles of Natural Goodness.

Bickford At-A-Glance:
ALL-NATURAL. Bickford extracts and flavorings are always all-natural and only derived from premium sources.
NO SYNTHETIC DYES. Bickford extracts and flavorings never contain any FD&C synthetic dye colors.
CREATES CUSTOM FLAVORS. Bickford is comprised of an expert team who is highly experienced at creating custom flavorings that are always true-to-source and boast amazing tastes and aromas.
FORMULATED TO BE STRONGER & MORE VERSATILE THAN OTHER FLAVORING METHODS. Bickford only suspends flavors and extracts in either a water- or oil-soluble base, with the exception of pure vanilla, which is suspended in alcohol. Water-soluble and oil-soluble base suspensions are more neutral, superior carriers to alcohol. They impart no added flavor and do not evaporate as rapidly when exposed to heat. This allows the flavor to taste better, smell better, and not "bake-out" – as a traditional alcohol-based extract does.
Learn more about Bickford Flavors:
Visit our FAQ page   |   Shop Our Flavors