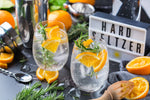 We all see it so clearly: Hard seltzers are all the rage.

Now, we're not saying that wines, beers, and cocktails are has-beens, but – without question – an indisputable favorite beverage of the masses is currently hard seltzer.

And, while hard seltzer is certainly nothing new, as a beverage maker or manufacturer, you simply can't ignore this trend any longer.
What's All this Hard Seltzer Hubbub About Anyway?
Hard seltzer's movement in the beverage industry wasn't actually an overnight explosion. Regular seltzer has always been trendy, and its alcoholic counterpart has simply been growing in popularity behind the scenes – mostly appearing in bodegas and supermarkets.

When sales began to take a noticeable surge a few years ago, our interest was piqued.

Hard seltzer seemingly offers the whole package. Compared to other alcoholic options, hard seltzer is:
Lower in calories
Lower in sugar
Can be gluten-free
Inexpensive
Additionally, something we've noticed from the beginning: the flavor options for hard seltzers can be almost limitless.

With less calories, sugar, and gluten-free options, these bubbly beverages tap right into today's health and wellness trends and offer consumers a healthier alcoholic beverage option.
Thinking About Tapping In?
Because of the success hard seltzer has had in the market, larger companies have come out with their own spiked seltzers to compete with sales and join in on the rapidly growing seltzer game.
This expansion has pushed hard seltzer sales up 235% to 76.4 million cases in 2020, with sales up to $2.37 billion last year.
In addition, a recent Nielsen report on ready-to-drink beverages that are "shaking up the adult beverage market" stated that spiked seltzers have experienced a sales growth of 193% since last year, making their surging popularity something that every beverage maker needs to notice.1
So, do you stay the course? Pivot and expand your product offerings? Or observe for a while longer to see if this craze lasts or simply fizzles out?
There is Definitely a Future for Hard Seltzer. The Time to Capitalize on this Opportunity Starts Now.
While the market is ripe for hard seltzer products, finding a way to expand your flavor variety is the key to moving forward and being successful in this beverage category.

Why? Because consumers are looking for unique options and offerings.
Creating a successful line of hard seltzers depends on what demographic you want to appeal to and how well versed you are on applicable flavor trends.
The good news for makers and manufacturers who haven't plunged into hard seltzers yet is it is fairly simple to make and flavor this type of alcoholic beverage, especially if you're already producing beer and distilling spirits.
If you can creatively develop a winning flavor idea and introduce your beverage concept at the right time, then the potential for exponential growth is very real in this market.
At this point, no one knows where the ceiling is for hard seltzers, which makes it part wild-west and part gold-rush. Simply put, it's an exciting product in an exploding market.

When you have a product like this that is light, seasonable, and drinkable, it's very different from all the predecessors that were generally high in sugar and high in calories.

This allows beverage makers both large and small to capitalize on this situation and join the booming business that is hard seltzer sales.
While Beverage Makers and Manufacturers are All Scrambling for Consumer Recognition, Let Your Seltzer Stand Out on Its Own with All-Natural Flavor Extracts for Beverages
Flavor is a foundational part of the beverage creation process, and as tastes evolve, every maker and manufacturer need to be paying closer attention to their flavor detail and elevating their flavor-forward narrative.

While there's no shortage of flavoring methods that manufacturers can infuse into a hard seltzer, there are a very slim handful of extracts that will truly produce the best end product and leave customers coming back for more.
Your Cheat Sheet to Flavoring an Exceptional Hard Seltzer
When deciding the flavor route you'll take for your line of hard seltzers, keep this flavoring information top of mind:
Could

artificial flavorings

actually be hurting your product line? Did you know that recent purchasing trends – across multiple products and brands – indicate that all-natural options have become essential for the ever-expanding well-informed customer demographic?

Imitation flavors and extracts are unhealthy, originate from unnatural sources, take shortcuts in production and – ultimately – cheat your end product with weak, subpar flavor.

Natural flavoring

methods don't necessarily mean all-natural. Yes, the use of natural is poorly regulated, and the label of natural can still be found on products that also include synthetic or imitation derivatives.

All-natural flavorings

and extracts are always naturally derived from premium flavor sources.

Where your flavor extracts are derived from and how they're created matter more than ever.
All-natural flavorings are created with the utmost quality and care and deliver fresh, authentic, unique, innovative, and bold flavors.
By using only the highest quality flavor extracts, your hard seltzer will stand in a class all its own.
Let Bickford Help You Create a Premium Taste Experience Through Higher-Quality Natural Water & Drink Flavorings
With over a century of experience working in the beverage flavor industry, Bickford is uniquely positioned to help you create and manufacture your own customized hard seltzer flavor creation.

Formulated to be stronger and more versatile than other flavoring methods, take a look at our suggested hard seltzer flavors:
If you have a completely one-of-a-kind flavor in mind, we're here to help bring that flavor to life. Learn more about our custom flavor process:
Create Custom Hard Seltzer Flavors
Flavor Extracts for Beverages Wholesale Program
If you're ready to take the hard seltzer market by storm with the best beverage flavorings around, consider joining our wholesale program.

When you partner with Bickford and become a part of our wholesale program, you benefit from:
Preferred pricing
No minimum order requirement after one gallon
Faster than normal turnaround times, like same day processing and shipping on most orders
For custom flavors, we work to flavor match within a week. Once you approve the flavor, we process the order and ship the same business day (if the order is received before 12:00 p.m. EST).

Browse our extensive line of all-natural flavors, get started today by downloading our business verification form:
Wholesale Business Verification Form
Resource:
1 NielsenIQ. How newer ready-to-drink beverages and packages are shaking up the adult beverage market. Accessed March 14, 2021. https://nielseniq.com/global/en/insights/analysis/2019/how-ready-to-drink-beverages-and-packages-are-shaking-up-the-adult-beverage-market/.