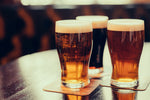 Whether it was first a hobby or just a simple and sincere love of beer, you've found yourself in the craft beer industry as a professional brewer.
Despite copious amounts of cleaning, continuous heavy lifting, long hours, and – of course – poor pay during your inaugural days, you know there's no better industry to be in because, for you, nothing is as satisfying a making good tasting beer.
The State of the Craft-Beer Boom
As you well know, one of the main reasons the craft-beer revolution came to fruition is consumer demand for fuller flavor and a greater variety.
The explosion of small-scale breweries across the country has made your beloved industry one of the most competitive.
Between 2008 and 2016, the number of brewery establishments grew by a factor of six, and the number of brewery workers grew by 120 percent.2
According to 2017 U.S. government data, there are nearly 70,000 brewery employees, which is nearly three times the figure 10 years ago. (Being 2019 now, this number has undoubtedly increased.)2
As of mid-2018, there were over 6,500 craft breweries in the U.S., which has more than tripled since the start of the decade.1
Top-selling beer brands and brewers are all facing a sharp decline. Between 2007 and 2016, shipments from major brewers, such as Anheuser-Busch, MillerCoors, Heineken, Pabst, and Diageo (Guinness), dropped by 14 percent.2 (Effects of the craft-beer boom.)
In 2017 alone, the craft beer industry generated $26 billion.3
But this is no surprise to you. You know your industry is booming, and you know that a lot of people still want in.
It's a Crowded Beer Market, But You're About to Up the Ante
While the oversaturation of the craft brew and beer industry is wildly out of your control, brewing beer that delivers robust and one-of-a-kind flavors is definitely not. In fact, the longevity, reputation and success of your brand and product line depend on it.
With consumers on the hunt for that unique tasting beer that makes their taste buds dance and allows their mind to dial back and unwind, it's time to give the people what they want with revolutionary, delicious flavors that they can't find anywhere else.
Will Adding Custom Flavor Extracts to Beer Be Your Game Changer?
The hard truth is: the business of beer is a 200-year-old industry; a lot has been done and tried and set forth within this time. In addition, there are giants in this industry and mounting small craft breweries.
Where does the opportunity for a unique beer exist? Nowhere else but in the flavor.
Of course, start with your barley, wheat, rye, etc., but let's talk beer flavoring extracts.
Beer connoisseurs crave a refreshing and great tasting beverage that will go down smooth and completely satisfy their thirst.
Creating a breakthrough ale, lager or IPA, or giving new life to one of your much-loved and novel stouts or porters all hinges on carefully curated flavors that are made from high-quality, all-natural flavor sources.
As experts and flavor chemists in beer flavorings, we only produce premium beer flavoring extracts and help small and large batch brewers create innovative, refreshing tastes.
All-Natural, Specially Tailored Beer Flavoring Extracts
Our team at Bickford Flavors is ready to help you achieve some full-flavored tastes that mean big business.
We understand the craft brewing industry and partner with home brewers and established small- and large-scale craft breweries alike to help successfully create beers and other beverages that boast true originality by way of flavor.
Additionally, we work hard to create flavors for current market demands and your specific labeling needs – such as certified kosher, low-protein, low-carbohydrate, gluten-free, and more.
Above all, with over a century of experience, we stand by tradition and are dedicated to providing you with the best flavorings, personal service, and value.
Want to learn more about partnering with Bickford to create unique, custom flavors that will help your brand and beers stand out among the competition? Find everything you need to know here:
Learn More About Creating Custom Flavors
Resources:
1 Washington Post. Craft beer is booming. Is that bad news for the U.S. economy? Accessed February 5, 2019. https://www.washingtonpost.com/news/posteverything/wp/2018/08/06/craft-beer-is-booming-is-that-bad-news-for-the-u-s-economy/?noredirect=on&utm_term=.e8c38ee2f726.

2 The Atlantic. Craft Beer Is the Strangest, Happiest Economic Story in America. Accessed February 5, 2019. https://www.theatlantic.com/business/archive/2018/01/craft-beer-industry/550850/.

3 WKBN 27. Brewing boom: Is the craft beer market over-saturated?. Accessed February 5, 2019. https://www.wkbn.com/local-news/brewing-boom-is-the-craft-beer-market-over-saturated/1087642866.