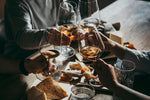 As the famous Julia Child once said, "Wine is meant to be with food—that's the point of it!"

As a large or small winemaker in an industry that continues to thrive in many ways, your craft remains rooted in tradition and the classic sight, smell, and taste of your house flavors.

The path to differentiation, of course, is then blazed by curiosity, experimentation, and premium, naturally-sourced wine flavoring extracts.

How do you deliver a signature touch to your flavors?
Food for Thought…When It Comes to Wine…
A study by Sonoma State University on American wine consumer preferences and behaviors noted that a trend is emerging.

Previously, most individuals and families did not enjoy wine with meals, or even drink wine on a daily basis.

In 2019 and beyond, wine will be viewed less as a special occasion cocktail or endcap dessert and become a more integral component to a meal.1

This trend is based largely on the practice of moderation and a more widely acknowledged fact that food and wine elements can interact and transform one another for the better.

Just as your signature flavors are mostly a matter of personal preference, food and wine pairings are – of course – a matter of individual taste. There is certainly no right or wrong way to pair, despite certain myths, stereotypes, and assertions.

By knowing this trend, the ball is now in your court to make the most of this new consumer direction.
Would a Fruit Flavoring for Wine Enrich the Overall Taste of Your Drink?
As you're slowly sipping your wines in the name of dedicated quality assurance, we can only imagine how good they taste, how sweet they smell, and how smooth they go down.

With innovation never far from your immediate thoughts, have you ever wondered if wine flavoring additives would help to achieve a slightly stronger flavor? A better balance? Or, perhaps, give your wine a subtle flavor boost in any direction?

Wine flavoring extracts can deliver on all fronts and help you achieve the exact flavor or stability you desire.
The Success of Your End Product Relies on High-Quality, Naturally Sourced Extracts
Above all, your finished corked bottle of wine depends on the quality and type of grape you use. Closely following, however; is your choice of wine flavoring extracts – when you choose to use them.

Bear in mind that not all wine flavoring additives are created the same. Certain wine flavoring extracts are healthier to consume and better for your wine application.

Any wine flavoring extract that is sourced from pure, natural products, and meticulously weighed to deliver incredible taste and aroma, can truly elevate your end product.
Tailoring Your Wines to Consumers' Desires & Better Food Pairings
With wine becoming more a focal, included mealtime element, fruit flavoring for wine can help you make your wines more accessible and enjoyable. Indeed, they can help increase the palatability of wines (for people's varying taste preferences) and the types of foods that they will naturally coalesce with.

For many, eating is a pleasurable experience; as is drinking wine. But, as a winemaker, you aren't just trying to appeal to the steak lovers or the chicken lovers anymore.

Today's trend is about appealing to individuals who already enjoy variety in their meals but are now looking for variety and pairing ease in their wines.
Custom Wholesale Wine Flavoring Extracts that Make Mealtime a Premium Experience
To help your wines meld with whatever meal a consumer is making, it's important to have a variety of flavors to choose from.

To help you successfully create wines with one-of-a-kind tastes and aromas, we can create custom, specially tailored flavors for you and your growing line of fine wines.

As a team of flavor chemists and wine enthusiasts, we can make any flavor you're thinking of come to life, or work with you to develop one even if you come to us without a flavor idea already in place.

Every one of our 100+ readily available premium flavors, and any custom wine flavoring extract we create, is all-natural, certified Kosher, low-calorie and never includes added sugar.

We also formulate our flavor extracts to be stronger and more versatile than other
flavoring methods – giving your wines the exact flavor consistencies they need.
Winemaking is Age Old, but Your Wine Flavors Can Still Be Vibrant & Refreshing. Ready to Try Something New?
Want to learn more about partnering with Bickford to create unique, custom wine flavors that will help consumers bring your bottle to the dinner table?

Learn more about creating custom flavors or browse our extensive line of flavor extracts:
Create Custom Wine Flavors   |   View All Flavor Extracts
Resources:

1 WineBusiness.com. A Snapshot of the American Wine Consumer in 2018. Accessed March 7, 2019. https://www.winebusiness.com/news/?go=getArticle&dataId=207060.