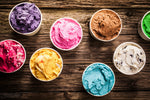 Are you an ice cream manufacturer looking to serve your customers the best? Whether you're a mom-and-pop shop or a multi-state operation, you know that flavor matters.

Ice cream's other ingredients—in most cases cream, milk, and sugar—are usually fairly standard. It's the flavors that can help your business really stand out! Offering that bold, exciting menu option can put you miles ahead of the competition.

Quality matters, too. Bickford Flavors' ice cream flavor concentrates are formulated to be stronger and more versatile than other flavoring methods and never include any added salt, sugar, or other artificial ingredients.

Learn more about Bickford's work with ice cream manufacturers.
We All Scream For Ice Cream
It's no surprise that ice cream is both beloved and widely consumed—it's ice cream, after all! Last year's Ice Cream & Frozen Novelty Trends Survey from the International Dairy Foods Association1 found that 73% of consumers eat ice cream at least once per week.

According to the survey, five familiar flavors stood out as favorites among consumers:
Chocolate chip
A study from research group YouGov America2 came to a similar conclusion, with vanilla, chocolate, strawberry, and cookies 'n' cream in the top four spots.

Another interesting finding from the YouGov survey? Favorite ice cream toppings remain in familiar territory, as well—the top choices were hot fudge, chocolate syrup, whipped cream, caramel, and nuts.
New and Exciting Flavor Combinations
The message from these statistics is clear: to keep your customers coming back, you can't ignore tried-and-true classics.

But just because old favorites like chocolate and vanilla are the most popular, doesn't mean you should write off flavor innovation. The Dairy Foods Association survey also found that 75% of ice cream consumers prefer to choose from a wide variety of flavors, and 55% like to try innovative or exotic flavors!
Here are some new ice cream flavors to consider for your menu:
Looking to go in a fruit-forward direction that's not strawberry or mint?
For the best dairy product possible, It's important to not just use any flavor. Bickford suspends our flavors in either a water- or oil-soluble base because they are neutral and more superior carriers to flavor than alcohol. Our suspensions never add any additional flavor and do not evaporate or bake out as rapidly when exposed to heat, as an alcohol-based extract does.
Learn about some other ice cream and gelato flavors you won't find at the grocery store.
Trust the Flavor Development Experts
With over a century of experience, we're experts at making flavors—but we're experts at using them, too. We like to think of ourselves as ice cream enthusiasts who just so happen to be the flavor chemists at one of the top ice cream flavoring companies!

If you'd like some help getting started with a new recipe, check out the following ideas from the Bickford test kitchen for inspiration:

Cotton candy ice cream

Gluten free "lovestruck" ice cream sandwiches

Vegan mint chocolate chip "nice" cream

Our experts can also help you stretch your culinary imagination even further to come up with flavor combinations that don't even exist yet! We partner with all kinds of ice cream producers—from established local small businesses to large ice cream wholesalers, manufacturers, retailers, and distributors—to develop new flavor ideas.

And our products are great in more than just ice cream! Give them a try in delectable dessert options such as:
Sherbert
Gelato
Custard
Frozen yogurt
Ice cream sauces
Partner with Bickford as Your Natural Ice Cream Flavoring Extract Supplier
If you're a business looking to up your flavor game—whether it's ice cream or anything else—visit our Wholesale Programs page to learn more about joining with us. Our partners receive preferred pricing, complimentary samples, same business day shipping, and a wide range of sizes.

To get started, download our Wholesale Business Verification Form or call us at 440-494-7777 or toll free at 800-283- 8322.
Resources:
1International Dairy Foods Association. Ice Cream & Frozen Novelty Trends Survey - June 2022. Accessed February 14, 2023. https://www.idfa.org/resources/ice-cream-frozen-novelty-trends-survey-june-2022/
2YouGov America. America's favorite ice-cream flavors: vanilla, chocolate, and mint chocolate chip. Accessed February 14, 2023. https://today.yougov.com/topics/society/articles-reports/2022/07/19/americas-favorite-ice-cream-vanilla-chocolate