Partner with A Candy Flavoring Innovator
Whether you're a small batch candy maker or large production candy or chocolate manufacturer, you know that flavor is everything when it comes to tempting a customer's sweet tooth. If you're looking to access a wide variety of high-quality, time-tested flavors for candy applications, look no further.
Bickford offers more than 100 certified Kosher, all-natural soft and hard candy flavoring oils—many of which can be mixed and matched—that will work for any candy application you want to make or improve the flavoring of.
The Industry's Leading Flavors for Candy
Bickford Flavors can give your product the exact flavor consistency it needs to hit the mark and stand out in a crowded candy market.

Our highly concentrated flavor oils for candy are:
Derived from high-quality, all-natural flavor sources
Highly heat stable
Never suspend in alcohol (with the exception of pure vanilla extract, which contains 35% alcohol by volume)
Suspended in a water or oil base
Formulated to be stronger and more concentrated than other flavoring methods
Natural and free of additional salt and sugar
We offer a range of "hard oils," which are our version of an extract, or highly concentrated flavor. Our all-natural flavoring extracts for candy are formulated to be eight or more times concentrated than our flavors, and are usually used when your product requires a very pronounced flavor.

Learn more about the difference between flavors and extracts.
Unlike many competitors, we offer a range of both water-soluble and oil-soluble flavors, both used in dessert making. While most recipes will likely require water soluble flavors, oil-soluble ones are good for sweets like chocolates, caramels, ice creams, and dessert sauces.
Chocolate Flavoring
You can't talk about candy without talking chocolate. And while there are a lot of chocolate products on the market, there are also many chocolate lovers! According to Grand View Research, the global chocolate market is a $100-billion-plus industry and growing—it's projected to gross a whopping $187 billion by 2027.

Our flavor experts can help you fine-tune your flavor and develop a product that will help you stand out. We offer a range of both oil and water soluble options—in most cases, oil-soluble flavors are good for adding to the base, and water-soluble options are perfect for flavoring cream centers!

Learn more about choosing the right chocolate flavoring oil.

Some flavors great for chocolate include:
Chocolate and nuts go together beautifully—try Bickford flavor oils like almond, hazelnut, or walnut for a refined flavor combination with or without the actual nuts.
Who doesn't like chocolate and mint? Whether you or your customers prefer peppermint, spearmint, or wintergreen, you can't go wrong.
If you'd like to create a nostalgic flavor by recreating favorite desserts, pair your chocolate with options like graham cracker and toasted marshmallow (s'mores), malted milk, or coconut to evoke that favorite candy bar.
Click here to find out more of our favorite chocolate and cream center flavors.
Hard Candy Flavoring Oils
Though making it can be a process, there's actually not much to hard candy—it's typically made of corn syrup, sugar, water, color, and some form of flavor. With so few ingredients, the quality of the flavors is arguably the biggest differentiating factor.
Here are some hard candy flavoring ideas:
Whether you want to add hard candies to your line of products or experiment in your home kitchen, it's probably easier than you think!

Looking for a recipe for inspiration? Our lemon drop candies pack a ton of puckery, refreshing flavor into every bite with the help of Bickford's lemon flavor.

Learn more about Bickford's wide range of hard candy flavoring oils.
Gummy Candy Flavoring
When a gummy craving strikes, the chewy, stiff-but-tender texture and sweet flavor has no substitutes. For a commercial food brand, gummies are a great vehicle for showing off new and delicious flavor combinations. And because they can be molded into infinite shapes and sizes, the sky's the limit!

It's no surprise that classic fruit flavors reign supreme in the world of gummies—Bickford offers true-to-source flavors like strawberry, raspberry, and blueberry that will delight your sweet-toothed customers. But you can go in a more novel direction with exotic fruits like passion fruit, guava, and dragon fruit.

Click here for our foolproof recipe for gumdrops.

Go in a sour direction with the help of our citrus mountain flavoring or try something completely different with caramel apple or hot cinnamon. And check out our gummy bear flavor if you'd like that nostalgic taste in a bottle!

The bottom line is there are really no rules—feel free to put on your test cook apron and start experimenting!

Learn more about gummy flavoring options
Snack Flavor Coatings
On their own, nuts, popcorn, and dried fruit are go-to snacks to keep you going throughout the day. But your favorite snack foods paired with the right flavors can be a transcendent experience!

Here are some snack flavoring ideas:
Popcorn is the perfect snack vehicle for flavors because it goes equally well with savory and sweet! Oil-soluble flavors like garlic butter or herbaceous basil are great on the savory side, while cinnamon or nutmeg would go great with a sprinkle of sugar.
Nuts can go in a sweet or savory direction, too. The creamy, rich flavor of cashews pairs perfectly with Bickford's best selling vanilla extract, and peanuts go great with spicy options like jalapeño or habanero.
Dried fruit is great on its own, but even better with the right flavor pairing! Dried mangos go great with a citrus kick from lemon lime, and raisins are great with cinnamon or pumpkin flavors.
The right flavors can make your regular snack food into something special. To see what we mean, check out our recipe for easy, scrumptious candied popcorn—all you need is popped popcorn, sweetened condensed milk, unflavored gelatin, and (of course) Bickford's toffee flavor or other flavor of choice!
CBD and Candies: Health and Flavor
It seems like CBD—a non-psychoactive chemical compound found in marijuana—is everywhere. Consumers turn to CBD for its reported health benefits, including improving anxiety and depression, reducing inflammation, and improving sleep.

CBD is now in all kinds of products like oils, sprays, and a whole range of candies and sweets! If you're not taking CBD products into consideration for your food brand, you could be leaving money on the table.

Read more about educating CBD consumers.

Here are some trending types of CBD-infused candies along with some flavor inspiration:
CBD gummies of all shapes and sizes are all the rage—you can never go wrong with fruit flavors like mixed berry or strawberry, but customers may also be interested to try other flavors like passion fruit or strawberry guava.
CBD hard candies including lollipops and caramels have become very popular with consumers. Unique flavors like cotton candy, s'mores, and banana cream can help you attract raving fans.
CBD jelly beans are perhaps the most fun way to get a health boost. For a citrus spin, try options like lemon, lime, orange, or even pink lemonade!
Learn more about Bickford's extensive work in the CBD industry.
Creating Custom Candy Flavoring Oils
If your flavor wheels are turning and you're not finding the exact candy flavoring oil you know your application needs, we'd be thrilled to step in as your custom flavoring partner. Whether you're leaning more toward a melt-in-your-mouth product or a crazy sweet and sour one, we can create the flavor you want.
Check out our flavor wheel for inspiration.
We're highly experienced in developing a wide-array of application-specific custom flavors for several different industries—especially the world of candy.
In addition to custom flavors that are sourced from high-quality, all-natural ingredients, we work hard to flavor match within a week.
If you're interested in further exploring the custom flavor route, find everything you need to know at our custom flavors page.
Join Our Candy Flavoring Oils Wholesale Program
From gourmet and large-scale to handcrafted, small batch, or seasonal sweets and candy makers and manufacturers, we partner with them all to deliver pure and decadent flavors in bulk that save time and money.
Through our candy flavoring oils wholesale program, our partners always receive:
Preferred pricing
No minimum order requirement after one gallon
Faster than normal turnaround times
We work hard to support your product line with premium, all-natural candy flavorings.
Click here to learn more about our candy flavoring oils wholesale program, or get started today by downloading our wholesale business verification form.
Stay Up to Date On The Latest Flavor Trends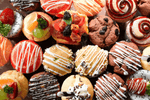 Is your business keeping up with the latest baking trends? Visit the Bickford Flavors website for what's trending today.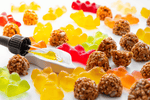 The ever-growing CBD market moves fast. Bickford's industry-leading flavors can help you stay ahead of the competition.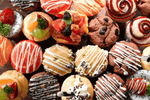 Is your business keeping up with the latest baking trends? Visit the Bickford Flavors website for what's trending today.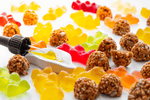 The ever-growing CBD market moves fast. Bickford's industry-leading flavors can help you stay ahead of the competition.