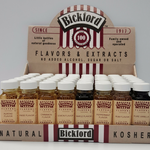 Are you looking to add flavor to your retail store?  Why not add Bickford Flavors all Natural Kosher Certified Flavors and Extracts?
Our 100 year-old family-owned and operated flavor company is located in Cleveland, Ohio and backed by a century of excellence in flavors and service.  Bickford Flavors has no minimum order or price requirement.  All orders ship within 24 hours and we offer a wide variety of size options. 
Bickford maintains its reliance on traditional values with our mission to help our customers focus and enjoy their time with family and friends through food.  Bickford Flavors enhance and flavor the sweetness of life in all your cooking and baking needs. We realize that food triggers precious memories made in the kitchen preparing foods with the ones you love.  It can be baking a vanilla cake with the grandkids to gathering a crowd for holiday dinner and making your famous orange cranberry sauce.  Whether making a traditional family recipe or crafting your own, be sure to flavor your life with Bickford Flavors.   
Retailing our flavors will help bring togetherness and create memories for your customers for years to come through food and Bickford Flavors.
If you are interested in adding a display to your store please click on the link below, complete the form and e-mail us at orders@bickfordflavors.com
https://cdn.shopify.com/s/files/1/0330/6249/files/WHOLESALE_BUSINESS_VERIFICATION_FORM_2016.pdf?10606827872969295156