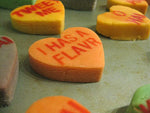 Ingredients:

Instructions:
In a large bowl, cream the butter, powdered sugar, flavor(s) and food coloring until light and fluffy. Gradually beat in flour until well mixed. Divide dough in two balls; flatten each ball into a 1-in.-thick disc and wrap each in plastic wrap. Dough will be soft. Refrigerate for 2 hours or until firm.
On a floured surface, roll out one portion of dough at a time to a 1/4-in. thickness. Cut with a floured 3" heart shaped cookie cutter. Place 1 in. apart on ungreased baking sheets. Bake at 325° for 9-10 minutes or until lightly browned on bottom. Remove from the oven and immediately prick cookies randomly with a fork. Remove to wire racks to cool.
Once cool, use icing or edible markers to write messages on the cookies.
Yield: about 3 dozen.

Notes:
If you use a smaller cookie cutter, decrease cooking time.
To make more than one flavor and/or color in one batch of cookies, omit flavor and food coloring and follow recipe as usual. After dividing the dough, add flavor and food coloring to each division and mix well.

Recipe adapted from Taste of Home: http://www.tasteofhome.com/recipes/shortbread-cutout-cookies

Image by Windell Oskay (originally posted to Flickr as LOLHearts - 30) [CC BY 2.0 (http://creativecommons.org/licenses/by/2.0)], via Wikimedia Commons