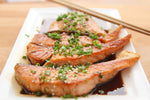 This keto-aligned sweet and spicy roasted salmon recipe is packed with flavor, thanks to our all-natural keto flavors. View the recipe and get cooking a delicious dinner.
---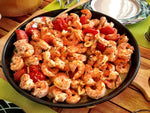 If you're looking for a zucchini noodles recipe and you love shrimp, then you must make our spicy shrimp and zucchini noodles recipe with our all-natural, keto-friendly flavors. View this easy and delicious recipe.
---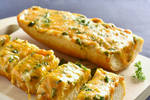 Ingredients: 1 tsp. Bickford's Spicy Chili Flavor 1 tsp. Bickford's Garlic Flavor a sprig of thyme or parsley 1 tsp coarse sea salt 8 Tbs. unsalted butter, softened 1 baguette Directions:Preheat oven to 425 degrees. Mix first five ingredients together. Spread on baguette and place on cookie sheet. Optional: Top with cheese. Bake at 425 degrees for 15 minutes or until golden brown. Cut and enjoy!