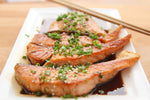 Certainly, salmon on its own is incredible. But have you tried a sweet and sour version? You can tailor a recipe to be keto aligned (in fact, we did it for you!) and it can be more flavorful than you ever thought with our premium keto flavors.

Take a look at the recipe and directions below, and easily find and shop the recommended keto flavor extracts through the links. If you're looking for different natural flavors for keto recipes, be sure to browse or search for your desired flavors in our extensive flavor catalog - or simply contact us for assistance.
Ingredients:
4 1/2 lbs 

salmon fillets or steaks

1/4 cup Tamari or S

oy Sauce

1/4 cup maple syrup (or 1 tbsp liquid Stevia for Keto diets)
Sesame seeds
Scallions/shallots

, finely sliced
Directions:
Preheat oven to 425 degrees. 

In a shallow bowl, whisk the soy sauce, maple syrup or liquid Stevia, and Bickford Flavors Ginger, Garlic and Spicy Chili Flavors to combine. Add salmon and turn to coat. Cover and marinate for up to 30 minutes.

Place salmon and excess marinade on baking tray. 

Roast for 12 to 15 minutes, until the top of the salmon is beautifully caramelised. Be careful not to overcook the salmon!

Serve salmon sprinkled with sesame seeds and scallions/shallots. Eat along with your favorite green salad or roasted veggies.
Recipe Inspiration: https://www.recipetineats.com/asian-glazed-salmon/
Image Credit: https://pixabay.com/en/photos/salmon/