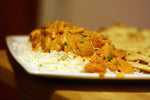 It's not enough to say that keto can be delicious because keto IS incredibly delicious. One just needs to know what ingredients to use and - most importantly - what kind of keto flavors to integrate.
Our butter chicken recipe is super easy with a sauce that is nothing short of rich, creamy and mouthwatering (thanks to our keto flavor extracts).
If you're looking for additional natural flavors for keto recipes and applications, search for your desired flavor(s) in our flavor catalog - or simply contact us for assistance.
Ingredients:
1

 

lb

 

Rotisserie Chicken

1

 

cup

 h

eavy whipping cream

2

 

tbsp

 b

utter

 

1.5

 

tbsp

 

tomato paste

 

2

 

cloves

 

garlic

1/4

 

medium

 o

nion

1.5

 

tsp

 

turmeric

 

3/4

 

tsp

 

chili powder

 

salt & pepper to taste
Directions:
Cut the rotisserie chicken into bite sized chunks and generously coat them in the turmeric, Bickford Flavors Ginger and Cinnamon Flavors, salt, and chili powder. Set aside in a bowl.
Heat a skillet to medium heat and add the butter. As the butter melts dice the onion and garlic and add it to the pan. Cook for 2-3 minutes until the onions are translucent and fragrant.
Add the seasoned and cooked chicken. Warm through.
Add in the heavy whipping cream and tomato paste. Stir thoroughly. Turn the heat down to medium-low and cover with a lid for 5-7 minutes.
Serve over cauliflower rice. Enjoy!
Recipe Inspiration: https://www.ketoconnect.net/recipe/keto-butter-chicken/
Image Credit: https://www.flickr.com/photos/ginnerobot/4552265703