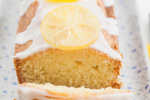 Ingredients for cake:
1/2 cup butter, melted but not hot
1 cup sugar
2 eggs, beaten
2-3 tsp Bickford Lemon Flavor
1/4 tsp salt
1 1/2 cups all-purpose flour
1 tsp baking powder
1/3 cup milk
Ingredients for glaze:
1/3 cup lemon juice
1/4 cup sugar
Directions:
Preheat oven to 325°F and generously grease a loaf pan.
In a mixing bowl, cream butter and sugar.
Add eggs and 1 tablespoon of lemon juice and mix well.
Add salt, flour, and baking powder and continue mixing.
Add milk and mix until well combined.
Bake for 1 hour or until golden brown.
For glaze:
Mix 1/3 cup lemon juice and 1/4 cup sugar.
Use a toothpick to make holes in top of cake and drizzle lemon juice and sugar mixture over the top of the cake when removed from the oven.
Recipe adapted from http://www.food.com/recipe/easy-lemon-pound-cake-11763
Photo from http://creativecommons.org/licenses/by/2.0, via Wikimedia Commons