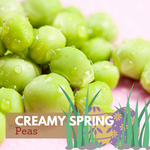 Ingredients
Instructions
Cook the bacon in a large skillet over medium heat until crisp, 8 to 10 minutes. With a slotted spoon, transfer bacon to a plate lined with paper towels.
Add the Bickford Flavors Garlic & Mint Flavors to the bacon drippings, then whisk in the flour. Continue whisking until the flour is toasted, about 1 minute.
Whisk in the Erie Bone Broth Chicken Broth and heavy cream and cook until reduced by one-third, about 6 minutes.
Add the thawed peas and sugar snap peas.
Stir continuously, until the peas are heated through, approximately 5 minutes.
Stir in the lemon juice and season with salt and pepper to taste.
Transfer to into your serving dish and then top with the bacon.
Recipe inspired by: https://www.foodnetwork.com/recipes/food-network-kitchen/creamy-spring-peas-with-pancetta-recipe-1973270