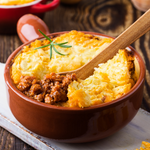 Often dubbed as one of America's favorite dishes, shepherds pie is a beast of hearty meats, vegetables and mashed potatoes. With so many recipes swirling around, we have to ask: have you tried garlic in it?

If not, you must try this recipe! If you have, we highly suggest you still try this recipe with our premium, all-natural garlic flavoring. Then, count how many times you hear your family ask for seconds.
Bickford's Easy Gluten Free Shepherds Pie Recipe
INGREDIENTS:
2 cups of pre-made mashed potatoes 
1 cup shredded cheddar cheese
2 cups of frozen mixed vegetables (carrots, peas, corn)
2 lbs ground turkey or lean ground beef
1 cup prepared chicken or beef gravy
Salt, pepper, other seasonings of choice
DIRECTIONS:
1. Preheat oven to 400 degrees.
2. On medium heat, add ground turkey or beef, frozen mixed veggies, and Bickford Flavors Garlic Flavoring to an oven safe saute pan or skillet. Mix together and cook until the meat is crumbly and cooked through.
3. Mix in the prepared gravy. Cook until bubbly. You want the mixture to be saucy, so if it's a little thick, add a bit of water. 
4. To prepare the potato topping, stir 1/2 cup of shredded cheese into your prepared mashed potatoes.
5. Spread your turkey/beef veggie mixture into an even layer in your skillet. Spread your cheesy potato mixture evenly on top of the meat mixture. Add the remaining 1/2 shredded cheese to the top of the dish.
6. Bake in oven for 25-30 minutes, or until cheese is melted and dish is bubbly. 
Let's not just stop at shepherds pie. Dinner is served every night, and we have over 200 premium, all-natural flavorings (almost all gluten-free) to help you make each dish a flavor adventure.
Inspired By: https://www.simplyrecipes.com/recipes/easy_shepherds_pie/