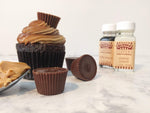 If you love chocolate and almond, then this cupcake is all you need.
You've heard of Peanut Butter Cupcakes...well here's our spin. The Almond Butter Cupcake. Inspired by one of our customers, Wine Down Sweets Cafe, we decided to whip up a nice alternative that we think will become your new favorite.
What's so Nice About a Chocolate Almond Butter Cupcake? 
I love them, and I know you will as well. These cupcakes are so sweet and cravable! But what makes these mouth-watering delicacies so nice? It's the fact that we use Almond Butter in the frosting, but not in the cupcake. 
This means that if you want to cheat and use a boxed cake mix, you can get the same results with less time (especially if you amp up the boxed mix with Bickford Flavors). 
Don't worry, the cupcakes are easy enough...even if you're doing it from scratch.
Ingredients
For the Cupcakes
1

 

cup

 

all purpose flour

3/4

 

cup

 

cocoa powder

1

 

teaspoon

 

baking powder

1/2

 

teaspoon

 

baking soda

1/4

 

teaspoon

 

salt

1/2

 

cup

 

vegetable oil

3/4

 

cup

 

granulated sugar

1/4

 

cup

 

brown sugar

2

 

large

 

eggs

, room temperature

2

 

teaspoons

 Bickford Flavors Pure V

anilla Extract

1 teaspoon Bickford Flavors Almond Flavor

1/2

 

cup

 

buttermilk, shaken & room temperature
For the Almond Butter Icing
1/2

 

cups

 

unsalted butter

, softened, but not melted

1

 

cup

 creamy almond

 butter

1/2 teaspoon Bickford Flavors Almond Flavor

2-4

 

tablespoons

 

water, for consistency

Almond butter cups for decorating
Instructions for Cupcakes
Preheat the oven to 350 degrees 

In a large bowl whisk together the dry ingredients - flour, cocoa, baking powder, baking soda, and salt. 

Combine the wet mixture with dry ingredients by adding 1/2 of the flour mixture, followed by 1/2 of the buttermilk. Repeat the process with the rest of the flour & buttermilk. 

Spoon the batter into the prepared muffin pan, filling each about 2/3rds full.  

Bake for 15-17 minutes until an inserted toothpick comes out clean. 

*Allow the cupcakes to cool completely in the muffin pan on a wire rack. 

 
For the Almond Butter Frosting
Whip the butter, then add in the peanut butter and continue beating until until evenly combined.
Slowly whip in the powdered sugar.  Once almost all of the sugar has been added, whip in the Bickford Flavors Almond Flavor and water 1 tablespoon at a time until the desired consistency is reached.
Frost the icing using a piping bag or with the flat-edge of a knife. Top with mini almond butter cup.  
*this recipe was inspired by Wine Down Sweets Cafe and Just So Tasty