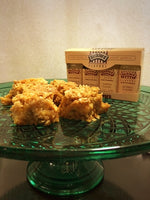 1 15-ounce can pumpkin
1 pk butter flavored yellow cake mix
1 can evaporated milk
1 cup rolled oats & 2 teaspoons unsalted butter
1 cup sugar
1 cup unsalted butter
1 teaspoon Bickford Flavors Pumpkin Extract
1/2 teaspoon Bickford Flavors Nutmeg Extract
1 teaspoon Bickford Flavor Cinnamon Extract
½ teaspoon Allspice
Mix together: pumpkin, evaporated milk, sugar, pumpkin and cinnamon oil, nutmeg and Allspice. Pour into greased 9X13 baking dish.
Toasted Oats: Melt 2 teaspoons of butter in frying pan until frothy. Add one cup of  oat cook until golden brown. Set aside.
Sprinkle cake mix evenly over pumpkin mixture; sprinkle evenly with toasted oats then sprinkle butter.
Bake at 350° for 65 minutes or until golden brown. Remove from oven and let stand to 10 minutes before serving. Serve with ice cream or whipped cream if desired.