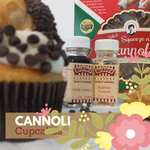 Ingredients
2 1/2 cups all-purpose flour
1 teaspoon baking powder
1 cup (2 sticks) unsalted butter, softened
2 cups sugar
4 large eggs, at room temperature
1 cup 2% milk
1 teaspoon Bickford Pure Vanilla Extract
1 teaspoon Bickford Flavors Almond Flavor
1 Squeeze n' Easy Cannoli Kit (Available at Whole Foods & Giant Eagle)
Instructions
1. Preheat oven to 350 degrees and let the filling from the Squeeze n' Easy Cannoli Kit defrost. Line two 12-cup muffin tins with paper liners; set aside. In a small bowl, combine flour & baking powder; set aside. In the bowl of an electric mixer fitted with the paddle attachment, cream butter until smooth and creamy. Gradually add sugar, beating until fluffy, about 3 minutes. Add eggs, one at a time, beating well after each addition. Add dry ingredients in 3 parts, alternating with the milk, vanilla and almond flavors, and scraping down sides of bowl in between each addition; beat until ingredients are incorporated but do not overbeat.
2. Divide batter evenly among liners, filling about three-quarters full. Bake, rotating pan halfway through, until a cake tester inserted in the center comes out clean, 20 to 25 minutes.
3. Transfer to a wire rack to cool in tins for 15 minutes. Remove cupcakes from tins, and cool completely on rack.
4. Once cupcakes have cooled, using the defrosted cannoli kit filling and a small offset spatula, frost the tops of each cupcake. Place a few of the mini-chocolate chips from the cannoli kit on each iced cupcake. Finally, use a serrated knife to cut each cannoli shell in half and place atop each cupcake. Serve or refrigerate immediately after icing.
Inspired by: Wine Down and Sweets Cafe &