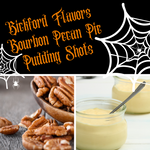 Ingredients:
1- 3.4 oz butterscotch instant pudding
3/4 c. milk
1/2 c. Rum Chata
1 1/2 tsp.

 

Bickford Flavors Bourbon Extract
1-8 oz whipped topping
whipping cream (optional)
Pecan Halves (for garnish)
Directions:
Mix butterscotch pudding, milk, Bickford Bourbon and Pecan Extracts and Rum Chata until smooth and starting to set slightly. Fold in whipped topping and spoon into individual shot glasses. Freeze for at least two hours. Top with whipping cream right before serving and add a pecan half for garnish.
If you'd prefer an alcohol free version, just remove the Rum Chata and add 1 tsp. Bickford Flavors Gingerbread Flavor - you might need to add a splash more milk to thin out your pudding.